Amazon Prime Phones: unlocked cell phones start at $99
Amazon's Prime Exclusive Phones roster has changed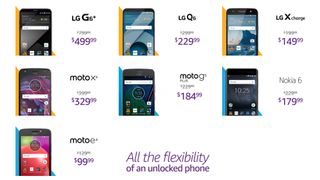 Amazon Prime Exclusive phones offer an all-new way to buy unlocked phones for a cheaper than normal price and escape contracts from US carriers like AT&T, Verizon, T-Mobile and Sprint.
[Update: The Moto G6 has arrived on Amazon as a Prime Exclusive phone, offering premium design at a budget price.]
There are currently seven Amazon Prime Exclusive cell phone deals available right now that try to strike a balance of price, features, hardware, and design. It's a tricky dance for both smartphone manufacturers and customers. Skimp too much on price, and you might end up with a phone that only lasts several months. Focus too much on design, and the internals of the device may be sacrificed to keep the price down.
How do Amazon Prime phones work? The online retailer offers a number of budget phones exclusively to Prime members. It'll save you between $30 and $300 dollars on a new smartphone. Then, you just slot your supported SIM card in and you're good to go.
Let's take a look at Amazon's Prime Exclusive phones and see what makes each a killer deal in its own right. You can see all the deals here.
Motorola Moto X4
Large battery
Sharp camera
Gimmicky camera features
No OLED display
Motorola's Moto X4 is a quality budget phone that offers decent power backed by plenty of battery life, and pairs it with quality design and some premium features. It has a dual-camera setup on the back, and a metal frame. At its standard $399 price tag, it does feel a little expensive, but Amazon's large discount makes it a steal for anyone wanting high quality at a low cost.
Motorola Moto G6
Premium design for the price
Bright and clear display
32GB of storage
Not waterproof
Motorola's new Moto G6 just hit Amazon's Prime Exclusive Phones list, and it has a lot to offer at its price. The Moto G6 costs $234 for Prime members, and has a premium design with a 3D glass back, a dual-sensor camera, aluminum frame, and an expansive 5.7-inch Full HD+ display with an aspect ratio of 18:9. The front of the phone is largely dominated by the display, but still includes an 8MP selfie camera and a fingerprint scanner. Inside, the Moto G6 sports an octa-core Snapdragon 450 chipset running Android 8.0 Oreo, 3GB of RAM, and 32GB of storage expandable via microSD card. The Prime Exclusive model also has quick access to Amazon's Alexa voice assistant.
LG G6 Plus
Quad DAC for Hi-Fi audio
QuadHD Plus screen
Dated Snapdragon 821
Runs Android 7.0
The LG G6 Plus is the big brother to the quality LG G6. It packs a sharp QuadHD Plus display measuring 5.7 inches, and it can pump out clean and loud sound with a Hi-Fi Quad DAC that's sure to please audiophiles. The package is topped off with a large 3,300mAh battery housed in a water, dust and shock resistant shell. It even comes with 128GB of internal storage. And did we mention Prime members get it for $300 off?
LG K30
Expandable storage via microSD
Fingerprint scanner
Low price for unlocked phone
Running older Android 7.1 Nougat
The LG K30 is a newer entry into Amazon's Prime Exclusive Phones lineup, bringing with it features and pricing that spell value. The K30 has a 5.3-inch display with a resolution of 1,280 x 720, so you can enjoy decently crisp imagery on the display. Powering the K30 is a Snapdragon 425 quad-core chipset backed by 2GB of RAM, and the phone runs Android 7.1 Nougat. Though the K30 only comes with 16GB of storage, that can be expanded with a microSD card. At $139 for Prime members, the LG K30 is already offering great value, but it's even better when you factor in the fingerprint scanner and metal chassis.
LG Q6
Great display for multimedia
Fairly impressive camera
Scratch-prone backside
No fingerprint sensor
The LG Q6 is an impressive midrange phone that feels like a mini version of the LG G6. It has a refined design that would fit on a more expensive smartphone. The 5.5-inch Full HD Plus display offers a great viewing experience for multimedia, and the 3,000mAh battery will keep it juiced for all-day use. And, its camera is surprisingly good for a phone of this price.
LG X Charge
Huge 4,500mAh battery
Expandable storage via microSD
No fingerprint sensor
Only 720p display
The LG X Charge is a no-frills budget option for smartphone shoppers that want a phone that can do most of what a smartphone is expected to do nowadays. But, there's a bonus, and that's the insane 4,500mAh battery packed inside the phone, which should be enough to keep the LG X Charge powered for even the busiest days.
Motorola Moto E4
Broad carrier compatibility
Water resistance
Not an octa-core
US model lacks all-metal construction
Motorola has been producing a lot of quality budget phones. The Moto E series is its more affordable line of phones, and the Moto E4 is a good phone for the price. At under $100, it comes running Android 7.1 Nougat, boasts a Snapdragon 425 with 1.4GHz quad-core processor and 2GB of RAM, and comes with a fingerprint scanner. It's even water resistant. It offers a lot at this price point, and is compatible with all four major mobile networks right out of the box.
Nokia 6
Quality metal build
Full HD display
Questionable performance
The Nokia 6 is another premium feeling smartphone on a budget price. It has a solid aluminum build around the sides and back and houses a 5.5-inch Full HD display. It also includes a fingerprint scanner with capacitive navigation buttons on either side, freeing up some of the screen real estate. Inside it packs a Snapdragon 430 chipset with 1.4GHz octa-core processor and 3GB of RAM. 32GB of internal storage make it decent to begin with, but it can be expanded with up to 128GB of MicroSD storage. The Nokia 6 is impressive for the price.
Motorola Moto G5 Plus
Design and build quality
Fast fingerprint scanner
No NFC
Non-removable battery
The Moto G5 Plus has a lot to offer. It's a capable phone with a premium design that leaves it feeling like a more expensive phone. Its fingerprint scanner keeps it up with the times, and its compatibility with all four major US carriers gives customers the freedom to choose. It packs a 2.0GHz octa-core processor, 2GB of RAM, 32GB of expandable storage, a 12MP camera and 5MP selfie cam, and it even features Motorola's TurboPower quick-charging ability. All that at less than $200 and it's no wonder this one continues to be one of the best cheap phones.
Sign up to receive daily breaking news, reviews, opinion, analysis, deals and more from the world of tech.
Over the last several years, Mark has been tasked as a writer, an editor, and a manager, interacting with published content from all angles. He is intimately familiar with the editorial process from the inception of an article idea, through the iterative process, past publishing, and down the road into performance analysis.