The five best phones for watching movies
We've covered the specifics to consider on the previous page, but if you just want to know which phone is best for picture quality - and especially for video - you've come to the right place. You won't go wrong with any of the following five.
While the curve in this 6.2-inch, 18.5:9 screen doesn't particularly help with video, the Infinity Display – which is a Super AMOLED panel – boasts a Quad HD+ resolution of 1440 x 2960 pixels, so 529 pixels per inch. It's also capable of Mobile HDR Premium and DCI-P3 wide color gamut.
Everything is stacked against Apple's flagship putting in a decent performance with video. Not only does its 5.5-inch display use LCD screen tech rather than AMOLED, but it only offers a 1080p resolution with a paltry 401 pixels per inch.
However, somehow the 7 Plus sneaks through an awesome image, with a bright screen capable of DCI-P3 wide color gamut images.
OK, so we already said that 4K was wasted on small screens, but that doesn't mean Sony's ground-breaker should be ignored.
Equipped with a 5.46-inch display, its 2160 x 3840 pixels (and resulting 807 pixels per inch) should play second fiddle to its ability to show HDR video. However, Sony has used an LCD screen, not AMOLED. We also don't know yet how quickly that 4K panel will eat into its battery.
LG's new flagship is designed to be held in one hand, which could make this the best phone for commuters wanting a video fix on their way to work.
Combined with DCI-P3 wide color gamut capability, the G6's 18:9 QHD+ screen – branded 'FullVision' – measures 5.7 inches and totes a 1440 x 2880 resolution for 564 pixels per inch. That display uses LCD, but crucially, it supports Dolby Vision and HDR 10, which means it's a bona fide HDR phone.
A blend of top display technology and realistic resolutions, Google's 5.5-inch flagship is clearly designed to tackle the iPhone 7 Plus.
It's got a higher – but not ridiculously high – resolution at 1440 x 2560 pixels (that's 534 pixels per inch) on the same-sized 5.5-inch screen, but it uses AMOLED technology – and video does look richer and have better contrast.
However, it's only got one speaker, so make sure you put some decent earphones into its 3.5mm jack.
Five of the best phone stands
OK, so we've all sat on a train, bus or plane holding a phone in front of our face while trying to ignore the slow ache of an arm, but there are plenty of stands available. Here are five of the best.
Note: we've ranked these from cheapest to most expensive according to prices at time of writing.
A simple curved wooden stand, the MoKo works well on desktops and the tray tables of airplanes, trains and coaches. It supports a host of different phones in either landscape or portrait orientation, though it's not great for travelling with due to its awkward L-shape.
Sure, you can use the Kenu Stance to take a picture, or even take a video, but it's just as useful propping up a phone on a table top in landscape orientation. It has an orange plastic insert shaped for an Apple Lightning slot and, best of all, it folds-up flat to pocket-size.
Essentially the CM4 Q Card Case is the kind of wallet case that travellers love, but this one has more than credit up its sleeve. Able to take three bank cards, it can also be used to prop-up the phone, and at two separate viewing angles. It also has air cushioned corners to absorb shocks from drops.
Although some airlines are beginning to spec built-in phone mounts instead of in-flight entertainment systems (notably United Airlines' Boeing 777-200 planes in the US), they're still pretty rare.
So if you prefer your own phone to the cheap seat-back LCD screen, get an Airhook. It clips onto a tray table latch and cradles a phone (or tablet), and also has a cup holder.
Available for everything from the iPhone 5 and iPhone SE right through to the iPhone 7 Plus, Moshi's Kameleon phone case has a built-in aluminum kickstand that props horizontally as well as vertically. It's also military-grade drop-tested for when it slides off a tray table during turbulence.
The best earphones and headphones for phones
As George Lucas says, sound is half the experience. Does that mean you should turn up the volume on your phone's speakers as loud as they go?
No, your phone's speakers are not even close to the sound from a decent pair of earphones (no, not the cheap ones in the box), headphones or – if you plan to watch while on trains, planes or automobiles - some cans with active noise cancellation.
Complete with tangle-free cables and inline controls, Sennheiser's sporty and sophisticated in-ears deliver bass-heavy sonics within a warm yet detailed soundstage that's perfect for movie music.
The benchmark; a truly stunning pair of closed-back headphones that use planar magnetic drivers to sculpt sound with balance and precision.
With a design that isolates the listener from ambient noise while effortlessly delivering dazzling definition, these are what to go for it you want layers of sound – and you don't mind paying for them.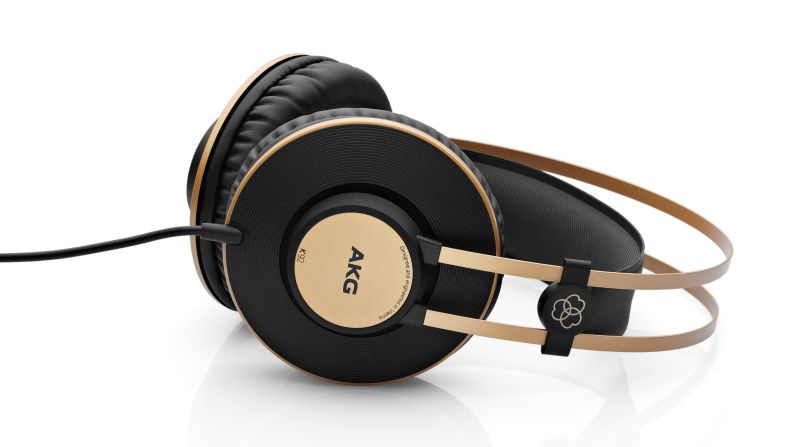 If it's sound quality you're after above all else – and you don't need either wireless, noise-cancelling or a travel-friendly design – the K92 deserves an audition. Great for around the home, these comfortable cans deliver clear, crisp and balanced audio.
Though a few years old, these remain sought-after among frequent flyers for their sheer portability. Why? Lightweight and comfortable, they do a great job at noise-cancelling sound. Musically they're average, but who wants to travel with bulky over-ear headphones? The perfect middle way for travellers.
They're not quite the kings of noise-cancelling, but these over-the-head cans do a great job of keeping out ambient sound while boasting a high-end performance. Able to decipher hi-res audio codecs including LDAC, AAC and aptX, the MDR-1000X are also wireless, with a 20-hour battery life.