AppleCare: what is it, how much does it cost and what is AppleCare Plus?
Curious about AppleCare? We cover which devices can have it, how much it costs, what damage it covers, and whether or not it's worth buying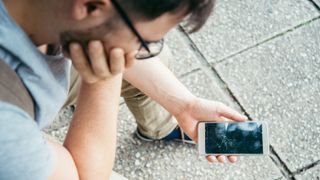 (Image credit: Shutterstock)
If you're a huge Apple fan and have ever bought an iPhone, MacBook or other Apple product, it's likely you've encountered the old AppleCare dilemma on more than one occasion. Should you get it? Should you not get it? Is it worth it? It can be an agonising choice at times, but thankfully, you'll find everything you need to know in this guide.
Whether you have one of the best MacBooks and Macs, the best iPhone, and iPad or all of the above, trying to figure out whether to get AppleCare is always a bit of a conundrum. After all, while most Apple products come with a one-year limited warranty that covers hardware failures and manufacturing defects, what if your device has problems after the 12 months is up?
We can all remember those times when we failed to purchase insurance and then later regretted it, but trying to decide on AppleCare can be even more of a struggle than it is with other products because on the whole, most Apple computers and devices don't tend to have a lot of issues.
If you've just invested in the best iPad or another Apple product, it's important that you know the ins and outs of AppleCare to help you make the decision that's right for you. In this guide, you'll find everything you need to know about AppleCare, including what it covers, the cost of repairs with or without it, the difference between AppleCare and AppleCare+ and whether it's worth purchasing. Let's take a look...
AppleCare vs. AppleCare+ vs. AppleCare Protection Plan
Every Apple device purchased from its site or a valid retailer gets AppleCare coverage by default. What that entails varies by country or by type of device, but we can cover the broad strokes of what basic AppleCare provides you:
90 days of 'complimentary technical support.' For those three months, you get prioritized access to technical support for any hardware- or software-related issues, as well as unlimited repairs for any non-accidental damage or hardware failures caused by issues on Apple's end.
A one-year limited warranty. This no longer guarantees priority phone support but does continue to cover any hardware defects or failures you didn't cause personally. This won't cover accidental or cosmetic damage, damage from third-party devices, or theft.
For longer and more comprehensive coverage, you need to buy AppleCare+. Keep in mind that you can only purchase AppleCare+ within 60 days of purchasing the device. After that, you don't have any way of extending your warranty and will have to pay out of pocket for repairs.
With AppleCare+, your device's warranty is extended to three years from the date you purchased the insurance. So for the most coverage, you can rely on the complimentary coverage for 59 days and then purchase AppleCare+, giving your device three years and two months of protection.
This little lifehack aside, AppleCare+ does give you better protection than the complimentary plan if you buy it on day one. There's also an AppleCare+ with Theft and Loss plan, exclusive to iPhones, that costs even more. We've broken down the extra features for AppleCare+ below:
A 3-year limited warranty (or 2 years in a few cases) for repairing your screens, displays, batteries (if it retains less than 80 percent charge), accessories, and other damaged components
Two 'accidental damage protection' incidents per any 12-month period, for a small deductible
Multiple repair options: same-day carry-in; mail-in with a prepaid, overnight delivery box; or on-site repairs at your home or office (may be limited due to COVID-19)
(iPhones only) A temporary, express replacement phone sent to you before you send in your defective unit
(Theft and Loss only) Covers two thefts or loss of devices across any 12-month period, with a deductible; you must have Find My Phone activated to get the new phone
Finally, there is another type of coverage called the AppleCare Protection Plan. This plan extends the complimentary limited warranty but doesn't cover the exclusive AppleCare+ features like accident protection. This used to be an alternative to AppleCare+, but at the moment, you can only buy it for the Apple TV 4K box.
How much does AppleCare+ cost?
When considering whether you should buy AppleCare+ or not, you have to take into account how much it costs upfront or month-to-month and how much the deductible will be for repairs. These numbers all vary from device to device and from one type of repair to the next. So we'll break them down by category.
(Note: only Apple US offers month-to-month AppleCare pricing or Theft & Loss plans.)
For AppleCare+ on iPhones, you'll pay a $29 / £25 / AU$45 deductible for screen damage, $99 / £79 / AU$149 for 'any other accidental damage,' or $149 (US only) for theft or loss with the premium plan.
Out of warranty, screen repair will vary by phone size between $329 / £317 / AU$519 for the iPhone 12 Pro Max and $129 / £137 / AU$219 for the iPhone SE (see the full list of prices on Apple Support). And, of course, you'll have to buy a whole new phone if it's stolen out of warranty.
Battery replacements are free with AppleCare as well. Out of warranty, iPhone Xs and later cost $69 / £69 / AU$109, while older iPhones cost $49 / £49 / AU$79.
As for the cost of AppleCare+, read on for the specific prices for current iPhones:
iPhone 12 Pro/ iPhone 12 Pro Max: $199 / £199 / AU$269 or $9.99/month
iPhone 12 Pro/ iPhone 12 Pro Max (Theft & Loss): $269 or $13.49/month
iPhone XR/ iPhone 11/ iPhone 12/ iPhone 12 Mini: $149 / £149 / AU$199 or $7.99/month
iPhone XR/ iPhone 11/ iPhone 12/ iPhone 12 Mini (Theft & Loss): $219 or $11.49/month
iPhone SE: $79 / £79 / AU$129 or $3.99/month
iPhone SE (Theft & Loss): $149 or $7/99/month
The most expensive AppleCare+ subscriptions are unsurprisingly for Macbooks and iMacs.
Macbook Air: $249 / £229 / AU$299
13-inch Macbook Pro: $269 / £249 / AU$329
16-inch Macbook Pro: $379 / £399 / AU$449
21.5/27-inch iMac: $169 / £189 / AU$199
Mac Pro: $299 / £299 / AU$399
Mac Mini: $99 / £99 / AU$119
Pro Display XDR: $499 / £499 / AU$699
With AppleCare+ for laptops or desktops, you pay $99 / £79 / AU$149 for screen or external enclosure damage or $299 / £229 / AU$429 for 'other damage.' Without coverage, we can't give an exact estimate, but repairing a display or keyboard would likely cost double or triple the AppleCare deductible, depending on the extent of the damage. Apple gives you free battery replacements under warranty but charges between $129–199 / £129–199 / AU$189–299 otherwise.
With AppleCare+ for iPad, it covers the device itself plus damage to your Apple Pencil and iPad keyboard accessory. Repairs cost $49 / £39 / AU$65 each for the iPad itself or $29 / £35 / AU$45 for the accessories. Out-of-warranty costs for iPad screen repair – which you can find here – range between $379 / £366 / AU$579 and $649 / £616 / AU$1079, which is so expensive that you'd likely want to buy a new one instead.
As for the AppleCare+ cost,
iPad Pro: $129 / £129 / AU$199 or $5.99/month
iPad, iPad Air, or iPad Mini: $69 / £69 / AU$99 or $3.49/month
Apple Watch pricing for out-of-warranty repairs is similarly, disproportionately expensive compared to AppleCare+ prices, as the Apple Support page shows. You'll pay anywhere from $159 / £156 / AU$239 for a Series 3 screen repair to as high as $800 / £756 / AU$1299 for a ceramic Apple Watch, as well as pay extra for watches with cellular built-in.
For comparison, you pay $79 / £89 / AU$129 upfront or $3.99/month for Series 6 AppleCare+, plus $69 / £49 / AU$99 per screen repair. Even cheaper, the Series 3 or SE costs $49 / £59 / AU$79 upfront or $2.49/month, with the same deductible. Watch battery repairs are free with AppleCare+ or $79 / £82 / AU$119 otherwise.
Audio or video AppleCare+ products like AirPods and Apple TV only get two years of coverage but cost less as a result. You can see the upfront pricing and per-repair costs below:
Apple TV 4K or HD: $29 (AppleCare Protection Plan only); eligible repairs are free
AirPods or AirPods Pro: $29 / £29 / AU$49 (2 years); $29 / £25 / AU$45 per repair
AirPods Max: $59 / £49 / AU$79 (2 years); $29/ £25 / AU$45 per repair
HomePod: $39 / £39 / AU$59 (2 years); $39 / £29 / AU$55 per repair
HomePod Mini: $15 / £15 / AU$19 (2 years); $15 / £15 / AU$19 per repair
iPod Touch: $59 / £49 / AU$89 (2 years); $29/ £25 / AU$45 per repair
Is AppleCare+ worth it?
Using the prices above, you can do a cost-benefit analysis for yourself. It mostly depends on how often you expect to have to use AppleCare+.
Take the iPhone SE. An out-of-warranty screen repair costs $129 / £137 / AU$219, while AppleCare+ plus a repair deductible costs $108 / £104 / AU$174. The difference is small enough that you could risk paying an extra $21 / £33 / AU$45 in case you never have to get any repairs. But if you break your screen twice in three years, you're looking at $137 / £129 / AU$219 versus $258 / £274 / AU$438.
On the other hand, you can look at the iPad Pro. $129 / £129 / AU$199 upfront plus $49 / £39 / AU$65 for a damaged screen is a steal compared to $649 / £616 / AU$1079, making it cost-effective even for one accident. On the other hand, an iPad kept at home is less likely to get damaged than an iPhone you take out into the world every day.
You can also pay month-to-month for your iPhone or iPad in the US. The problem is that you'll have spent as much as the upfront cost for 36 months in about 20 months, so it isn't exactly cost-effective.
Whichever device you're thinking about insuring, you have to play the odds. Apple products are already expensive enough, and the cost of a subscription could go towards an upgrade in other areas instead. But it only takes one uninsured accident to have instant regret.
Sign up for Black Friday email alerts!
Get the hottest deals available in your inbox plus news, reviews, opinion, analysis and more from the TechRadar team.
Michael Hicks began his freelance writing career with TechRadar in 2016, covering emerging tech like VR and self-driving cars. Nowadays, he works as a staff editor for Android Central, but still writes occasional TR reviews, how-tos and explainers on phones, tablets, smart home devices, and other tech.