5 ways your smart home devices can make your Halloween party extra spooky this year
Last-minute Halloween decorations? Your smart devices can help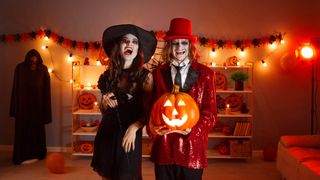 (Image credit: Shutterstock)
Care to make your Halloween party extra spooky this year? Well, you need more than just fake cobwebs on your walls, carved pumpkins at your doorstep, and slimy eyeballs and bloody finger appetizers.
Fortunately, you don't have to rush to a Halloween store and spend more money on last-minute decorations. If you've already invested in a smart home ecosystem, then you already have the tools.
You don't even need smart home gear most people have never heard of, either. All you need are the basic devices such as your smart doorbell, smart lights, a smart speaker, and your smart security camera. Heck, if you've got a smart robot vacuum, you can put that to good use as well.
Here are five ways you can utilize the best smart home devices to turn your party into a real-life scary movie.
1. Greet your guests with a blood curdling welcome
Making a good first impression is always important, especially if you want to forewarn your guests about what's to come. And if you've got a Ring doorbell and a Ring Chime, then Ring has you covered with its slew of Chime Tones that include sound effects like Bat, Cat, Ghost, Creaking Door, and Howl.
Set it on the Ring app, and for extra terror, choose the Laugh or Scream option so that every time they ring that doorbell, they're greeted with a blood curdling welcome.
No Ring Chime? No problem. Just set up your Amazon Echo smart speaker near the door, go to your Alexa app, and set the doorbell sound to one of those Chime Tones. Make sure the put that volume on max, too – for the full effect!
2. Make your room feel like they're in The Shining
Got a set of smart light bulbs or smart light strips that can display different colors like the Philips Hue and the Nanoleaf Essentials? Dim them a little, then set them to red, bathing the rooms of your home in what looks like blood. That'll make your guests feel like they're in The Shining or an episode of Twin Peaks.
Better yet, cut out a piece of black cardboard in the shape of a massive human and stick it at the end of the hallway so that it looks like it's peeking through the doorway. It won't take your guests long to get used to it, but it'll definitely give them a bit of a shock the first time they see it.
3. Creep your friends out with random cackles
One of Alexa's many, many skills is to play scary Halloween sounds, and if you already have a smart speaker with Alexa integration, whether that's an Amazon Echo or something from a different brand, you might as well put that skill to good use. Just find Scary Halloween Sounds from the Skills list on the Alexa app.
What's more, you don't have to ask Alexa to launch it every single time. Before your party, simply set-up a routine on the Alexa app to have it automatically play the sounds every 30 minutes or so.
You can also enable the Halloween Sounds skill and ask for Alexa to play the sounds from its roster at random. The sounds included in this skill are creepier, but sadly you cannot set it as a routine. Instead, it'll keep playing until you tell Alexa to stop.
4. Terrify people with jump scares
Hook up a smart home security camera somewhere in your home, and set it so that every time it detects a person, it'll trigger a smart home device to perform an action. You can set your lights to perform a lightning effect or your smart speaker to play a creepy laugh, or for an even more immersive scary experience, both.
I would recommend setting this up in the part of your home that isn't going to be crowded, such as a hallway or the stairs. Also make sure, if you're going to do the lightning or thunderstorm effect, that none of your guests have epilepsy. Otherwise, it could trigger an episode.
5. Let a ghost roam around your home
This one's funnier than it is scary, but at least it'll entertain people – not to mention, keep your floors clean. Dress your smart robot vacuum like a ghost – you'll need some arts and craft materials and to summon your inner Kevin McCallister for this part – and set it up to start cleaning every 30 minutes or so, so that you've got a ghost running around your house during the party.
However, I would only do this if your robot vacuum allows you to set a cleaning area, for safety reasons; you'll want to set it so that it sticks to where it won't be in the way or wreck havoc. After all, you wouldn't want your ghost crashing into things like the food table or worse, your guests.
You might also like
Get daily insight, inspiration and deals in your inbox
Get the hottest deals available in your inbox plus news, reviews, opinion, analysis and more from the TechRadar team.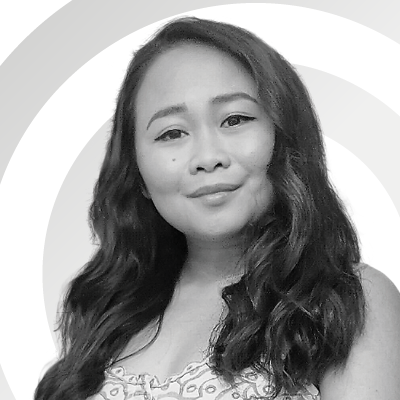 Computing Reviews and Buying Guides Editor
Michelle Rae Uy is the Computing Reviews and Buying Guides Editor here at TechRadar. She's a Los Angeles-based tech, travel and lifestyle writer covering a wide range of topics, from computing to the latest in green commutes to the best hiking trails. She's an ambivert who enjoys communing with nature and traveling for months at a time just as much as watching movies and playing sim games at home. That also means that she has a lot more avenues to explore in terms of understanding how tech can improve the different aspects of our lives.