Instant vs Ninja: which popular brand makes the best air fryer?
Should you choose one brand over the other?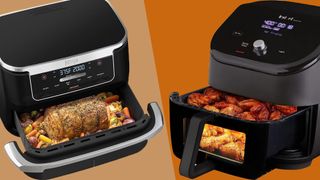 (Image credit: Future)
Now here's a clash of the titans: in one corner we have Ninja, part of the giant SharkNinja home tech empire, and in the other we have Instant Brands, creator of the legendary and genuinely wonderful Instant Pot. Both firms make a wide range of air fryers, both as dedicated devices and as multi-function cookers.
But which has the best air fryers when you want to make some fries, blacken some salmon or reheat takeout?
Both brands offer multiple models for multiple kinds of cooking. The simplest air fryers are single-basket cylinders, ideal for relatively small and straightforward frying and reheating. More advanced models have twin drawers so you can cook two things at the same time at different temperatures – something Ninja pioneered and Instant imitated – or double them up to get twice the cooking capacity.
Where things get complicated is when you move into the brands' multi-cookers. Both firms make toaster ovens that also air fry and multi-cookers that can air fry too.
Some of those solutions are more elegant than others. Instant Brands offers a variation of the Instant Pot with a swappable lid that turns it into an air fryer; it works well, but the lid is one more thing to store. The similar Ultimate Lid model is more streamlined, with a removable section in the non-removable lid instead.
We're here to guide you so you can choose the best brand or model for your air frying needs.
Instant vs Ninja: product range and price
Both companies offer a very wide range of air fryers with a similarly wide range of prices. And both discount heavily and frequently, so we'd recommend waiting for deals such as Black Friday air fryer deals if a particular model is currently selling at the full recommended retail price.
Ninja's air fryers are in three product lines: Foodi, Speedi, and Combi. The Foodi options are the cheapest ones, with even the 6-in-1 smart 10-qt 2-basket air fryer coming in at a very reasonable $129.99; the most expensive Combi, the Combi Ultimate Chef's package, is a 14-in-1 multi cooker with pans and accessories included and currently costs $299.95.
Instant Brands' cheapest air fryer, on the other hand, is the Instant Vortex Mini, a 2-qt air fryer with a price of just $59.99. The Instant Pot Duo Crisp 6.5qt with Ultimate Lid, which transforms the device from an Instant Pot multi cooker to a dedicated air fryer, is $199.95. And the Instant Omni Plus 18L Air Fryer Toaster Oven is $249.95.
Instant vs Ninja: design and features
Both air fryer brands offer three kinds of air fryer: dedicated air fryers, multi-cookers that can air fry, and countertop ovens that can air fry. Both Ninja and Instant also offer large capacity air fryers with configurable baskets: Ninja's MegaZone models enable you to choose between one giant 7-qt basket or two 3.5-qt ones while Instant's VersaZone goes bigger with one 9-qt or two 4.5-qt baskets.
The designs of each kind of air fryer will differ because of their differing functions. For example, an Instant Pot with air frying capability will look rather like Darth Vader's dustbin or R2-D2 wearing a nice hat (Instant has leaned into this in the past with Star Wars-themed cookers) and will take up a comparatively large amount of space; a dedicated air fryer from either brand will be much smaller, slimmer and streamlined-looking. And despite both brands' best efforts, toaster oven-based air fryers will be big and bulky – although both brands make good use of light and dark materials to make them look less large.
One obvious difference between Instant and Ninja air fryers is that Instant is increasingly putting windows into its standard air fryers, enabling you to see what's inside without opening it up and interrupting the airflow. Whether that's worth having is a good question, as you'll need to pull out the drawer to shake your fries mid-cook anyway. But it certainly looks good.
Both brands' user interfaces are simple and straightforward to use with clear controls and easy access to presets.
Instant vs Ninja: performance
In terms of pure air frying, you'll get the best results from either a dedicated air fryer or a device that can become one, such as the Instant Pot with Ultimate Lid. That's because air fryers are all about airflow, and dedicated devices can focus entirely on that without having to worry about also making room for roasting.
Toaster ovens that also air fry tend to be less impressive because they have much larger internal capacities compared to the size of their fans. Their multi-cooking skills make them much more convenient, but the trade-off is that they don't air fry quite so well.
That means the comparison here isn't really between brands, but between shapes. A cylindrical or semi-cylindrical air fryer such as a Ninja Air Fryer Max or Instant Vortex Slim will produce great results and is exceptionally easy to clean but doesn't have the range of cooking options of more complex models. A double oven that can air fry, such as the Ninja Double Oven, is harder to clean and isn't quite as impressive as an air fryer – but it's capable of cooking more food in many more ways.
Instant vs Ninja: other considerations
It's worth thinking about cleaning when you're considering an air fryer.
Basket-based air fryers are by far the easiest ones to clean thanks to their removable baskets and overall simplicity. And Instant Pots or Ninja Speedis with air frying capabilities are simple too, as their basket/tray and bowls are dishwasher safe.
Toaster oven models are tougher to clean because of course you can't stick an oven in the dishwasher or under the faucet; models with mesh trays for air frying are prone to grease and other bits and pieces falling to the bottom of the oven and getting burnt on.
There's a large elephant in this particular kitchen: at the time of writing, Instant Brands is in Chapter 11 administration in order to restructure its finances. The goal with Chapter 11 is for the firm to emerge in better shape and ready for the future, but it does mean there's a risk that it won't – and in the long term that could affect things like warranty service and parts availability.
On that basis it may be wise to buy any Instant product with a credit card that has purchase protection benefits on the account, just in case.
Instant vs Ninja: which is best for you?
At the time of writing, we think the best air fryer for most people is an Instant one: the Instant Vortex Plus 6-in-1. It manages the tricky task of offering large capacity without compromising on frying performance. But for frozen foods our pick is a Ninja, the Air Fryer Max. Its Ultra Crisp feature does a great job of making frozen food taste fresh.
For multi-cooker models, it's a draw there too. We love the Instant Pot Duo Crisp with Ultimate Lid: the combination of Instant Pot and air fryer means it's one of the hardest-working appliances in our kitchen. But for ovens, we really rate the Ninja Double Oven for its many cooking options.
With so many different models to choose from, and so many different cooking options between them, when it comes to actually picking an air fryer the difficulty isn't so much choosing between Instant and Ninja but between air fryer types, capacities and flexibility.
If all that choice is giving you a headache, check out our constantly updated guide to the best air fryers for every kind of kitchen and every kind of cooking.
You might also like
Get daily insight, inspiration and deals in your inbox
Get the hottest deals available in your inbox plus news, reviews, opinion, analysis and more from the TechRadar team.
Contributor
Writer, broadcaster, musician and kitchen gadget obsessive Carrie Marshall (Twitter) has been writing about tech since 1998, contributing sage advice and odd opinions to all kinds of magazines and websites as well as writing more than a dozen books. Her memoir, Carrie Kills A Man, is on sale now. She is the singer in Glaswegian rock band HAVR.