Want to max out those games on a budget? I've just spotted a really strong candidate for a cheap gaming PC deal with this HP Pavilion for $824 at Amazon.
It's not exactly the flashiest machine in the world, but it offers an unbeatable price for a machine with an RTX 3060 Ti - a graphics card that's still one of the best you can buy for 1080p gaming on a budget.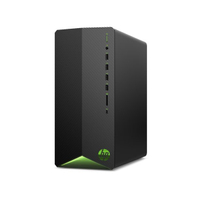 HP Pavilion gaming desktop: $824.98 at Amazon
Graphics card: Nvidia GeForce RTX 3060 Ti
Processor: Intel Core i5-11400H
RAM: 16GB DDR4
Storage: 256GB SSD + 1TB SSD
Getting a gaming PC with an RTX 3060 Ti at this price was unheard of just a few months ago but you can snag this HP Pavilion for well under $900 at Amazon today. Sure, it's not exactly a looker - and a 256GB SSD is teeny tiny - but the combination of a speedy GPU and solid CPU makes this HP a solid foundation for smooth 1080p gaming on a budget.
One cheap upgrade away from being perfect
As keen-eyed gamers will have already spotted - there is one minor shortcoming in this HP's configuration in the form of its 256GB SSD. Storage-wise, this drive is only enough for a Windows install and a few select games; which doesn't go far in 2023.
Not all is lost, however, as upgrading your SSD is one of the cheapest, easiest, and most effective things you can do to any gaming PC. It doesn't take much technical knowledge to do (see our how to build a PC guide) and will only set you back about $60 on Amazon to get a really decent 1TB NVMe SSD. Even factoring in this extra cost and a small amount of effort, this HP Pavilion is coming well under budget when compared to other gaming PC deals featuring an RTX 3060 Ti.
For reference, the RTX 3060 Ti is still one of the best graphics cards you can get right now for 1080p gaming. Yeah, it's a little older now (and due to be replaced fairly soon), but it's still an exceptionally capable card that's enough to max out nearly any game on the most played resolution according to Steam. Considering this whole configuration (even with an SSD upgrade) comes in under $900, we'd say it's still a great buy for most gamers right now.
You can look forward to upcoming bargains at the 2023 Memorial Day sales event.