Finding a budget gaming PC, especially one that's portable versus the ever-prolific behemoths oversaturating the market, is like finding a unicorn. But thanks to Acemagician, there's an incredible deal at Amazon right now.
The Acemagician AMR5 Mini Gaming PC received a high rating from us at four stars and is in our best mini PC list to boot. The Acemagician AMR5 Mini Gaming PC is currently at $399 after a coupon you clip that saves $75 and with the promo code 5CQYBAYE that saves an additional 5%.
This is an excellent quality budget machine that, thanks to its surprisingly solid specs, can handle the best PC games with no problem while being extra gentle with your wallet and desk space. If you need a great quality gaming PC with good specs, this is the time to take advantage of such a great deal on an already affordable machine.
Acemagician AMR5 Mini Gaming PC deal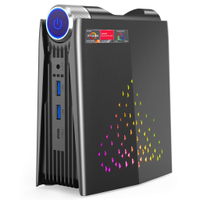 Acemagician AMR5 Mini Gaming PC: was $499 now $399 at Amazon
This Acemagician AMR5 Mini Gaming PC features the solid AMD Ryzen 5 5600 budget CPU, an AMD Radeon Graphics GPU, 16GB RAM (which is expandable up to 64GB), and 512GB of storage space (which is also expandable to 2TB). The sales price comes after a coupon you clip that saves $75, as well as the 5% off promo code 5CQYBAYE.
The Acemagician AMR5 isn't the strongest gaming PC, as the specs are from previous generations. But it does offer some great performance from the vast majority of PC games at reasonable settings, as long as you're not trying to play Cyberpunk 2077 at max settings with ray-tracing on.
One of this PC's other outstanding features is how the RAM and storage can be easily upgraded. The former can handle up to 64GB by merely swapping the SODIMM modules, and the latter can be upgraded to 2TB via a direct swap of the two M.2 NVMe storage, and an additional drive can be added to double that amount.
The port selection is pretty solid for a budget PC, with five USB ports. However, only one is USB 3.2 Gen 2, and the rest are Gen 1. And you can connect three monitors to the PC, but it's not powerful enough to handle them at high resolutions. But if you're looking for a cheap gaming PC that can fit comfortably on your desktop, this is still a sweet deal.
More Acemagician AMR5 deals
You can also see more of the best gaming PC deals and laptop deals happening now.