Amazon always has plenty of great gaming monitor deals, including the Samsung Odyssey Ark, which is a great choice for those with extra cash to burn and a need for a luxurious gaming experience.
Amazon slashed the price of the Samsung Odyssey Ark 55-inch gaming monitor, putting it on sale for $1,999, which is the lowest price it's ever been. At a 43% discount or 1,500 cheaper, this is an excellent value for a premium monitor. In fact, at this price, it could easily be the best gaming monitor out there right now. It's a massive 55-inch UHD 4K display with a 165Hz refresh rate and 1ms response time, specs that most monitors can't hope to compete with.
If you're looking for an ultra-premium and extremely large gaming monitor, this is one of the best price cuts you'll see. But you might want to act soon if you want one, as it could sell out at any time.
Today's best gaming monitor deal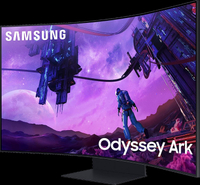 Samsung Odyssey Ark 55-inch: was $3,499 now $1,999 at Amazon
The Odyssey Ark 55-inch gaming monitor is truly a sight to behold, a 4K UHD display with 165Hz refresh rate and 1ms response time. Not to mention that you can tilt it to be either landscape or portrait orientated, whatever suits your needs. And thanks to this deal from Amazon, you can now get your hands on it for less than $2,000 — a 43% discount.
This is an extremely high-performance and massively large gaming monitor, for those looking for the ultimate gaming experience. WIth its high-end specs, the best PC games are sure to run butter smooth, and every detail of a game's UI will be fully visible.
Of course, it's not without its caveats. Unlike TVs, you tend to sit closer to gaming monitors, and a 55-inch one is going to be much more intense and possibly bad for your eyes. The good thing is that you can tilt the screen to be either landscape or portrait oriented, which could significantly help with viewing.
More gaming monitor deals
See more monitor price cuts with our roundup of the best cheap gaming monitor deals, as well as the best cheap monitor deals.