If you're looking to upgrade from just 'playing games' to 'reveling in the ultimate gaming experience', we have good news for you. The Samsung 55-inch Odyssey Ark 4K curved gaming monitor is on sale right now, and you can save a monstrous $1,000 on this enormous gaming display. It still has a hefty price tag of $1,999.99, but you're getting a whole lot of screen for the cash.
If you're a serious gamer looking for an upgrade and want to invest in a monitor that will not only last you a long time but keep up with the latest games, this could be the one for you. This massive display is built to surround you for an immersive gaming experience, and you can say goodbye to gaming disruptions with a 165hz refresh rate and variable refresh rate support thanks to AMD FreeSync Premium Pro.
Save $1,000 on the Samsung 55-inch Odyssey Ark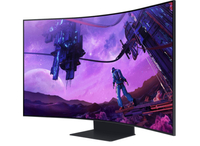 Samsung 55-inch Odyssey Ark 4K Curved Gaming Monitor: was $2,999.99 now $1,999.99 at Samsung
Dip your toes into the world of immersive gaming with the Samsung Odyssey Ark Curved Gaming Monitor now it's $1,000 off in this week's Discover Samsung sale. Enjoy one-touch display rotation as well as customizable and optimized resolution to match whatever content is on screen, as well as Dolby Atmos and Sound Dome technology to put you in the center of the action.
In our Samsung 55-inch Odyssey Ark Curved UHD Gaming Monitor review, we mentioned how the screen is perfect for gamers who are particularly fond of open-world games like Cyberpunk 2077, who will be sure to appreciate the sheer enormity of this display.
The Quantum Mini-LED tech behind the screen achieves intense depth to deliver exceptional picture quality, and the atmosphere is further enhanced with Dolby Atmos and Sound Dome technology. You can adjust screen size and ratio to fit the content you want to enjoy without a hassle, meaning you can swap between enjoying a good film at a more conventional aspect ratio to dropping into whimsical gaming worlds with the one-touch Ark Dial.
It's just massive, so if you plan on using your setup as a place to watch films and TV shows you get a solid display with amazing sound and color capabilities. The Neural Quantum Processor uses AI to analyze images and restore every detail, pixel by pixel, optimizing the contrast and sharpness of whatever you're watching.
However, if you're looking for a cheaper monitor or need a higher refresh rate for esports, you're better off looking elsewhere - perhaps at some of the other displays on offer right now in the Samsung Discover sale.
Lastly, you can also find all the latest Samsung promo codes here at TechRadar for even more ways to save some cash across the store.