Video games photo modes are nothing new, but as screenshot sharing via consoles and social media increases in popularity, photo modes have become an arguable necessity for creative players.
Sony in particular has embraced in-game photography with open arms, with many of its first-party studios adding photo modes to PS4 exclusives, including the samurai open-world adventure, Ghost of Tsushima. Nintendo has also jumped onto the bandwagon in recent years, with excellent photo modes supported in games like Super Mario Odyssey and The Legend of Zelda: Breath of the Wild.
From choosing just the right combination of filters and lighting to perfecting the correct depth of field and angle tilt, photo modes usually include a suite of options that allow gamers to capture some genuinely breathtaking shots. If video games are art, then, photo modes are the feature that provide the canvas.
The best video game photo modes let players share their artistic vision with the world, allowing another dimension of exploration to your favorite games. We've decided to round up a selection of the very best video game photo modes in the business, and ones we think add considerable value to the base package.
Cyberpunk 2077 (PS4, PS5, Xbox One, Xbox Series X/S, PC)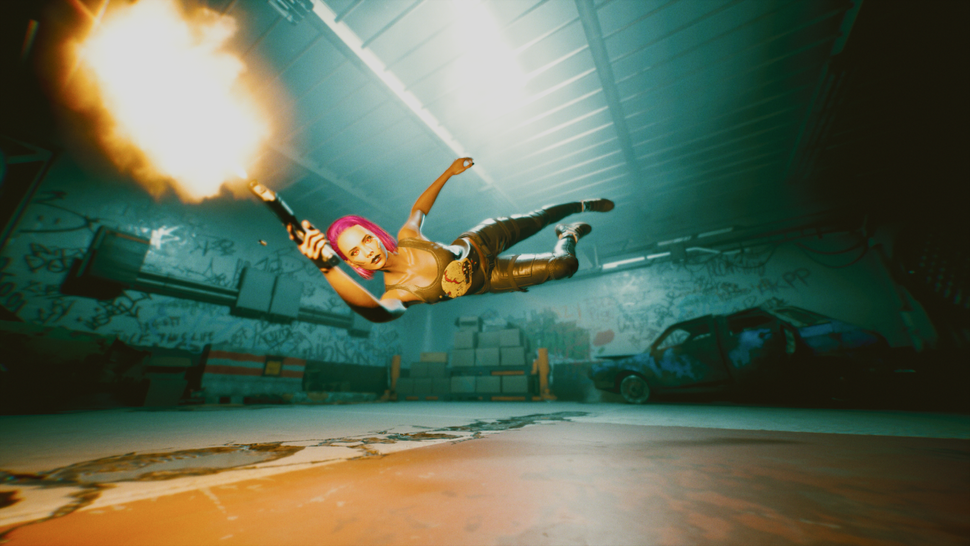 Cyberpunk 2077 was a disappointment in many ways, but one area where the game excelled was in its brilliant photo mode. And it's a very welcome feature in the game, too, as it's one of the few ways you'll get to see your player-created V from a third-person perspective.
Outside of fixed events or cutscenes, Cyberpunk 2077's photo mode gives you full control of a drone-style camera with 360 degree movement, along with zoom and depth of field options.
If you want to get more creative, there's a wealth of baked in poses to choose from for V, and an incredibly vast range of filters and decals to help you role play that futuristic social media lifestyle. V might be an ice cold runner, but at least they've got bags of style.
Ghost of Tsushima (PS4)
If you ever needed proof that people care about photo mode, Ghost of Tsushima went above and beyond, with an 18-minute gameplay walkthrough best showing off the game's fancy photography features. There's color grading, sure, but you can exert even more control over the scene by picking the direction and speed of the wind.
Heck, you can even change out the particles that float around to leaves, cherry blossoms or fireflies. The end result is rather stunning, and we can't wait to see what people create.
Super Mario 3D World + Bowser's Fury (Switch)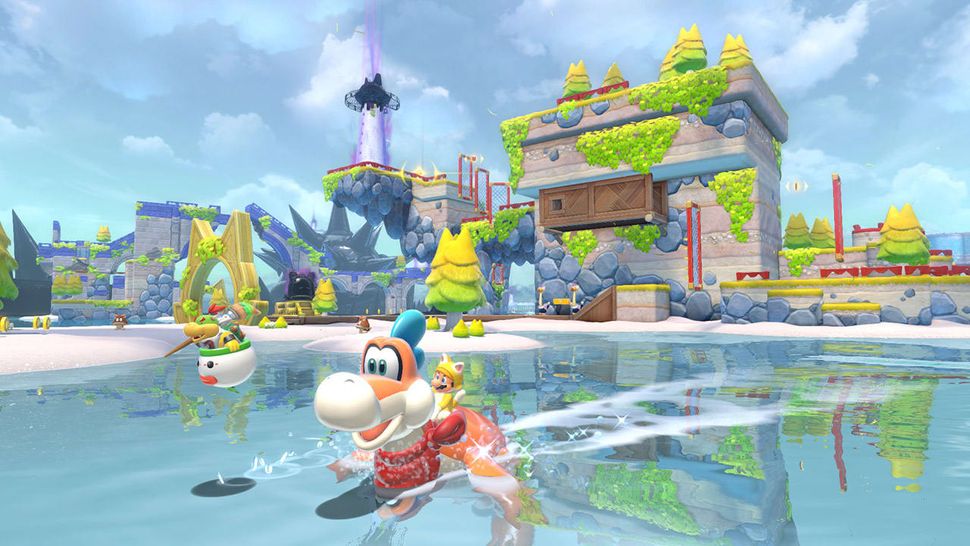 You might think a photo mode for a Super Mario game would be an odd fit, but it's remarkable how something as simple as a photo mode can add an entirely new dimension to the already gorgeous Super Mario 3D World + Bowser's Fury.
It's a similar photo mode to that which featured in Super Mario Odyssey, maintaining the easy to use interface and ability to save screenshots to your Switch for sharing on social media. As was the case in Odyssey, Mario can be posed in a variety of ways, and the camera features in the mode are surprisingly robust given how simple the interface is. Definitely one to check out if you want a way to capture Nintendo's penchant for vibrant environments.
Given Super Mario 3D World + Bowser's Fury's focus on cooperative play, the photo mode options can make for a fun parent and child activity, encouraging one another to take screenshots as you progress through the game.
Death Stranding (PS4, PC)
One of the biggest games of 2019 for PlayStation 4, Hideo Kojima's Death Stranding is a phenomenally gorgeous game, but so much of that detail can be lost in motion. That's no longer the case, however, as the game recently received a superb photo mode that lets you change the angle, the main character's pose, remove the UI and even create striking movie-style posters.
Final Fantasy 14 Online (PS4, PS5, PC)
Final Fantasy 14 has arguably the most robust photo mode we've ever seen in an MMO. Known as Group Pose in game, it feels like your own personal camera and photo studio is accessible at any time.
Final Fantasy 14's Group Pose options are staggering, and are broken into easily readable categories for edits. One is dedicated specifically to camera positioning, while others cover lighting and filters. There's even options to change your character's pose and expression via emotes, as well as hiding background elements such as other players and enemies.
Final Fantasy 14 also added an Explorer Mode, which allows players to explore dungeon content without having to deal with enemies and bosses. It's a superb addition that lets you safely take screenshots in gorgeous areas that are usually rife with monsters.
Spider-Man (PS4)
Insomniac's Spider-Man is comfortably the best superhero game of all time, and it's got one of the best video game photo modes to go with it. The array of customization tools available is quite frankly staggering, allowing you to create some truly incredible shots.
It's so detailed, in fact, that some of the options might be confusing if you're not that into photography. You can change the FOV (field of view), adjust the aperture (blur the background), and add a vignette (make the photo look older). But let's be honest, it's more fun to just mess around with Spider-Man's poses and expressions more than anything else.
Assassin's Creed Valhalla (PS4, PS5, Xbox One, Xbox Series X/S, PC)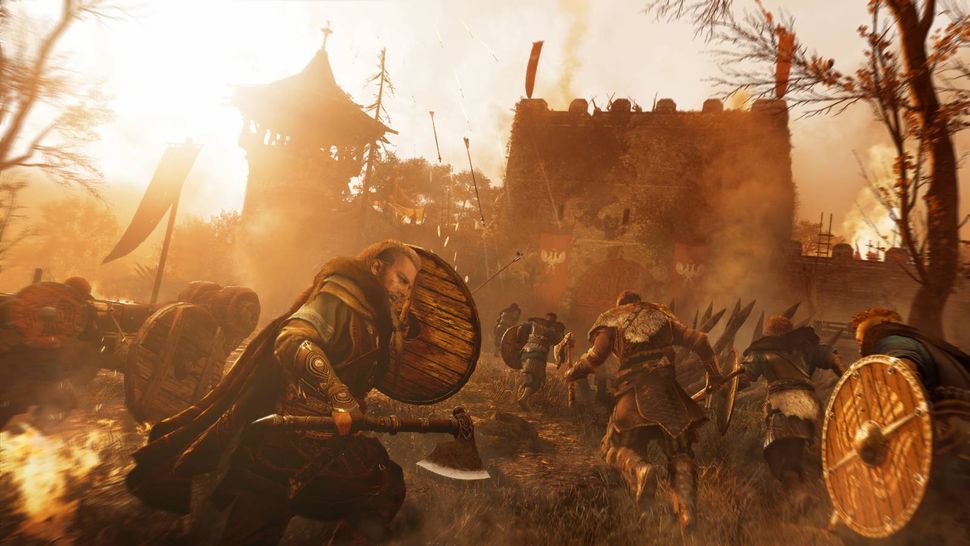 While you won't be able to pose Eivor to your liking, Assassin's Creed Valhalla's photo mode benefits immensely from just how gorgeous the game is on a 4K HDR compatible display. The lush greens of the English countryside are vividly rendered and ripe for all manner of cinematic screenshots.
Some may find this a little intrusive, but the map menu is dotted with community-favorite screenshots, and these are taken by both other players and Ubisoft itself. This is a great feature for giving keen photographers some explorative inspiration, and was also included in other Ubisoft titles such as Assassin's Creed: Odyssey and Immortals: Fenyx Rising.
God of War (PS4)
A fabulous-looking video game, God of War's attention to detail is simply staggering. It's handy, then, that the game includes a comprehensive photo mode. Get a grizzly close up of Kratos' beard or capture an axe-wielding moment of brutality – you can manipulate the scene in a variety of ways. No matter which way you spin the camera, though, God of War always looks astounding.
Forza Horizon 4 (Xbox One, PC)
Cars tend to photograph extremely well, and the automobiles in Forza Horizon 4 are no exception. Photo mode adds an extra layer of polish to an already sumptuous game, making your carefully tailored snaps look almost photo-realistic at times. Set in the UK across four dynamic seasons, it's possible to get some award-winning shots, no matter the weather.
Super Smash Bros. Ultimate (Nintendo Switch)
So much happens in a match of Super Smash Bros. Ultimate that sometimes you just want to stop the action and marvel at the mayhem on screen. Thankfully, you can, as Mario and a huge cast of characters from video game history can be snapped to your heart's content.
Although Smash Bros doesn't feature a fully dedicated photo mode like the games above, you do get to explore what is essentially a mini-diorama using the free camera when the game is paused. Now you can get a close up of Kirby being punched anytime, anywhere on Nintendo Switch, and take a screenshot using the camera button.
Red Dead Redemption 2 (PS4, Xbox One, PC)
Saddle up, find an awe-inspiring vista, and turn on photo mode. Rinse and repeat. Red Dead Redemption 2 is stuffed full of spectacular sights and teeming with wildlife, so don't be surprised if you spend more time snapping than you do playing. The game's photo mode lets you examine every inch of Rockstar's amazing recreation of the Wild West era. But if you're like us, you'll probably just be taking pictures of your horse.
Horizon: Zero Dawn (PS4)
Another cracking PS4 exclusive, another top-tier photo mode. Horizon: Zero Dawn doesn't skimp on the options for in-game artists to play with. You've got all the usual tools here: filters, expressions, and even the choice to remove Aloy (the game's main character) entirely if you'd just rather shoot the scenery instead. What makes Horizon: Zero Dawn so perfect for picture opportunities, though, is the mechanical menaces that roam the land. Sparks will fly during combat, which can only mean one thing: countless photo ops.
Shadow of the Tomb Raider (PS4, Xbox One PC)
Lara's latest archaeological adventure makes the cut for one simple reason: you can change Lara's expression for some truly… disturbing results. While we're used to seeing Miss Croft overcome countless pitfalls and deal with some historical hi-jinks, we've never seen her smile while being impaled by a metal spike. Thanks to Shadow of the Tomb Raider's photo mode now we can.... and we really wish we hadn't.
The Legend of Zelda: Breath of the Wild (Switch)
If you're after a photo mode that ties directly into gameplay, few are better than The Legend of Zelda: Breath of the Wild. Not only can you capture Hyrule in all of its post-apocalyptic beauty (not to mention Link's hilariously awkward selfie expressions), your Sheikah Slate's camera can also be used for much more practical purposes.
Simply pull out your Sheikah Slate and identify an item of interest. This can be any character, flora and fauna, food and even Hyrule's fiercest enemies. The camera will then identify what exactly the subject is, and can then be logged into your vast database by just taking a photo.
This is a fantastic yet somewhat understated feature that adds another layer of exploration to The Legend of Zelda: Breath of the Wild. Once you've got the feel for it, it becomes all too easy to lose yourself in the process of cataloging the countless denizens and delights that populate Hyrule.