£15 per month. That's what you can now pay for Samsung Galaxy S9 deals, less than a year into its status as the 2018 flagship Samsung smartphone. And that's not even a special price for Black Friday and Cyber Monday - it's the new normal.
Galaxy S9 deals have been some of our favourites in mobile phone land in 2018. Just a couple of months after release we started seeing sub-£25 per month tariffs on Samsung's latest and greatest flagship phone and the good times continue to roll. The £23 per month tariffs that we've been bigging up for ages are still being rocked by a few of the major UK online smartphone retailers. After that big data deals are probably the best value at the moment. 30GB is a good spot right now, with EE - the UK's fastest 4G network - leading the way when the data limits start escalating.
You can compare Galaxy S9 deals and get the best data, call and text allowance for for your needs using our daily refreshed comparison chart. Or scroll down to our handpicked S9 deals below to see which are the hot ones you should take advantage of now.
And for the lowdown on the fantastic flagship phone from Samsung, scroll even further for our whistle-stop review below (or just head to our Samsung Galaxy S9 review here). The Galaxy S9 is certainly a great phone, now use our chart to compare deals and get a great price...
Our EXCLUSIVE Galaxy S9 deal for Black Friday
Galaxy S9 deals: compare tariffs with our chart
Galaxy S9 deals: best of Black Friday 2018 so far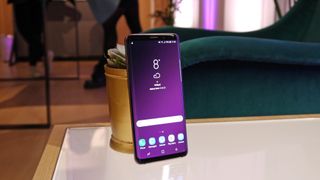 So it's finally here, and our general impressions are predictably positive. The Samsung Galaxy S9 is really all about the camera, with most of the unveiling ceremony concentrating on the improvements that have been made to the front and rear snappers. It comes out of the box running off Android's latest Oreo operating system and a new chipset should make your using experience as swift as possible. We only wish it improved on the Galaxy S8 more...
Read TechRadar's Samsung Galaxy S9 review

Galaxy S9 deals: today's other best on contract in the UK
Galaxy S9 deals: best by network
EE, O2, Vodafone or Three? Whether you have a preference or not, below you'll find some of our favourite Galaxy S9 deals available from each major network.

Galaxy S9 deals: best on EE
Galaxy S9 deals: best on O2
Galaxy S9 deals: best on Vodafone
Galaxy S9 deals: best on Three