Dyson on sale: 2022's best Australian deals on vacuums, fans, hair care and more
Our guide to the best Dyson deals in Australia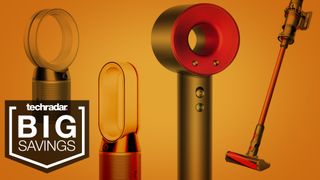 (Image credit: Dyson / Future)
Looking for a high quality vacuum cleaner to make your home life easier? Or are you after a high-end fan or hair dryer? If any of those scenarios sound like the on you find yourself in, then you've landed in the right place to bag yourself a great (and bagless) Dyson deal.
Dyson has built itself up to be a leader when it comes to the moving of air. Its innovative designs have set benchmark after benchmark and its popularity as a manufacture has extended way beyond vacuum cleaners.
That said, with innovative design and top quality comes premium pricing, and that's where we come in. On this page we're listing all of the cheapest deals and offers on Dyson vacuums including uprights, cylinders and cordless models, along with some great prices on the company's fans and hair care products.
We'll update the page regularly to include official Dyson sales, discount codes, retailer offers and sale highlights. Whether its vacuuming, cooling, heating or drying, every member of the family can benefit from a Dyson product in the household. So, here they are, the best Dyson deals and discounts on vacuums, fans, hair care and more.
Dyson V15 Detect offers and deals
Just when you thought Dyson's spree of innovation had reached its limit, the company brings lasers into the equation. In case you were wondering, the 'Detect' part of the V15's name is in reference to a new laser light that's used to illuminate dirt on the floor, making it easier to see how thoroughly you've cleaned and how much dirt you have left to pick up. Aside from this flashy feature, the V15 Detect also brings HEPA filtration and dynamic suction that's even more powerful than before.
Dyson V12 Detect Slim offers and deals
Offering the same laser-driven, dirt-detecting technology as the V15 Detect, but in a more lightweight package, Dyson's V12 Detect Slim is a great alternative for those with a smaller home or apartment. At just 2.2kg, it's also easier to lift and manoeuvre, making the act of vacuuming a less tiring endeavour.
Dyson V11 Outsize offers and deals
Dyson's V11 Outsize is still the largest handstick vacuum that it offers, giving users a 150% larger bin than regular V11 models, and a 25% wider cleaning head, which should cut down in the amount of time it takes to clean your home. Another great thing about the V11 Outsize is that it allows you to swap out its battery for a spare (sold separately), giving you the opportunity to keep on vacuuming without waiting for a lengthy recharge.
Dyson V11 offers and deals
Dyson's V11 range features a number of notable improvements over the V10 series, including an updated battery power management system, along with the ability to see how much longer your vacuum session will last real-time via a handy LCD screen.
Additionally, you now have the ability to swap out battery packs to keep the suction going if need be, meaning you won't be forced to wait a few hours for your vacuum to recharge any longer.
As you would expect, you'll have to spend a little more to access such advancements. Here are the best Dyson V11 deals that we've been able to find.