Windows 10 Mobile has struggled to compete with iOS and Android, but it does have some great features, and arguably the best of those could be landing on the Samsung Galaxy S8.
Which feature? The ability to plug the phone into a monitor for a desktop-like experience.
On Windows 10 Mobile the ability is called Continuum, and while Samsung's take won't be identical, it does look similar, based on the slide below.
The image, which was obtained by AAWP and supposedly comes from an upcoming Galaxy S8 presentation, shows a handset connected by cable to a screen, with a full PC-like desktop on it, complete with apps, folders and multiple windows all visible at once.
The slide also shows a Bluetooth keyboard and mouse, and notes that this "Samsung Desktop Experience" supports multi-tasking, as is clear from the multiple open windows.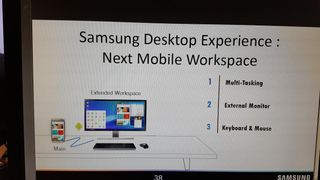 Two-in-one
We're wary about reading too much into the details of the image, as this looks like a very basic mock-up, but the fact that the phone screen is still on, and not fully mirroring the desktop display, suggests you might still be able to use the Galaxy S8 separately while it's connected to an external screen.
This isn't new territory for Samsung, as the brand has created SideSync in the past to bring the phone into the computer, with a simple connection letting you use a virtual version of the phone inside your PC.
You'll also note that the phone itself looks a lot like the Samsung Galaxy S7, complete with a physical home button below the display, which goes against some of the rumors we've heard.
That doesn't mean this is a fake, but it's certainly worth taking with a pinch of salt, as the slide would have been very easy to fake. We should know one way or another soon, as the Samsung Galaxy S8 is likely to be announced at MWC 2017 in late February.