Canon's three new Ixus models are part of a routine upgrade to its pocket camera line-up. They boasts some useful improvements over their predecessors but no great leaps forward in technology.
The three new added to the range include the IXUS 170 which features a 12x optical zoom, and the IXUS 160 and the IXUS 165, which both feature 8x optical zooms.
All three of the cameras feature a 20 million pixel sensor, with the ability to shoot in Smart Auto mode to activate the most appropriate settings for a shot, or you can use Creative Filters, including Fisheye, Toy Camera and Monochrome, to get an artistic and different look.
All three cameras also have 720p video recording capabilities, while the IXUS 170 and 165 are equipped with Intelligent IS to help deliver blur-free images and combat camera shake.
Canon Ixus 170/ELPH 170 IS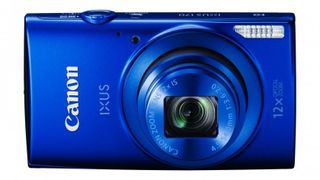 This is the top model in the new trio and comes with a 12x 25-300mm equivalent zoom lens, which not so long ago would have made it a good travel zoom – its small size and long zoom range would still make it the perfect holiday snapper.
The battery life is pretty modest at 200 shots, but the camera's Eco mode can extend this to 255 shots.
In the US, the Canon IXUS 170 is called the PowerShot ELPH 170 IS. It will go on sale in February 2015 and cost £150/US$150 (about AU$186).
Canon Ixus 165
The Canon Ixus 165 is effectively the same as the Ixus 170, but with an 8x 28-224mm equivalent zoom lens. This will go on sale in the UK in February 2015 and cost £130.
Canon Ixus 160/ELPH 160
The Ixus/ELPH 160 is the cheapest camera in the trio. It comes with a 8x 28-224mm equivalent zoom lens and all of the features of the other two models, except for the Intelligent Image Stabilization. The other two models have optical stabilisation systems, but the Ixus 160 only has digital stabilization.
The Ixus/ELPH 160 will go on sale in February 2015 and cost £100/US$120 (about AU$149).