Forget the Apple Car – smartphone giant Xiaomi reveals its first 650hp electric vehicle
You've got the smartphone, now get the smart car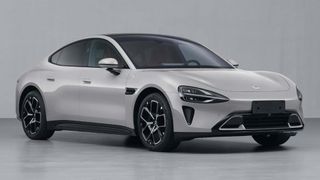 (Image credit: CarNewsChina/MIIT)
We've seen Apple Car rumors circulating for years now, but recent applications published by China's Ministry of Industry and Information Technology (MIIT) suggest that Chinese smartphone giant Xiaomi could be the first tech company to make an electric car.
According to Chinese legislation, any new car must be approved by a local regulator before going on sale – and in the interest of transparency, the MIIT publishes any vehicle going through the homologation process. This is where early imagery and details of Xiaomi's upcoming SU7 sedan first surfaced.
CarNewsChina, which originally broke the story, says the filings reveal that Xiaomi isn't actually doing much of the heavy lifting, leaving most of the automotive stuff to the Beijing Automotive Industry Holding Company (BAIC) – a government-owned manufacturer that produces everything from compact electric city cars to massive Ford F150-esque pick-ups under its Fonton brand.
According to China's MIIT, the SU7 will be offered in a single-motor, rear-wheel-drive variant, producing 295hp, while a more exotic all-wheel-drive version will also go on sale that produces 663hp. There was no official word on battery packs and range, but previous leaks have suggested an 800-Volt architecture (for fast charging) and 100kWh battery, according to Electrek.
In terms of size, the car sits at just shy of 3m (118-inches) long, which is only slightly longer than the Tesla Model S. It's a hodgepodge of design elements, too, with inspiration clearly taken from Tesla's Model Y (especially along the flanks), while the front end blends elements of current Porsches and even some slightly watered-down McLaren 750S in the bonnet and headlights. Originality clearly isn't a strong point.
So where does Xiaomi come in? It is likely the tech giant will look after the infotainment system, offering seamless connectivity with its phones. While keen eyes at CarNewsChina pointed out a camera on the B-pillar, which could be used for facial recognition unlocking. Alternatively, this could be part of an autonomous driving package.
Will it be launched outside China?
Predictably, this car will prove popular in its home country of China, where the Xiaomi brand has almost superstar status. Whether or not we will see it come to market in other regions is up for debate.
It's highly likely the Xiaomi SU7 could find success in other Asian countries, while its smartphones have been seeing great success in places like Russia, Ukraine, Spain and Italy. Whether the brand loyalty is strong enough for customers to make the jump from phones to cars is another matter entirely.
That said, the electrification of the automotive space has opened up the possibility for non-legacy automakers to make a big impact. Tesla's rampant success is one very obvious example, but then we have seen start-ups like Rivian, NIO and Lucid also making waves.
Electrification has leveled the playing field and put an onus on in-car technology like the industry has never experienced before. Legacy automakers are struggling to keep up and are becoming less and less relevant with the next generation of buyers.
In the coming years, it might not be such an odd thing to own a car made by the same folk that produce your robotic vacuum cleaner.
You might also like
Get daily insight, inspiration and deals in your inbox
Get the hottest deals available in your inbox plus news, reviews, opinion, analysis and more from the TechRadar team.