Some summaries are easy to write. 2013's iPad Air, for example: a stunning tablet, with an obvious case for winning the first 5 star review I'd given to such a device.
It was a sign that the market had evolved to the point of delivering a truly useful tablet.
But I remember wondering how that could be topped, whether Apple would just give it a tiny push and call it all-new (like it did with the iPad mini 3, lest we forget).
The challenge is even greater here, as not only does Apple have to top its own lofty goal, but also beat off the much-improved competition from Samsung, Google/HTC and Sony. So how has the iPad Air 2 fared? Well, very well.
We liked
When I saw this getting unveiled onstage, I was nonplussed. Better screen? A bit thinner? I needed to be convinced. Then I held it, and I really was.
It's not just lighter, it's perceptibly lighter. I originally wrote here that I thought there was no way tablets can get any thinner, without some genius move in engineering. Of course, they did, but not by much - the iPad Pro 11 is 5.9mm thick to the iPad Air 2's 6.1mm.
Still, it feels like there should be a danger that this tablet is too fragile, although it hasn't seemed to be in testing.
I really like the improved screen, and there will probably be a few smug faces over in South Korea looking at the fact colors seem more vibrant on the new iPad Air 2, rather than focusing on natural hues.
The battery life is impressive, the power under the hood unprecedented and generally, everything on this tablet really just works.
And in comparison to the competition, it's not even that expensive since the more recent price drop.
We disliked
The 16GB option was too small, but Apple has now ditched that giving you 32GB and 128GB models which suit this slate much better and makes the entry level option far more approachable.
The dislikes are beyond nitpicking: the slow motion video is capped at 120fps (although that is irritating as 240fps on the iPhone 6, a less powerful device, is actually awesome) and you can't get text messages, only iMessages, on the tablet.
If that's all I can find wrong with the Air 2, that has to bode well.
Verdict
Apple has improved on perfection with the iPad Air 2, making something that anyone using a tablet from 2012 or earlier should be thinking very strongly about upgrading to.
The combination of power, better screen, improved design and upgraded OS make this a very, very compelling device - and that's before getting into the fact the app ecosystem is so much stronger than on Android.
It's even better now iOS is capable of scaling apps so seamlessly - the days of low-res iPhone apps are gone. It's another hammer blow to the Google tablet market, although I'm fully confident that's going to catch up in quality soon.
It's no good just saying that a tablet has good design, power or specifications. The ultimate success or failure of any device depends on how it's packaged and whether it comes in at the right price.
Apple has drawn on all its strengths to make a tablet that seems to have no flaws, and it remained the best tablet for a long time. In fact, even in 2018 it's still pretty good.
The good news for you tablet fans out there is that even if you're not a fan of the iPad Air 2, or want to make sure you're getting the best value for money, there are plenty of other decent options, such as the following:
iPad 9.7
Apple doesn't sell the iPad Air 2 - or even the iPad Pro 9.7 - anymore, but it does still sell a 9.7-inch slate, namely the iPad 9.7 launched in 2018.
This is a budget slate by Apple's standards, but still a little pricier than the aging Air 2. It goes a long way towards justifying its price tag though, with a faster chipset, a better screen and Apple Pencil support.
And while both slates run iOS 12, the iPad 9.7 is sure to be supported with updates for a lot longer than the iPad Air 2.
Samsung Galaxy Tab S2
As Samsung's thinnest tablet, the Galaxy Tab S2 is easy to tote around. Its 9.7-inch model's weight fits in between the iPad Air 2 and iPad mini 4. Its 8-inch tablet is even lighter.
Yet it upgrades to a metal frame, keeps the microSD card slot and uses a more comfortable, soft touch plastic back.
There's plenty of reason to invest in this reading and web surfing-friendly tablet. Its size and shape is better suited for everything but video, and for some, that's a big plus.
It has stronger multitasking functionality to rival iOS and it keeps Samsung ahead of other Android tablets, even if this update is as small as the form factor is thin.
Samsung has since launched the Galaxy Tab S3 and even the Samsung Galaxy Tab S4, but these aren't as cheap or as slim.
iPad Pro 9.7
The iPad Pro 9.7 looks, sounds and performs better than the iPad Air 2 in every way, though you have to look a little closer to realize any of these changes on the outside. It'll also cost you quite a lot more.
Its color-rich display impresses with white-balance adapting screen technology and its four speakers drown out the audio of other tablets I have used.
The faster specs keep this tablet running smoothly, while 4K video and the choice of a 256GB iPad make for an excellent combination.
The iPad Pro 9.7 is more than an a simple specs bump a year and a half after the iPad Air 2, but it's not quite the laptop replacement that Apple poses it to be.
Sony Xperia Z4 Tablet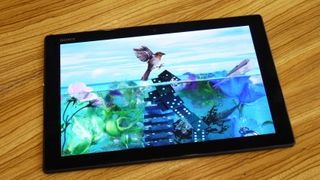 If there's any non-Apple tablet that makes as strong a first impression as the iPad Air 2 it's the Sony Xperia Z4 Tablet. At 6.1mm thick it's just as thin and at 392g it's even lighter.
The polycarbonate build of the slate isn't quite as impressive as the iPad Air 2's aluminium unibody, but the Xperia Z4 Tablet is perhaps more durable with water and dust resistance added into the mix.
There's a whole lot of power here too and a gorgeous 10.1-inch 2560 x 1600 display, which beats the iPad Air 2 for pixel density. Yet despite all this tech it's still got a heft battery life.
It launched with a premium price tag and Sony's UI isn't the best we've come across, but the Sony Xperia Z4 Tablet is still easily one of the best iPad Air 2 alternatives around.
iPad Air
Of course there's always the option from the previous year to check out. What you get for your smaller spend is a less vibrant screen, a heavier device and a slower chipset at the heart, without the benefit of Touch ID.
It's quite a lot to lose as Apple has touched up and tinkered with nearly every element to make the Air 2 a real step forward, but for the cash you're still getting a brilliant tablet that's now playing at a more palatable budget level.
It's got all the same iOS 12 upgrades too, so while you don't get slow motion video, a lot of other treats will appear. A slightly older but my no means unworthy tablet.