If you've been waiting for the prices on graphics cards and computer memory to drop, your wishes have been finally granted thanks to a Black Friday miracle.
Cyber Monday has already brought on a resurgence of an incredible discounts on PC components that include some of the very first deals on Nvidia's latest Turing RTX graphics cards as well as discounts on memory, which saw a serious uptick in price throughout the year. Whether you've been waiting for a big sale to build your first PC or simply upgrade a few computer parts, we're sure you'll find something you want today.
Cyber Monday as always has delivered an an overwhelming number of sales, but we'll be here with you every step of the way to make sense of the figurative ocean of component deals you'll see on Cyber Monday today.
Quick links to early Cyber Monday deals
Cyber Monday component deals live today:
Graphics card deals
Processor deals
SSD and HDD storage deals
Monitor deals
Peripheral deals
Computing deals
Memory deals
Motherboard deals
Intel motherboards
AMD motherboards
PC case deals
Power supply deals
Cyber Monday component deals you missed:
Cyber Monday component deals coming soon:
We've also spotted plenty of PC component Cyber Monday deals that are still on their way. While its disappointing we'll have to wait until at least November 25th to get a hold of these savings, there are some significant savings to salivate over.
When to get the best PC component deals on Cyber Monday
This is where things get a surprisingly tricky. Cyber Monday is November 26, but there are some carry over deals from Black Friday that might interest you. We're also starting to see some early Cyber Monday deals trickle out.
Though these include some nice discounts, we fully expect deals will only get better as we get closer to the retail event. For example, Amazon holds several Deals of the Days throughout the weekend ahead of Cyber Monday (November 24-25). Newegg also runs a similar scheme by posting Cyber Monday sales page well in advance – however the difference here is you can't take advantage of the discount prices until at least November 25th.
How to get the best PC component deals on Cyber Monday
Amazon and Newegg won't be the only retailers serving up sweet deals on Cyber Monday. You can also expect great PC component discounts from the likes of Tiger Direct, Adorama, B&H Photo and Walmart just to name a few.
That's a blessing and a curse at the same time, as there will be flood of deals to sift through. Good news is we're here to help sort out only the best PC component deals on Cyber Monday. Rest assured, we'll only recommend deals with the biggest discounts. We're also cherry picking the PC parts based on what we would recommend or use ourselves.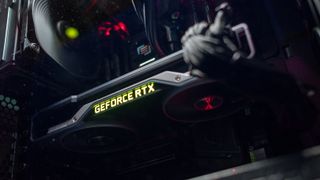 Stick with TechRadar to get the best Cyber Monday deals
Even though shopping online for Cyber Monday from the comfort of your home is a lot less grueling than storming the Walmart in person, it can still be the most stressful shopping day of the entire year. There are too many deals, everything is selling out, and too little time – it can all be overwhelming.
But don't worry, TechRadar has your back through this whole process. We'll be highlighting the best Cyber Monday PC component deals from the weekend before and right through the entire day. So you can just keep on coming back here for the best savings on the best components and hardware.
For up to the minute info, breaking deals and the biggest savings as soon as we know about them, make sure you follow TR Deals on Twitter so you don't miss out on any incredible Cyber Monday component deals.