Fitbit Ionic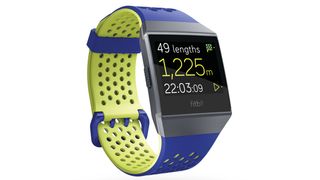 The original Apple Watch is still a fine fitness companion thanks to the ever-evolving Activity app and accurate heart-rate sensing tech. However, there's a pair of significant drawbacks; there's no GPS and no sleep tracking due to the need to charge every 18 hours.
The Fitbit Ionic (£299.95 / $299.95 / AU$449.95) is only slightly more expensive and ticks both of these boxes, as well as offering multi sport tracking and built-in workouts. You won't get that excellent range of watchOS apps or full integration with iOS, but if you're buying a smartwatch primarily for fitness purposes, this is worth a look.
Apple Watch 3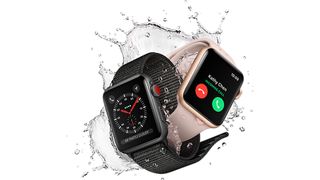 Before you click the buy button on that Apple Watch purchase, it's important to weigh up how much you'd value liberation from your iPhone.
The Series 3 + Cellular model offers the advantage of built-in GPS and standalone LTE connectivity. That means you can track your workouts, stream from Apple Music, make calls, send texts and set reminders all while leaving your iPhone at home. You'll also get a much brighter display (1,000 nits vs 450 bits) and 50m of water resistance, which unlocks swimming.
Put it this way, the Series 1 Apple Watch is $249.00/£249.00/AU$359.00, the Series 3 with Cellular capabilities is $399.00/£399.00/AU$599.00. Will you regret spending the extra dosh?
Fossil Q Venture
The Apple Watch is a modern fashion icon. With a large array of finishes and band options, it offers as much style as substance. So, if it's a stylish smartwatch you're after then look no further than the Fossil Q Venture (starting at £259 / $255 / AU$399).
This Android Wear 2.0 watch is beautifully constructed and has a deliciously vibrant and responsive touchscreen display. It might be missing GPS, NFC and a heart rate tracker, but it sure is pretty.
LG Watch Style
With a slim, sleek and stylish build the LG Watch Style is one of the best-looking alternatives to the Apple Watch and it's also a similar price to Apple's Series 1 wearable.
The round screen could be a deal maker or breaker depending on your tastes, but either way this is a fairly basic Android Wear device, putting form way ahead of function.
There's no NFC for example, ruling out contactless payments, and the battery life is at the lower end of wearables, but if you want something that looks good and won't cost the Earth the LG Watch Style is a strong option.