The Samsung Q60B gives us a bright, colorful reminder of just how effective QLED can be for elevating relatively simple TV tech into something that looks appealing. It also reveals, though, that doing Quantum Dots on the cheap can come with some awkward compromises to the overall image quality.
Pros
+

High brightness levels

+

Rich colors

+

Premium-looking super-slim design
Cons
-

Contrast is limited

-

Motion can look awkward

-

No Dolby Vision support
Why you can trust TechRadar We spend hours testing every product or service we review, so you can be sure you're buying the best. Find out more about how we test.
Samsung Q60B: Two-minute review
The Samsung Q60B QLED TV starts from a much cheaper price than Samsung's other QLED sets, but its spec sheet includes Quantum Dot colors, a comprehensive smart system, and so-called Object Tracking Sound technology.
The Samsung Q60B looks like it should have what it takes to steal a march over its similarly priced competition. It backs its on-paper appeal up with a gorgeous super-slim design, crisp finish, and good build quality that help it look and feel much more premium than you'd expect for its money.
And aside from being a bit unintuitive to navigate, the Samsung Q60B's Tizen smart system impresses by delivering pretty much every streaming app known to humankind, and ensuring that there's always HDR and 4K streaming support from any app that carries these features.
Picture quality starts well, with the Q60B producing more brightness and Quantum Dot-inspired color punch than the vast majority of cheap TV rivals. Its playback of native 4K sources is also impressively crisp most of the time, too – especially welcome on the 55-inch size that we tested for this Samsung Q60B review. It doesn't miss out compared to the best 4K TVs for Ultra HD content.
However, you don't have to watch for too long before you notice that the pleasing brightness has a cost in the shape of relatively flat, gray dark scenes. Motion doesn't look as clean and natural as it usually does on Samsung TVs either – even accounting for its price, it's not up there with the best TVs available today. Meanwhile, the Q60B's audio system copes with day-to-day TV viewing quite nicely but comes up short of power with any good action film soundtrack.
In the US, the same kind of price at 55 inches will get you the TCL 6-Series Roku TV (2022), which provides mini-LED backlighting for its QLED panel, plus 120Hz support for better motion handling. We'd suggest that for most people. In the UK, the competition is tougher, and the Samsung Q60B is still one of the best TVs under £1000.
We tested the 55-inch Samsung 55Q60B for this review.
Samsung Q60B review: Price and release date
Released in May 2022
Starts from $549 / £499 for 43-inch model (not available in Australia)
Costs $699 / £699 / AU$1,299 for the 55-inch model we tested
The Q60B is the cheapest Samsung TV series in its Quantum Dot 'QLED' category, and it comes in smaller sizes than most of Samsung's other QLED TVs – at least, it does in some countries. It has a different range of sizes in the US, the UK and Australia.
In the US, it comes in 43-inch ($549), 50-inch ($649), 55-inch ($699), 60-inch ($799), 65-inch ($949), 70-inch ($999), 75-inch ($1,199) and 85-inch ($1,799) sizes.
In the UK, it comes in 43-inch (£499), 50-inch (£599), 55-inch (£649), 65-inch (£1,099), 75-inch (£1,599) and 85-inch (£1,999) sizes.
In Australia, is starts with the 55-inch model (AU$1,299), and you've also got 65-inch (AU$1,499), 75-inch (AU$2,499) and 85-inch (AU$3,999) sizes.
Being Samsung's cheapest QLED range does mean that the Q60Bs' screen specifications are limited in some other ways, as we'll see in the next section, and there are models from the likes of Hisense and TCL that also feature Quantum Dots, but are able to pack in some more advanced image tech elsewhere too.
The existence of these rivals does not, though, make the Samsung Q60B any less of a potential hit, provided its performance is up to Samsung's usual mid-range LCD standards.
The step-up model from the Q60B, the Q70B, provides you a slightly more powerful picture processor – including more advanced motion handling. Going up again to the Samsung Q80B gets you a more advanced backlight with better contrast. If you can live without Quantum Dots, the step-down Samsung BU8500 saves you a little more money, but features the same processing and smart TV tech.
Samsung Q60B review: Specs
Swipe to scroll horizontally
| | | |
| --- | --- | --- |
| Sizes available: | 43, 50, 55, 60, 65, 70, 75 and 85 inches | Row 0 - Cell 2 |
| Screen type: | QLED Edge-lit LCD | Row 1 - Cell 2 |
| Resolution: | 4K | Row 2 - Cell 2 |
| HDR support: | HDR10, HLG, HDR10+ | Row 3 - Cell 2 |
| Speakers: | 2 x 10W | Row 4 - Cell 2 |
| Smart TV: | Tizen | Row 5 - Cell 2 |
| HDMI ports: | 3x HDMI 2.0 | Row 6 - Cell 2 |
Samsung Q60B review: Features
QLED TV with edge LED lighting
Native 4K resolution and HDR support
Uses Samsung's Dual-LED backlight technology
The Samsung Q60B's key screen specifications make for interesting reading, thanks to their unusual mix of premium and basic features. On the basic front, the panel uses relatively inaccurate edge-based lighting rather than putting its LEDs directly behind the screen, and doesn't feature any local dimming (where different parts of the backlight can be made to output different levels of light, so darker areas can appear dimmer darker than light areas).
On the premium side, the Quantum Dot color system will hopefully reach color tones, and subtleties regular color filter technology cannot match. In fact, Samsung claims more than a billion shades and 100% coverage of the key DCI-P3 color standard in its Q60B marketing.
While it doesn't carry local dimming, it does benefit from a Dual-LED lighting system, that finds the LEDs ranged around the screen producing alternating cool and warm tones in a bid to increase color accuracy and richness.
The Q60B's on-paper strengths raise real hopes of superior performance with high dynamic range content – though the potential lack of light control is something we'll have to keep an eye on.
The HDR potential is bolstered, too, by support for the HDR10+ format as well as the more basic HDR10 and HLG formats. The HDR10+ format adds extra scene-by-scene image data to the video feed that compatible TVs can use to produce more dynamic and accurate images. In fact, the Q60B even provides the Adaptive version of HDR10+, where the picture settings can automatically compensate for ambient light conditions.
As ever with Samsung TVs, though, the support for HDR10+ is not partnered with support for the Dolby Vision format, which also carries extra scene-by-scene image data but is available on a broader range of sources than HDR10+, including Disney Plus and Netflix.
Another premium image touch is the Quantum Processor Lite 4K brain at the Q60B's heart. This is not as potent as the processor found in Samsung's step-up models and doesn't draw on any AI 'neural network' learning like the processors inside Samsung's high-end TVs. But it still works across a range of picture quality areas to deliver better-looking results - especially regarding the upscaling of sub-4K sources.
The Quantum Processor extends its tendrils into the Q60B's audio, offering the option to automatically adjust the TV's audio profile to suit different types of content.
Although it's only equipped with a down-firing 2x10W speaker system, the Q60B still delivers a 'Lite' version of Samsung's Object Tracking Sound system whereby sound effects appear to be coming from precisely the correct place on the screen. Thanks to Samsung's Q-Symphony feature, you can also partner the Q60B's speakers with those of a recent Samsung soundbar and they'll combine together for a bigger sound, instead of the soundbar simply replacing the built-in speakers.
On the back, you'll find three HDMI ports, which is often the case with cheaper TVs, but given that this is premium enough to be a QLED model, we'd prefer the future-proofing that four ports would give you.
Samsung Q60B review: Picture quality
Bright and colorful for its money
Good 4K and upscaled sharpness
Some black level shortcomings
As we'd slightly feared, the desire to deliver the color and brightness benefits associated with Quantum Dots at the Q60B's sort of affordable price level isn't an unmitigated success… but there are certainly times when you'd be forgiven for persuading yourself that it was.
Essentially the successes and failures of the Q60B's picture quality depend on whether you're watching bright or dark scenes. With the former, the set instantly wins you over with its impressive brightness compared with many of its similarly affordable rivals. It's often said that you really need at least 500 nits of brightness for anything approaching a 'true' HDR experience, and the Q60B is impressively bright for a budget TV, able to produce 573 nits of brightness on a 10% white HDR window in its Standard picture mode during our tests.
The Q60B's ability to deliver this certainly contributes to a much more dramatic and exciting shift when you switch from SDR to HDR than you do with most cheap HDR TVs.
This brightness feeds handsomely into the Q60B's Quantum Dot colors, giving them levels of intensity and richness that again push comfortably beyond the color volumes typically associated with TVs at the same price. The brightness can cause a bit of subtle shading to be lost in the most extremely bright HDR areas. Still, for the most part – especially in the Standard preset – the impressively full-on color saturations are combined with very credible and immersive blends and tonal shifts.
Again there's a sense that you're seeing much more of an HDR image's potential here than you would typically expect with such an affordable TV.
The Q60B also stands out from many rivals with its sharpness. Native 4K images typically look crisp and full of texture, while the 4K upscaling of HD sources delivers exceptionally clean, crisp, and natural-looking results.
While these strengths add up to bright scenes – especially HDR bright scenes – that look eye-catching and dynamic, though, the Q60B's inability to achieve really any level of localized light control makes it much less satisfying with dark scenes. Parts of dark scenes that should look black instead invariably look a rather washed-out gray, leaving them feeling flat and unconvincing compared with bright moments in the same TV show or film.
This means that as well as feeling unsatisfying in themselves, the flat-looking dark scenes contribute to a sense of inconsistency that can be quite distracting when you're trying to immerse yourself in a film.
Some of the TV's settings can cause dark scenes to flicker a bit, too, as the screen reacts to small changes in average brightness levels, while colors in dark picture areas tend to look less punchy and convincing thanks to the infusion of gray washing over them. It's noticeable, too, that dark scenes can reveal patches of cloudiness in the Q60B's panel.
Since we wouldn't typically associate such clouding with Samsung mid-range or even budget LCD TVs, we can't help but wonder if the push for an 'air-slim' design is at least partly to blame.
Another surprising picture gremlin finds motion looking a bit uncomfortable on the Q60B. While the motion presets on even Samsung's flagship TVs are typically pretty unhelpful, at least it's possible with those to get natural, clean-looking motion without too much trouble. With the Q60B, though, depending on which motion processing setting you use, you're either left with quite glaring judder, distracting stuttering/frame dropping, or too many unwanted processing 'glitches'.
Picture quality score: 3.5/5
Samsung Q60B review: Sound quality
OTS Lite processing for positional audio
Adaptive Sound capabilities
Q-Symphony support with Samsung soundbars
As well as potentially not helping the Q60B's picture quality in some areas, its Air Slim design likely also contributes to its underwhelming audio performance. There just doesn't seem to be enough physical space to create either the volume levels or dynamic range – especially where lower frequencies are concerned – to provide a really convincing accompaniment to anything more rambunctious than a daytime chat show.
You can even clearly hear the TV physically give up the audio ghost during loud movie scenes that rise to a serious crescendo, with its soundstage suddenly becoming quieter rather than continuing to expand with the sound.
While the Q60B's sound lacks any remotely cinematic qualities, though, it does at least understand its limits, managing to avoid falling prey to crackles, buzzes, hums and drop outs for most of the time. This is actually preferable to a TV that tries to go beyond its capabilities and just makes a mess of things.
The Object Tracking Sound Lite processing, finally, does a surprisingly credible job of placing specific effects in the correct place on screen considering how few speakers it has at its disposal. This at least compensates a bit for the speakers' lack of raw power and impact.
Samsung Q60B review: Design
Exceptionally slim profile
Solar-powered remote control
Multi-position feet
Take a quick walk around the Q60B, and you'll struggle to believe its price. It's incredibly thin, for starters – the proud recipient of an Air Slim design that makes practically every other non-OLED TV look a chunky monkey by comparison.
The frame around the screen is pretty trim, too, while the two supporting feet (if you're not wall-hanging the set) are so slim when viewed straight on that you can barely see them. All of this means that the Q60B does a very impressive job of letting you focus on the pictures it's producing rather than the hardware that's producing them.
You can adjust the width of the feet to suit different sizes of support furniture or, perhaps, to give you the space to tuck a small soundbar between them.
The Q60B ships with two remote controls. One is a standard, button-heavy affair that looks a bit overwhelming but is actually pretty easy to learn your way around once you've used it for a few minutes. The other is a stripped-back smart remote featuring a much leaner, more button-light design and, best of all, a solar cell on its rear that means you can use it as much as you like without ever having to worry about replacing its batteries.
Samsung Q60B review: Smart features & menus
Proprietary Samsung Tizen system
Extensive app collection
As ever with Samsung TVs, the Q60B's smart interface and features are provided by a home-grown system built around Samsung's Tizen OS. This has traditionally served Samsung very well – though the redesign ushered in for Samsung's current range is a rare misstep.
The issue is that by moving to a full screen home page in place of the previous much more compact couple of 'shelves' overlying the picture, Samsung has made things feel more overwhelming. Plus it hasn't made particularly great use of all the space available to it, making it feel harder rather than easier to quickly get to content you're actually likely to want to watch.
Some aspects of the new menu navigation system aren't helpful/logical either, especially when it comes to accessing the picture and sound set up menus.
On the upside, Samsung's TV Plus service of fully streamed TV channels is now pretty expansive and includes more interesting content than it used to. Plus the main Tizen platform continues to cater for a huge line up of apps, including all the streaming services most people will want (with the exception of Google Play).
Where a streaming app is supported, moreover, you can bet that it will be able to play 4K and HDR video if a service carries these key AV features. The only catch is that the Q60B's lack of Dolby Vision support means it will only play basic HDR10 from services that support Dolby Vision.
The two issues we have are that it doesn't support ATSC 3.0 for 4K broadcasts in the US (though few budget TVs do), and in the UK it doesn't support the Freeview Play umbrella app for the UK's main terrestrial TV catch up apps. However, Samsung does carry all the individual apps for these channels.
The Q60B provides extensive support for voice control via multiple voice recognition platforms, giving you a handy way to dodge some of the issues with the onscreen menus.
Smart features and menus score: 3.5/5
Samsung Q60B review: Gaming
Handy Gaming Hub for checking features
No 4K 120Hz support
Ultra-fast 9.4ms response time
An affordable, unusually bright, colorful TV like the Samsung Q60B has excellent potential as a gaming display. Potential which it delivers on in some areas, but falls a little short in others.
Of massive appeal to the gaming world is its 9.4ms of input lag (the time between when a console sends an image to it, and when it appears on-screen) with 60Hz content when using its Game preset. This is one of the lowest numbers we've ever measured on a TV.
Also very welcome is a dedicated Gaming Hub in the TV's menus that pulls together a host of streaming apps, games and services, such as Xbox Game Pass, Twitch and Nvidia Geforce Now. It's easy to connect controllers to the TV, too, to play via cloud services.
The screen's combination of brightness, rich colors, and impressive sharpness are well-suited to game graphics too. This sharpness with 4K sources also makes it a shame that none of the TV's three HDMI inputs can support 4K at 120Hz feeds or variable refresh rates. The only gaming feature they can handle is automatic low latency mode switching.
To be fair, 4K 120Hz and VRR support are currently very rare at the Q60B's price point. But if TCL can do it, then you'd like to think Samsung could too.
Samsung Q60B review: Value
Recent reductions make it very competitive
Well featured for its money
Cheaper models often don't have Quantum Dots
The fact that it recently received further price cuts instantly establishes today's Q60B as a potential bargain. It builds on this impressively, though, by including a Quantum Dot system at a price where such color technology is not always found.
Its smart system is extremely rich in content for such an affordable TV too, while its bright, colorful and responsive pictures help it stand out from the usually much duller competition.
Its uninspiring sound quality, lack of cutting edge gaming graphics support and limited backlight control, though, mean that it can't entirely escape its budget nature.
The Samsung Q60B isn't consistent enough with its performance or features to warrant an unqualified recommendation. If you're after an affordable TV that will deliver more brightness and richer color in a room that tends to be quite light, though, then it is a good option for its money. Its intense, sharp visuals and fast response time might make it a good gaming monitor, too.
Its lack of contrast and rather basic sound damage its potential as a serious home cinema TV, however, and it's a shame that it doesn't support the latest cutting-edge gaming graphics features.
Should I buy the Samsung Q60B?
Swipe to scroll horizontally
| Section | Notes | Score |
| --- | --- | --- |
| Features | A QLED TV with edge LED lighting and native 4K resolution and HDR support. | 4/5 |
| Picture quality | Bright and colurful for its money with some black level shortcomings. | 3.5/5 |
| Sound quality | Adaptive Sound and Q-Symphony capability. | 3/5 |
| Design | An exceptionally slim profile with multi-position feet. | 4/5 |
| Smart features and menus | Proprietary Samsung Tizen system with an extensive app collection. | 3.5/5 |
| Gaming | Ultra fast 9.4ms response time but no 4K/120Hz support. | 3.5/5 |
| Value | Recent reductions make it very competitive and it's well-featured for the money. | 4/5 |
Buy it if...
You're a last-gen or streaming gamer
With its ultra fast response time and built-in Gaming Hub of streamed gaming platforms, the Q60B is a good option for a certain type of gamer. But see below if you're a PS5/Xbox Series X gamer…
You have a bright room
The Q60B's Quantum Dot colors and unusually high brightness for its money will help its HDR pictures remain punchy and enjoyable even in quite intense ambient light.
Don't buy it if...
You're a serious movie buff
If you like home theater, you'll like turning the lights off. But if you do that with the Q60B, you'll notice right away that dark scenes look rather flat and washed out.
You want the latest cutting edge gaming features
None of the Q60B's three HDMIs support 4K at 120Hz or variable refresh rates, so you won't be able to enjoy all the cutting edge features of the Xbox Series X, PS5 or latest generation of PC graphics cards.
Samsung Q60B review: Also consider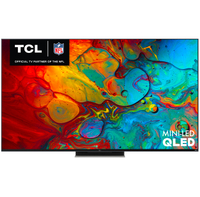 TCL 6-Series (2022) R655
We're big fans of this TV (only available in the US), which is available from 55 inches and up. You get huge improvement in brightness and contrast over the Samsung, plus 4K 120Hz and VRR support. And Dolby Vision – for a similar price to the 55-inch Q60B.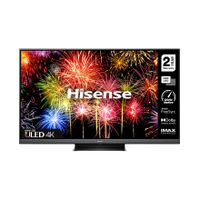 Hisense 55U8H
This Hisense range uses mini-LED technology to serve up impressive brightness and colour. You need to be careful what territory you are in, though, as the US version is superior to the European version, which uses an IPS panel and deploys far fewer dimming zones.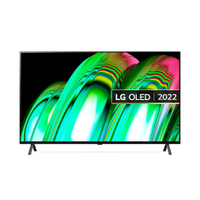 LG A2
If you're a home cinema buff on a budget and aren't too fussed about games, LG's OLED55A2 OLED TV can give you much more contrast and dark room performance than the Q60B. It's more expensive, but it's roughly as bright as the Samsung, but with infinitely superior handling of dark tones.
AV Technology Contributor
John has been writing about home entertainment technology for more than two decades - an especially impressive feat considering he still claims to only be 35 years old (yeah, right). In that time he's reviewed hundreds if not thousands of TVs, projectors and speakers, and spent frankly far too long sitting by himself in a dark room.