The best way to describe the Samsung Galaxy S7? Iterative perfection.
It takes the best bits from the Galaxy S5 and Galaxy S6, and blends them together into a quite brilliant smartphone.
Samsung hasn't reinvented the wheel, but it has listened to feedback. It's righted the wrongs of the S6, reinstated key features and created a stand-out device.
We liked
The design may not look all that different, but I love how the Galaxy S7 sits in the palm. It's comfortable to hold, and the curved edges and reduced width means it's easier to use one-handed.
Samsung has refined the design from the S6 in all the right ways, including making the Galaxy S7 waterproof. This is a phone you won't want to put down.
Then there's the display, which still sports an eye-popping resolution and Super AMOLED technology, but is somehow brighter and more enchanting.
Samsung has freshened up TouchWiz, crammed the S7 full of power, and pulled off yet another supremely impressive smartphone camera – the low light performance of the 12MP snapper is something to behold.
I liked the always-on display way more than I thought I would – it's simple yet highly convenient – while Game Launcher is another nice touch, and improves the mobile gaming experience on the S7.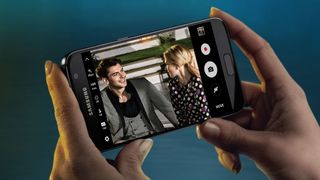 We disliked
Very little, if I'm honest. The cost is high, but that's to be expected. The Samsung Galaxy S7 is a top smartphone, and its price tag reflects the going rate for such a device in the current market.
There are Chinese manufacturers making phones with flagship specs at half the price, so when Samsung asks for double it raises the question of whether we're being taken for a ride. We're not. You are getting a much more accomplished package with the Galaxy S7.
Battery life has improved over the S6, but the Galaxy S7 still needs a nightly charge. Fast charging is useful, but it won't help you if you're away from a plug socket for an extended period of time – and unlike the LG G5's, the S7's battery isn't removable.
The return of microSD support is welcome, but I'd like to see more than 32GB of internal space – especially when you consider that 7.51GB of that is already in use when you take the S7 out of its box.
Oh, and the fact that the S7 is a total fingerprint magnet is just plain annoying.
Verdict
Samsung has tweaked the winning design from the S6, righted the wrongs of its previous flagships, and made a phone you don't want to put down.
The Samsung Galaxy S7 is a worthy recipient of a five-star techradar review. That's no easy feat – only a handful of phones have ever hit the top mark – but the Galaxy S7 has earned its place in our hall of fame.
Is it worth the upgrade? If you're coming out of a two-year contract and you're looking for a flagship smartphone, then absolutely – the Galaxy S7 will blow your two-year-old handset out of the water. As long as you're comfortable with the price – and it really is worth it – then you won't look back.
For those considering trading in their Galaxy S6 (or other 2015 flagship), the case isn't quite as strong. The S6 still has a great screen, dazzling camera and plenty of power, so the step up may not feel big enough.
That said, the Galaxy S7 improves on pretty much every aspect of the S6, making it the best phone in the world right now, alongside the larger Galaxy S7 Edge. If money isn't an issue, the Galaxy S7 will justify the outlay – but the more cash-conscious may want to hold out for the Galaxy S8.
First reviewed: March 2016
Competition
Not convinced by the Samsung Galaxy S7? Here are some alternative phones that may suit you instead.
Samsung Galaxy S7 Edge
Like the look of the Galaxy S7 but fancy a bigger, curved display? Then you'll want the Samsung Galaxy S7 Edge. Apart from the size and shape of their screens, these two handsets are identical.
The S7 Edge will set you back a bit more, but you get more screen real estate to play with, slightly better battery life, a futuristic look and Samsung's Edge screen interface, which now has more going for it than the S6 Edge's slightly lackluster implementation.
It's worth bearing in mind, though, that as well as being cheaper, the Galaxy S7 is also easier to use one handed.
The decision really comes down to personal preference, and whichever handset you pick you won't be disappointed.
Today's best Samsung Galaxy S7 Edge deals
Samsung Galaxy S7 Edge (Instalments)
Calls:
to the US & Canada
Texts:
+ Unlimited Wi-Fi Texting
Data:
+ Unlimited Wi-Fi Data
Calls:
to the US, Canada & Mexico
Samsung Galaxy S7 Edge (Instalments)
Calls:
to the US & Canada
Texts:
+ Unlimited Wi-Fi Texting
Data:
+ Unlimited Wi-Fi Data
iPhone 7
Samsung's biggest rival is Apple, and now there's another '7' in town, thanks to Apple offering an all-new upgrade to play with.
The iPhone 7 provides a fresh challenge for the S7 with it, too, being waterproof, and offering dual speakers to give a more multi-dimensional listening experience.
The 7 has a smaller 4.7-inch display which is isn't even full HD, and its flat back means it doesn't sit quite as snugly in the palm. Its iOS 10 interface, though, is fluid, and it even seems to be a match for the S7 when it comes to raw power, according to our tests.
Sadly, battery life still isn't as strong on the iPhone 6S, but Apple's interface is arguably more intuitive than Samsung's TouchWiz – although that's very much a matter of opinion.
It's a more expensive phone, that's for sure - and if you've not already jumped to iOS, chances are this still won't be enough of an upgrade to tempt you.
Today's best iPhone 7 deals
Apple iPhone 7 (Instalments 32GB)
Calls:
to the US & Canada
Texts:
+ Unlimited Wi-Fi Texting
Data:
+ Unlimited Wi-Fi Data
Apple iPhone 7 (Instalments 32GB)
Texts:
Domestic & International Text to select countries
Apple iPhone 7 (Instalments 32GB)
Calls:
to/from the US, Canada & Mexico
Texts:
Domestic & International Text
Data:
Users of more than 50GB+ in month may notice reduced speeds / 3G-speed mobile hotspot
HTC 10
HTC is always a brand that's in the same arena as Samsung, no matter what happens. With a similar spec list - QHD, cutting edge processor and loads of RAM to play with.
It's also one of the few top-end phones to feature adoptable storage, meaning you can plop in a memory card and use it as internal memory - which is a big help when you're worried about running low.
And once again there's the premium HTC design on show - the chamfered edges are 'sculpted by light' so when you put it face down on a table it catches random gleams to get the best out of the visuals.
And the headline feature has to be the audio performance - it's insanely good over headphones, and recording 4K video at a gig is almost professional grade. A sterling performer.
Today's best HTC 10 deals
Data:
Users of more than 16GB per month may notice reduced speeds
Data:
Users of more than 16GB per month may notice reduced speeds
Data:
Users of more than 16GB per month may notice reduced speeds
LG G5
The LG G5 offers up a more revolutionary flagship experience than its rivals, including the Galaxy S7.
While many comparisons can be drawn between the Galaxy S7 and the iPhone 6S, the G5 offers a modular design and a removable battery, increasing the functionality of the device.
Its 5.3-inch display means it's bigger than the S7, but its all-metal body feels more premium in the hand, and on the back it boasts two cameras. These work independently of one another, with one offering 16MP snaps and the other sporting a wide-angle 8MP lens.
The G5 may not ship in as high volumes as the Galaxy S7, and the battery life isn't as good, but its unique appeal still makes it a head-turner.
Samsung Galaxy S6
At the end of the day the Samsung Galaxy S7 is essentially just an iteration of the Galaxy S6 – it just happens to be a very good iteration.
The Galaxy S6 has now dropped in price, and while you don't get a waterproof body or microSD slot, there's still a top-notch camera, dazzling display and more power than you can shake a stick at.
The thing is, you'll know in the back of your mind that there's a better option out there. The Galaxy S7 addresses the issues with the S6 to make an even better smartphone – and that thought may eat away at you.
Today's best Samsung Galaxy S6 deals
Samsung Galaxy S6 (Instalments 32GB)
Calls:
to the US & Canada
Texts:
+ Unlimited Wi-Fi Texting
Data:
+ Unlimited Wi-Fi Data
Calls:
to the US, Canada & Mexico
Samsung Galaxy S6 (Instalments 32GB)
Calls:
to the US & Canada
Texts:
+ Unlimited Wi-Fi Texting
Data:
+ Unlimited Wi-Fi Data