Interface
The iPhone 6 Plus shipped with iOS 8, which brought with it various enhancements and improvements, as well as some new apps and features.
Then came iOS 10, bringing a user interface overhaul atop of a whole host of changes. You'll find rich lock screen notifications, a new raise-to-wake feature, and third-party integration with Siri, among other things.
There are so many little details packed into the software that we've dedicated an entire guide to it. Check it out at the link above.
Most recently, Apple pushed out iOS 11 to the iPhone 6 Plus - in what may well be the final major update for the handset.
Since the iPhone 6 Plus launched, we've seen some really good things happening on Apple's iOS platform. Much needed improvements, like Apple Maps now being able to tell you what restaurants, shops and other sights are nearby, and offers public transport directions in numerous cities.
Anyone transitioning from older iPhone handsets will feel very much at home on the iPhone 6 Plus, while Android users considering the jump will find the two operating systems have more in common than ever before.
The familiar rows of apps are displayed on home screens on the iPhone 6 Plus, and during initial step up you're given the option of two icon and text sizes – I stuck with the default option, which keeps things pretty much the same as on the iPhone 5S.
The second option makes everything a bit bigger, reducing the free space surrounding the apps, filling the screen more and making everything a little easier to read.
I'd have liked an option to add an extra column of apps, as the 5.5-inch display of the iPhone 6 Plus could easily accommodate five columns, but unfortunately this isn't available.
Apple's simple drag and drop folder system still works wonderfully well, and Control Panel is present with a swipe up from the base of the display.
Options here remain the same from iOS 7, with quick settings for airplane mode, Wi-Fi, Bluetooth, do not disturb and screen rotation, alongside screen brightness and music controls.
You can also jump to the torch, calculator, camera and timer apps from Control Centre – and it can be accessed at any point, no matter which app you're currently using.
The notification bar has been given some tweaks too. There are no longer three tabs (Today, All and Missed), but rather a more condensed two (Today and Notifications), providing a cleaner experience.
On the Today page you can select which widgets you have displayed by tapping 'Edit' at the bottom of the page. Needless to say I made sure the 'Stocks' widget was quickly hidden from view.
Another handy feature is the ability to reply to a message from the notification alert at the top of screen, saving you from having to load up the messaging app every time.
Apple isn't the first manufacturer to offer this functionality – I greatly enjoyed a similar feature on the LG G2 – but I'm glad to see it land on iOS, and it's arguably easier to use here.
When a message comes through you need to drag down on the notification to enter reply mode, where a keyboard will pop up enabling you to tap out a quick message, after which you're returned to whatever you were doing.
If you'd rather ignore the message you can swipe sideways to remove it from view.
Double-press the home key and you'll be taken to the familiar multitasking menu, enabling you to quickly and easily skip between applications, though the design of this screen has been changed slightly for iOS 9, giving it a larger, Cover Flow look.
Another new feature introduced in iOS 8 (only for the iPhone 6 Plus) is the ability to rotate your homescreen (and multi-tasking menu), as you can on the iPad.
This enables you to remain in landscape mode for longer periods of time, perfect if you find yourself jumping between games and videos.
Apple has also adapted some of the stock apps, including Calendar, Messages and Mail, to run a dual-pane layout in landscape mode, again mirroring the apps on the iPad.
Performance
Providing the power behind the scenes on the iPhone 6 Plus is a 1.39GHz dual-core A8 processor with 64-bit architecture and 1GB of RAM.
That may not sound like a great deal of grunt, especially when you consider devices such as the Samsung Galaxy Alpha and Huawei Ascend Mate 7 sport octa-core chips, but Apple does a good job of deeply integrating iOS with the internal components of its devices.
I ran Geekbench 3 a number of times on the iPhone 6 Plus and it averaged a score of 2890, beating the iPhone 5S (2540) as well as the older LG G3 (2561) and Sony Xperia Z2 (2765).
That's a strong performance and puts it among the scores achieved by the Samsung Galaxy S5, HTC One M8 and OnePlus One. In short, there's more than enough power housed inside the iPhone 6 Plus.
Unsurprisingly, it's since been topped by the likes of the iPhone 6S Plus, Samsung Galaxy S6 and Sony Xperia Z5, but these are much newer handsets.
In day to day usage I found the 6 Plus ran pretty smoothly, but it's not quite as quick as some of the top Android handsets on the market; every now and then the iPhone would pause for thought ever so briefly.
It wasn't long enough to cause any issues, but it was long enough for me to notice from time to time. Early issues with app crashes and bugs appear to have been fixed with iOS 8.1.1 and above, with everything now running far more smoothly.
Graphically intensive games loaded up in good time and gameplay was smooth throughout – and Real Racing 3 is now working correctly after early issues with the original software.
The iPhone 6 Plus (at 64GB capacities and above) comes pre-installed with a variety of Apple's own apps, most of which you can actually delete, which is good as it would be annoying if you knew you were never going to use them.
Among the applications here are some new and updated faces, including Health and Apple's now free-of-charge productivity apps (all of which can be deleted if you so wish): Pages, Numbers, Keynote, iTunes U, iMovie and GarageBand.
Health
The Health app was a new addition for iOS 8, and aimed to bring together all your health and fitness data into one unified application for your immediate consumption.
For those out there who currently use a glut of different devices and applications to monitor various aspects of their lifestyle, Health could be a real blessing.
Out of the box the pedometer is active, and I was able to keep track of my steps each day. The iPhone 6 Plus can even detect when you're going up and down flights of stairs, thanks to the inbuilt barometer in the M8 co-processor – although accuracy does vary, and I found it missed a number of flights on various days.
It can also tell you how far you've walked/run each day, and the attractive graphs make it easy to monitor your progress over weeks, months and eventually years.
To get the most out of Apple Health though you'll want to link it up to other apps and devices. This then allows it to track various metrics, from nutrition, to sleep, to workouts and more. The Health app itself acts as little more than a hub, where you can find all this data in one place, but it's an attractive, easy to navigate hub.
The Apple Watch
Let's not forget about the Apple Watch, which can read your various vital statistics and beam them straight back to the Health app.
And it's a good though far-from-essential accessory for the 6 Plus, as that second screen – letting you know whether it's worth pulling the phone out of the pocket when walking down the road thanks to being able to know who that message or call is from – can help you avoid having to mess around with the larger phone.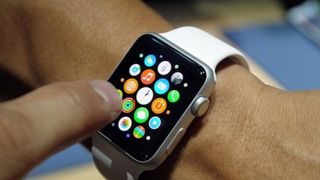 Don't forget that the Watch isn't cheap though, as it costs $349 (£299) for the cheapest version, which, when combined with the $649 (£539) of the base model of the 6 Plus, means it's not going to be a cheap combination by any stretch of the imagination.
And that's before you even get into the upgrades – a few thousand dollars / pounds for the rose gold variant, anyone?
Of course, Apple has since unveiled the Apple Watch 2, which improves on the original in some meaningful ways, specifically its waterproofing and improved speed.