Samsung has taken the middle ground on equipping the Series 5 Ultra 530U3B, opting for an Intel Core i5-2467M (1.6GHz) CPU, 4GB RAM and a 1366 x 768 screen resolution.
The processor is part of the Sandy Bridge family (a prerequisite for Ultrabook-class), so the graphics memory is built into the CPU core.
Don't expect any hard gaming on the Series 5 - if that's what you're looking for, Samsung has crafted the Series 7 Gamer especially for you.
Gaming aside, the integrated Intel HD Graphics 3000 chip doesn't do a bad job. You'll find streaming movies over Netflix or using editing programs such as Adobe Photoshop and Dreamweaver is within the grasp of this machine.
If you do crave a slightly bigger graphical grunt, the 14-inch Series 5 packs in a dedicated AMD Radeon HD7550M GPU. And, while both machines come with 4GB RAM as standard, there's the option to upgrade to 8GB for a bit of extra future-proofing.
One of the main features of the Samsung Series 5 Ultrabook is the decision to include a 500GB hard disk drive, as well as a 16GB SSD (an SSD-only option is available).
In order to keep to Samsung's stated 20-second boot-up time, the Series 5 Ultra 530U3B also includes a 16GB iSSD and a technology called ExpressCache. Start it up and ExpressCache loads the operating system and most-used programs straight from the iSSD, while the HDD is left to boot in the background.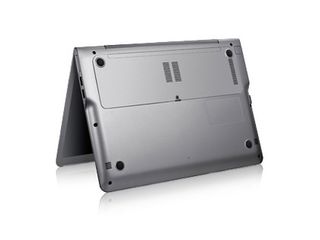 It appears to work very well, and the Series 5's boot-up time stands up against the other Ultrabooks we've tested. The extra storage space is undoubtedly a bonus.
Even though external hard drives don't cost a fortune any more, buying one to go with your Ultrabook still means extra bulk to carry around. If you've got a large media library or a wealth of documents and programs, you'll thank Samsung for giving you the extra space.
Samsung takes a certain amount of pride in its bright screens, and the 300nit screen on the Samsung Series 5 Ultra 530U3B is no exception. The lack of a Super-TFT coating means bright lights and reflections don't interfere with usability.
This should prove popular with anyone looking to use the Series 5 as a mobile workstation, although media enthusiasts might miss the richer colours and deeper contrast supplied by a reflective coating.
The 1366 x 768 pixel resolution is perfectly serviceable for watching films in 720p high definition, and the silver bezel doesn't intrude on the experience.