Benchmarks
Here's how the MacBook Air (2019) performed in our suite of benchmark tests:
Cinebench CPU: 277 points; Graphics: 35 fps
Geekbench 4 Single-Core: 4,303; Multi-Core: 7,927
TechRadar Battery Life Test: 10 hours
Because the MacBook Air 2019 comes with the exact same specifications as the 2018 model, you can see that there isn't a significant uptick in performance.
That's a tad disappointing – particularly since the MacBook Air (2019) is fitted the same dual-core 1.6GHz, Intel Core i5-8210Y, which can Turbo Boost up to 3.6GHz. Just like last year's model, this – backed by 8GB of RAM – is suitable enough for day-to-day tasks, and macOS (Apple's operating system) runs nice and smooth.
However, in 2019, a dual-core processor in such an expensive machine leaves the MacBook Air feeling underpowered and overpriced – and the new price cut doesn't do a lot to fix that.
Additionally, not long after Apple released the MacBook Air (2019), Intel unveiled its Ice Lake processors, which deliver performance improvements – and quad-core offerings for the first time in Intel's Y-Series of processors, which are fanless CPUs created for thin laptops like the MacBook Air.
We can't help but wonder, if Apple had held off on rolling out the MacBook Air (2019) until later in the year, we may have gotten one configuration with a new quad-core CPU, giving the laptop a huge performance increase and making it a much more compelling upgrade.
However, we might have to wait until next year to see that.
In other words, the MacBook Air (2019)'s performance is adequate, but a little lackluster compared to the increasingly more powerful competition. A dual-core processor, limit of 16GB of RAM (if you pay to upgrade) and a small SSD leaves the MacBook Air (2019) feeling a little lacking in the performance stakes.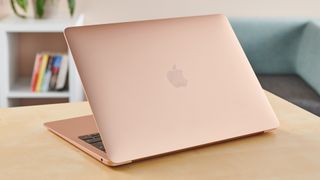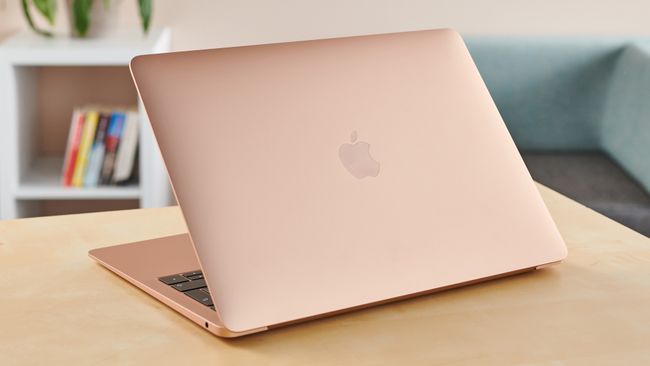 Battery life
One area that the MacBook Air (2019) particularly shines in – and cleverly beats many Windows 10 rivals at this price point – is battery life, with this year's model lasting spot on 10 hours in our battery life tests.
This involves running a looped 1080p video with the screen set to 50% brightness. Reaching 10 hours is an amazing achievement, and depending on how you use the MacBook Air (2019), you might easily get more than a whole work day's use out of it without charging. This makes it a great choice for students who require a laptop with a battery that can last over several lectures.
The low powered internals are mainly to thank here, along with Apple's more power-efficient software. If battery life is of the highest importance, you may find that it's worth compromising on performance.
The MacBook Air (2019) also does a nice job of holding its charge when it's put into sleep mode (where you just close the lid of the MacBook Air, instead of fully closing down macOS.) Apple claims up to 30 days of standby time, and while we didn't have time to check that, we were once again blown away by how well the MacBook Air (2019) holds onto its battery when not in use.
Many Windows laptops, in our experience, keep draining battery even in sleep mode. That's often resulted in us picking up a laptop after a day or so without use, only to find the battery completely drained. That didn't happen with the MacBook Air (2019).
Battery life is the one place – outside of design – where the MacBook Air (2019) really shines.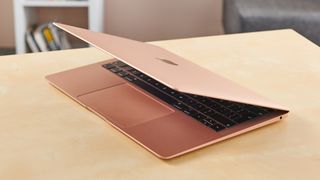 Final verdict
Apple's refresh of the MacBook Air (2019) is a bit puzzling. It hasn't been that long since the release of the MacBook Air (2018), and this new model only adds a few new enhancements. While True Tone is a nice feature to have, it's far from crucial ­– though Apple's continued improvement of the keyboard's reliability is definitely welcome.
The thing we like most about the MacBook Air (2019) is the new price. This makes it more affordable than ever to buy a MacBook. However, despite the price cut, this is still a very pricey laptop, and the low powered components pale in comparison with modern Windows 10 laptops at the same price. With Apple continuing to add new features to macOS, you may find the MacBook Air (2019) start to feel a bit slow and outdated far too soon.
The timing of this release also means the MacBook Air (2019) doesn't take advantage of Intel's new Ice Lake processors, some of which seem ideal for a thin and light laptop such as the MacBook Air. This leads us to think that next year will see a more considerable update. So unless you're desperate for the latest version, we'd recommend waiting until 2020 – or seeing if prices start to drop for the 2018 model.