Best trading laptops in 2023
The best trading laptops for playing the stock market with ease
Best trading laptops: Quick menu
The best trading laptops are powerful enough to run resource-intensive day trading and stock trading apps - and portable enough to let you engage with the markets wherever you are in the world.
The biggest investment banks in the world like Goldman Sachs and Morgan Stanley have their own computers installed on the floor of the New York Stock Exchange. These machines deliver the very fastest access to market data - even that split second can give them an edge over the competition when it comes to managing orders and executing trades.
Today, equipped with the best laptops for trading, almost anyone can engage with the markets in real-time. After all, when your shares spike in value and you have only moments to cash in, you need a device that can keep up.
We've tested the best stock trading laptops for making trades on the stock market. As part of our rigorous review process, we've analyzed the internal specs, design and durability, and benchmarked performance. Whether you need in-depth color-coded technical analysis charts in real time or just want to crunch the numbers, there's a laptop for every scenario and budget.
The quick list
Load the next products...
What is the best laptop for trading in 2023?
Why you can trust TechRadar We spend hours testing every product or service we review, so you can be sure you're buying the best. Find out more about how we test.
Best trading laptop overall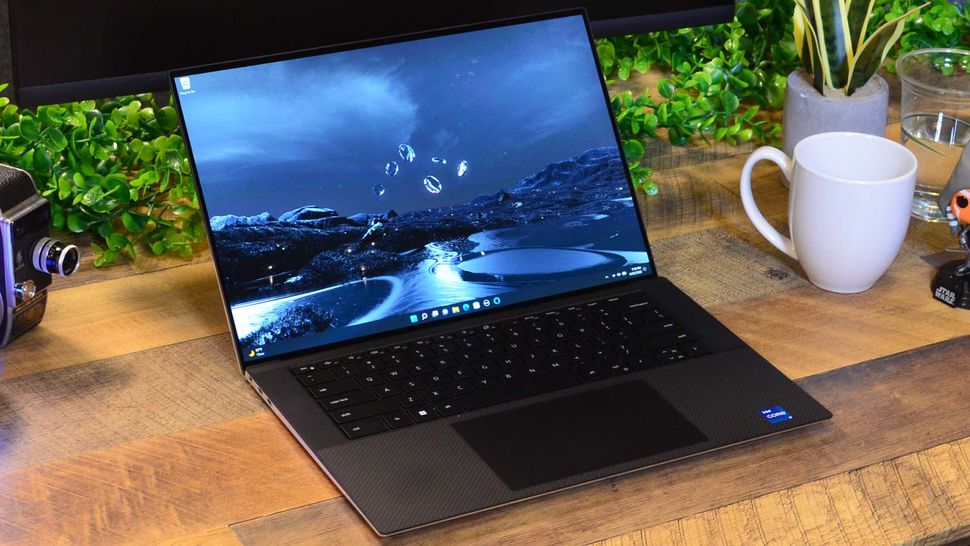 "Laptop perfection"
Specifications
CPU:
12th Gen Intel Core i5 - i9
Graphics:
Nvidia RTX 3050 Ti
Screen:
15.6-inch UHD+ (3,840 x 2,400p) touchscreen, 500-nit, non-OLED display
Dimensions:
13.56 x 9.06 x 0.73 ins
Reasons to buy
+
Gorgeous design
+
Powerful performance across the board
+
Outstanding battery life
Reasons to avoid
-
Not powerful enough for gaming on the side
-
Starts expensive and price soars with better specs
"The 2022 Dell XPS 15 delivers laptop perfection" - that was our assessment having tested out this laptop. In combining powerful performance with a sleek, pleasing design, Dell has created not just one of the best laptops for trading, but one of the best full stop.
Inside, you'll find a speedy Intel AlderLake processor and faster RAM than the previous iteration. In our benchmarking tests, we found that what other laptops do competently, the XPS 15 does brilliantly. In fact, the machine's single-core performance in GeekBench 5 Core i7 was nearly as good as the i9-12900H found in the Asus ZenBook 14X OLED Space Edition. And it performed even better in CineBench R23's multi-core test.
A highly portable device, the 15in laptop also boasts an impressive battery life of about 10-12 hours in our tests. 13in and 17in models are also available. You may be tempted by the 2023 version of the XPS 15, but when we tried it out, we felt it paled in comparison to the 2022 edition.
Read our full Dell XPS 15 review
Best budget laptop for trading
Play the markets
Specifications
CPU:
Up to 12th Gen Intel i7 / AMD Ryzen 6000
Graphics:
Up to NVIDIA GeForce RTX 3070 Ti
Storage:
Up to 1TB M.2 PCIe NVMe
Dimensions:
14.19 x 10.67 x 1.06 ins
Reasons to buy
+
Solid performance all around
+
Well designed keyboard
+
Excellent price
Reasons to avoid
-
Terrible battery life
-
Its design is rather plain
-
Slow recharge time
"A competent budget gaming laptop" is how we described the Acer Nitro 5 after testing it out. But there's more to this laptop than just playing the latest games.
With its reasonable price and powerful specs, the Nitro 5 makes perfect for stock market trading. Combing a 12th Gen Intel or AMD Ryzen CPU with a decent amount of fully upgradeable RAM and a good-sized SSD, you begin to see the benefits of using this to run multiple trading apps.
True, the full HD display can't compare to the 4K precision quality of models like the Asus ZenBook. But if you don't need that extra level of detail and clarity to read stock charts and execute trades, then it's more than capable. Battery life is less than stellar, and we did find that at 7.43 pounds (3.37 kg), it's not the most portable laptop for trading on the go, It's far better-suited to setting up in one location for the day.
The laptop comes in a number of configurations. For extra peace of mind we recommended choosing onboard RAM of at least 16GB so the laptop can handle multiple applications.
Read our full Acer Nitro 5 (2022) review
Best MacBook for trading
A productivity powerhouse
Specifications
CPU:
Apple M2 Pro (12-core) - Apple M2 Max (12-core)
Graphics:
Integrated 19-core GPU - Integrated 38-core GPU
Screen:
16-inch, 3456 x 2234 Liquid Retina XDR display (mini-LED, 1,000 nits sustained brightness, wide color P3 gamut, ProMotion technology)
Dimensions:
14.01 x 9.77 x 0.66 ins
Reasons to buy
+
New M2 Pro and M2 Max chips
+
Over 20 hours battery life
+
Still the best screen on a laptop
The Apple Pro 16in is, as we noted in our review, "a productivity beast that's not for everyone." It's big and beautiful - the design is, as you'd expect from Apple, sleek and gorgeous. However, being on the larger side does make it more of a grind to carry around compared to the lightweight Apple MacBook Air or the Apple MacBook Pro 13in.
Powered by the M2 chip, performance is excellent. We found, during our comprehensive testing, it was more than capable of handling graphic-intensive apps - so you'll find no issues running compatible trading software. Arguably, the laptop's 16in, 3456 x 2234 Liquid Retina XDR display is its finest feature. We dubbed it "the best screen on a laptop" in our review.
It comes in three configurations, with the base model featuring a 10-core CPU, a 16-core GPU, 16GB memory, and 512GB SSD storage. If you're looking for a professional laptop for trading, the MacBook Pro offers a powerful workstation with an industry-leading screen and great battery life.
Read our full Apple MacBook Pro 16in review
Best trading laptop with dual screens
Two screens are better than one
Specifications
Graphics:
Nvidia GeForce RTX 3070
Screen:
Primary: 15.6-inch 4K OLED (3840 x2160p) Touchscreen, 0.2ms, 440 nits, Pantone-validated; (Secondary): 14-inch 3840 x 1100p, anti-glare IPS
Storage:
1TB PCIe 3.0 SSD
Dimensions:
14.17 x 9.81 x 0.85 ins
Reasons to buy
+
Gorgeous main display and useful second screen
+
Great performance
+
Very stylish
+
Extremely responsive 0.2ms display
Reasons to avoid
-
Cramped keyboard and touchpad
-
Poor Battery life
The Asus ZenBook Pro Duo 15 UX582 is one of the best trading laptops if you need a dual-screen. Yes, the of the biggest draws of this laptop is that gorgeous 4K dual touchscreen setup. Imagine dedicating one screen to displaying the candlestick chart for your chosen company or a live stream of Bloomberg, whilst the other screen is logged into your brokerage account allowing you to instantly execute trades. You can interact with the screens using either the keyboard or a stylus.
During our tests, we found performance to be excellent. The base model, with its i7 configuration and 16GB RAM will be more than enough to cope with graphics-rich trading software like Bloomberg Terminal or Ninja Trader. The large 1TB SSD should also provide both enough storage and a fast enough response time to save and recall years of stock data in an instant.
On the downside, we thought the keyboard felt a bit cramped - the price paid for that second screen - and the battery life wasn't as good as other trading laptops. It should also be noted that, when the fans run at full tilt, it can get a little noisy.
Read our full Asus ZenBook Pro Duo 15 UX582 review
Best mobile workstation laptop for trading
Power over portability
Specifications
CPU:
12th Gen Intel Core i7 - i9
Graphics:
Nvidia RTX A2000 - A4500
Screen:
Up to 16" WQUXGA (3840 x 2400), OLED, Anti-Reflection/Anti-Smudge, Dolby Vision™, Touch, 100% DCI-P3, 400 nits, 60Hz
Dimensions:
14.3 x 10.5 x 1.2 ins
Reasons to buy
+
Incredibly powerful
+
Durable design and build
+
Full keyboard with numpad
+
Multi-touch, OLED display
Reasons to avoid
-
Very large size
-
Expensive compared to some of the competition
If you prize performance over portability, the Lenovo ThinkPad P16 Mobile Workstation is a must. In our tests, this proved to be a serious beast, in both power and size, making it well-suited for use in a single location.
Having said that, it's still a strongly robust laptop, wrapped in a durable casing. In our tests, the full-sized keyboard, including numpad, felt very comfortable to type on and the 4K OLED display was bright and clear regardless of its environment.
When benchmarking the mobile workstation, it wasn't the fastest even with its workhorse engine. However, it scored 7651 in our extended PCMark testing, which is comparable to similar devices. In other words, it'll easily run your trading apps without pause.
For a lighter, similarly priced Lenovo laptop for trading, see our Lenovo ThinkPad X1 Carbon Gen 10 review, a device we called "as timeless as a little black dress".
Read our full Lenovo ThinkPad P16 Mobile Workstation review
Best Microsoft Surface laptop for trading
For mobile browsing
Specifications
CPU:
13th Gen Intel Core i9-13980HX
Graphics:
NVIDIA GeForce RTX 4090 Laptop GPU
Screen:
18-inch ROG Nebula Display QHD+ 16:10 (2560 x 1600, WQXGA), 240Hz, Dolby Vision HDR, Pantone Validation
Storage:
1TB + 1TB PCIe® 4.0 NVMe™ M.2 Performance SSD (RAID 0)
Dimensions:
15.71 x 11.57 x 1.21 ins
Reasons to buy
+
Excellent design
+
Large, responsive screen
+
Great battery life
+
Built-in 5G
Reasons to avoid
-
ARM chip has some compatibility and stability issues
-
Keyboard and pen cost extra
Microsoft's Surface line-up can be a bit hit and miss - for every weak Surface Go there's a stunning Surface 4. The Microsoft Surface Pro 9 5G falls firmly into the 'hit' category.
This is an exceptional work companion, and ideal for traders on the go with its 5G compatibility for super-fast mobile connections. It's lightweight, thin, and speedy enough for everyday use.
That's not to say it's the perfect trading laptop. The custom ARM chip introduces some unfortunate system compatibility and stability issues. The keyboard and stylus cost extra. And, despite lacking the full support of some of the PC world's most powerful apps, this proved to be a well-performing machine that never made us feel like we were using a tablet in PC's clothing.
For an Intel-based alternative, see our Microsoft Surface Pro 8 review, which we called "the rebirth of the Surface Pro." But if you're mostly using browser-based trading platforms, the Pro 9 hits the mark.
Read our full Microsoft Surface Pro 9 5G review
Best portable trading laptop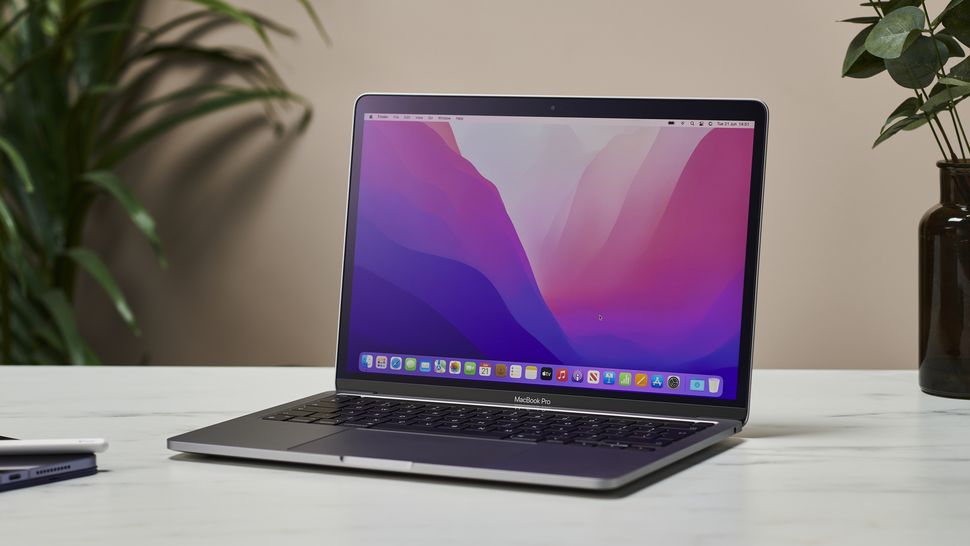 The professional and portable choice
Specifications
CPU:
Apple M2 with 8-core CPU
Graphics:
Integrated 10-core GPU
Screen:
13.3-inch 2560 x 1600 display with P3 and True Tone technology
Dimensions:
11.97 x 8.36 x 0.61 ins
Reasons to buy
+
M2 chip is a brilliant performer
+
Excellent battery life
+
Almost silent in use
+
Can even play games
Reasons to avoid
-
Still only two Thunderbolt ports
-
720p webcam
Since the M-series of chips came screaming into the world Apple users have benefited from a single processor that can handle both CPU and GPU-related tasks with terrifying efficiency.
The Macbook Pro M2 is the latest in the series and offers a relatively inexpensive way to capitalize on this raw power. Our tests showed that the battery life matched Apple's claims of up to 20 hours. The Retina Display also makes it a joy to behold any market data you load.
The default specs include a 256GB SSD which seems a little conservative but you can upgrade this to 512GB. The M2-powered MacBook 13in runs much faster than the previous model and other Intel-based laptops, so should have no trouble running any trading software you choose in theory.
We say "in theory", as Apple have now discontinued their "Boot Camp" utility meaning there's no native support for Windows-only software. This isn't necessarily an issue, as many trading programs can be accessed via the web or are available for macOS. You may also be able to use virtualization software like Parallels to run Windows programs from the macOS desktop, though these may not perform as efficiently as when running natively on a Windows device.
Read our full MacBook Pro 13-inch (M2, 2022) review
Best trading laptops: FAQs
Can you do day trading on a laptop?
Yes. Laptops have now become powerful enough that provided the CPU, RAM and possibly GPU are good, you can stream market data and execute trades in real-time.
We need to draw an important distinction here, though. While the best laptops will have no trouble when day trading, you may find even the best Ultrabooks and best Chromebooks struggle. These machines are less powerful, often with less storage space, so you may struggle to get the performance you need on these, as well as run any software you use for day trading.
What type of laptop is best for day trading?
Most laptop manufacturers don't make devices with the stock market in mind but we find that many of the best business laptops and gaming laptops are suitable for day trading. This is because they usually have a dedicated GPU for running resource-intensive applications, as well as a generous CPU and RAM allowance. The very best gaming laptops and business laptops are also most likely to have SSDs which are much faster than older, slower hard disk drives.
How to choose the best trading laptop for you
Stock trading is a fast-paced and dynamic field that requires quick decision-making and real-time access to market data. If you are into stock trading and plan to trade stocks regularly, you will need to invest in a powerful trading laptop. It can give you an edge over others when dealing in stocks.
Many of the best stock trading platforms (and the best stock trading apps for that matter) run on Windows and macOS. But when selecting a laptop for stock trading, consider the following factors to ensure optimal performance and productivity:
Processing power
Look for a laptop equipped with a high-performance processor to ensure fast and efficient performance. The laptop's processor determines how quickly it can handle multiple tasks, process real-time data, and run trading software smoothly. The minimum processor recommendation for a trading laptop is 10th Gen Intel Core i3. However, it is best to go with the 10th Gen Intel Core i5 for better speed and performance. These processors have multiple cores, allowing you to handle multiple applications simultaneously without experiencing lags or delays.
RAM
Sufficient RAM (Random Access Memory) is essential to handle the tasks of stock trading efficiently. Better RAM ensures speedy trading. Look for a laptop that can support the software and heavy tasks you will need – with a minimum of 8GB of RAM, but preferably 16GB or higher for smooth multitasking and data processing.
Storage
In addition to RAM, consider the storage capacity of the laptop. Stock traders often accumulate vast historical data and need sufficient storage space. While traditional hard disk drives (HDDs) offer larger storage capacities, solid-state drives (SSDs) are faster and provide quicker access to data. A trading laptop requires a minimum of 256 GB SSD storage, but if you use multiple apps and software, you can use 512 GB SSD storage.
Consider investing in a laptop with a combination of SSD for shorter boot times and application loading and a larger HDD for storing extensive market data.
Portability and battery life
Ultrabooks or lightweight laptops with a slim profile can be convenient for carrying around and working on the go. As a stock trader, you may need to work from different locations or while traveling. Therefore, portability and battery life are important considerations when choosing a laptop.
The battery life should be at least 5 hours or more, so you won't have to worry about running out of it too quickly. However, choose a laptop with 10 hours of battery power if you want more backup. Carrying a charger or access to power outlets is also advisable when working for extended periods. With more power and better battery life, you can trade from any place, even during a power outage.
Display and graphics
Look for a laptop with a high-resolution display, preferably Full HD (1920x1080) or higher, to ensure clarity and sharpness of the visuals. A larger display size, such as 15 inches or more, can also enhance your trading experience by providing more screen real estate for multitasking.
Graphics performance is another aspect to consider, mainly if you use advanced charting software or trade using technical indicators. Laptops with integrated graphics like Intel Iris Xe or AMD Radeon Vega are generally sufficient for most trading needs. However, if you plan to engage in other visually demanding tasks or trading simulations, consider a laptop with a dedicated graphics card, such as an NVIDIA GeForce or AMD Radeon. While dedicated graphics cards are unnecessary for stock trading, they can improve the rendering and smoothness of charting applications.
How we test the best trading laptops
When we test the best trading laptops, we're looking for top results in a range of areas, from performance to portability. You can read more in our guide How we test laptops and desktops: our reviewing process explained.
During our comprehensive testing process, we explore each laptop's internal specs, like CPU, GPU, and RAM, and how they fare against other models in the category. We benchmark each one, so you can see what to expect from your chosen trading laptop.
We always assess the outer specifications, too. This includes design, production materials, and general robustness of any machine designed to be taken with you on-the-go.
With an eye on overall portability, our review process also looks at the laptop's connectivity options, size, weight, and battery life. Ideally, the best trading laptops will offer all-day battery life, although more powerful machines will tend to eat that up faster than others. In these cases, it's about finding the right balance.
User experience is vital - so, we expect to see a certain level of comfort from the laptops, making it easier (and more pleasant) when trading for extended periods.
Finally, we consider cost and value-for-money in comparison to rival trading laptops.