If you're on the hunt for the best Samsung TV of 2021, this guide is for you. Samsung is one of the biggest tech companies in the world, with its massive size allowing it to come out with a huge range of smartphones, home appliances, and (of course) new TVs every year – many of which also show up on our best TV of 2021 list.
We've seen several new Samsung TVs this year, with the Samsung Neo QN900 8K QLED TV flagship leading Samsung's Mini LED overhaul for this year.
We've also seen upgrades to several of its most popular models too. Samsung's The Frame TV now includes a tripod TV stand for those who don't want to wall-mount their TVs – as well as a renewed push into Micro LED displays, with sizes available in 76-inch, 88-inch, 99-inch, and 110-inch sizes.
On top of that Samsung has just introduced a new outdoor TV called The Terrace. While we haven't spent enough time with it to give it a full review yet, it could well earn a place on this list down the line.
We understand that's a lot to take in, though, so our aim here is to help you find which of the best Samsung screens of 2021 fits your preferences and is within your budget. As you can expect, most of the screens below will be quite pricey as they're the best of the best. If your budget won't stretch this far, that's okay, as plenty of Samsung's 2020 and 2019 TVs are still fantastic and you can also check out our roundup of the best 4K TV deals available today.
Below you'll find our selection of the best Samsung TVs available, along with a run-down of the Samsung brand and how to tell their TV product names apart – this isn't as easy as it sounds. Bear in mind that only a few models will feature the Samsung OneConnect box, and it's worth checking to see if the cabling solution is included if it's something you're after.
Best Samsung TVs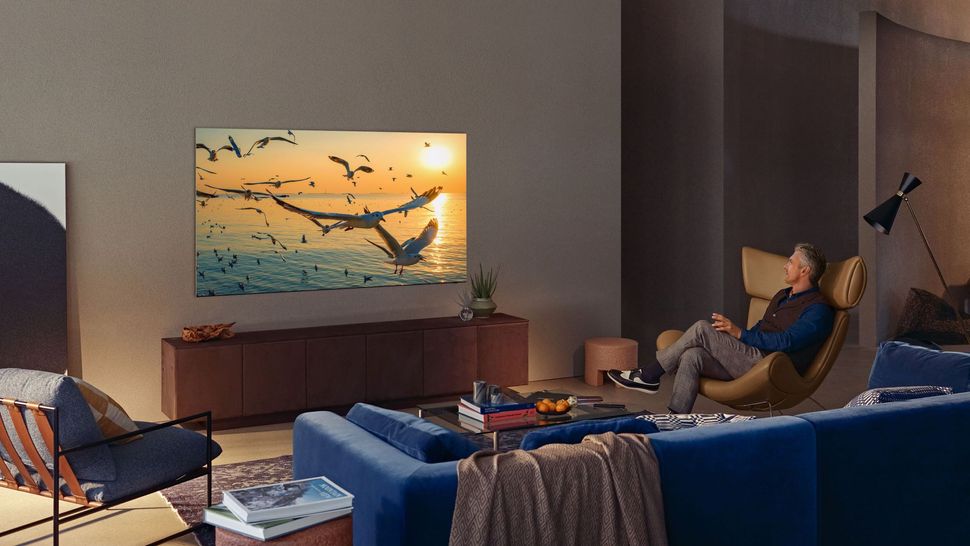 The Samsung QN95A is the company's new flagship Neo QLED 4K TV for 2021, and the first to embrace a Mini LED backlight. Not to be confused with Micro LED, which is a completely different self-emissive display technology, Mini LED uses a newly-developed backlight that's much smaller and more efficient, resulting in a significant increase in dimmable zones and thinner panels.
The results speak for themselves, with superb SDR and HDR images that benefit from deep blacks and brighter highlights, all of which are delivered without blooming or loss of shadow detail. The inclusion of quantum dot technology delivers saturated and nuanced colours, too.
Unlike last year, Samsung is not short-changing its 4K line-up in an effort to push sales of the 8K ranges. So the QN95A boasts an impressive set of features, which is headlined by a well-designed and comprehensive smart platform that includes every major streaming app. There's also a host of cutting-edge gaming features that'll please next-gen console owners.
The QN95A doesn't just look good, it also sounds fantastic thanks to Object Tracking Sound Plus (OTS+), which somehow manages to cram a powerful 4.2.2-channel sound system into the TV's ultra-slim chassis. This is another triumph of industrial design from Samsung, with a minimalist but elegant shape, solid metal stand, and nearly bezel-less screen.
Read the full review: Samsung QN95A Neo QLED TV
Samsung The Frame (2020) is the most accomplished iteration of Samsung's painting-inspired television we've seen so far. With a bold metal casing, customizable frames, and an Art Mode function that displays classic artworks and photographs, this is the closest any television gets to looking like an actual painting – and when it's wall-mounted your guests really might not tell the difference.
With an Ambient Mode offering more dynamic screensavers, clock faces, and weather or news updates, there's plenty of customization for how much attention you want your Frame TV to get when not in use. The QLED panel and Quantum Processor 4K upgrade doesn't go amiss either, with predictably above-par upscaling and an impactful picture – even if The Frame's brightness is surprisingly dim for a QLED television, and skin tones can occasionally seem a bit off.
But if you want a television that really puts appearances first, and will blend in seamlessly with the decor throughout the day – with a OneConnect box cabling solution to keep things tidy – Samsung The Frame (2020) is an excellent choice for your home.
Keep an eye out for the 2021 iteration, of course, which is even slimmer and comes with far more options for customization.
Read more: Samsung The Frame (2020) review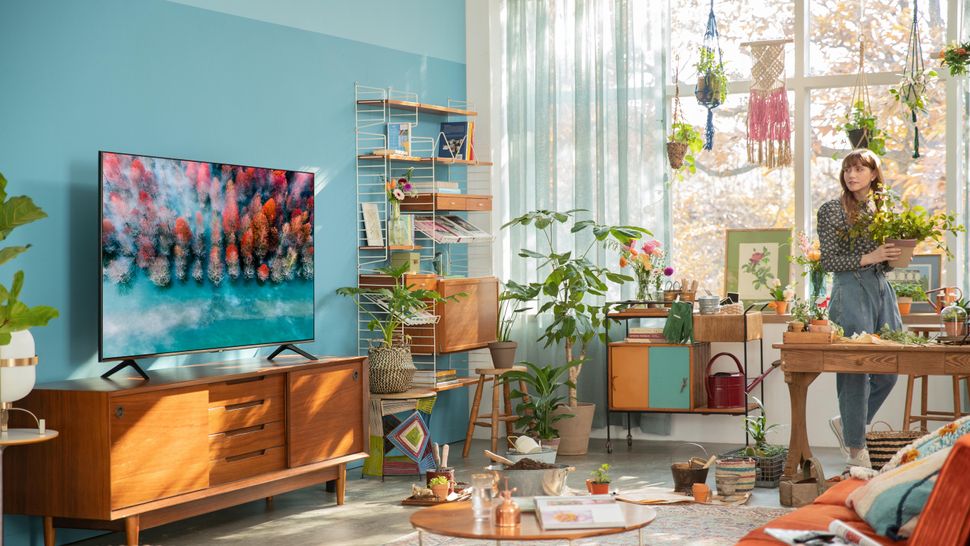 If your living room – and budget – can't handle one of the best 65-inch TVs, take a look at the truly spectacular TU8000 Series. You'll get an incredibly low input lag (just 9.7ms) as well as a motion handling technology to keep the action looking consistently smooth. What else could you ask for?
You're not getting all of the gaming technologies of some other sets in this list, as HDMI 2.1, VRR (variable refresh rate), or a 120Hz panel – but for the everyday gamer, this is a set that gets the basics very right.
You will need to watch out for the narrow viewing angles: content looks best straight on, with color draining from the sides, so it might not be the best choice for four-party Switch game sessions. On the whole, though, this is a solid choice.
If you're in the US, you might still be able to find 2019's RU8000 – increasingly hard these days – which does offer up to 120Hz refresh rate (for 50-inch sizes and above) as well as VRR, and might be worth picking up on the cheap.
Read the full review: Samsung TU8000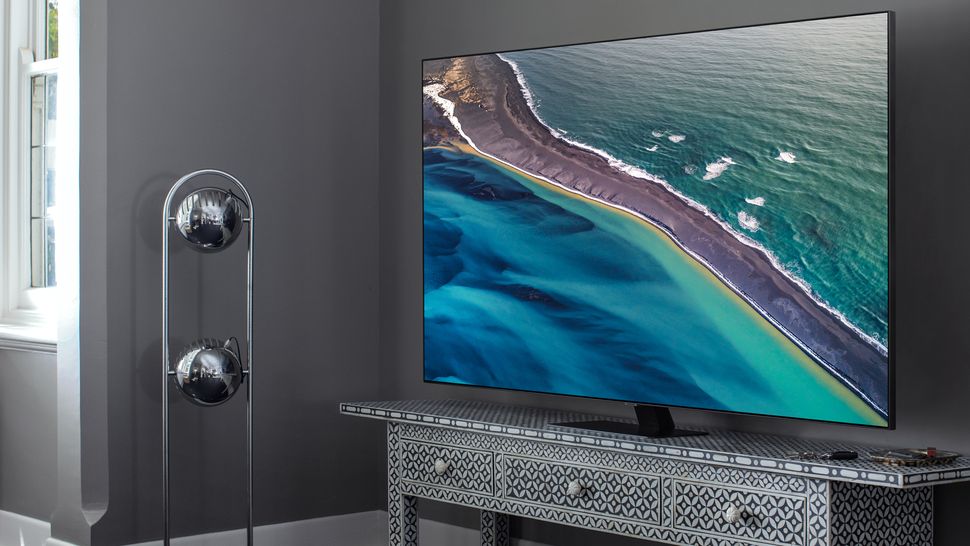 The Samsung Q80T QLED is a 2020 4K TV that does a lot to court gamers to the Samsung family. With ultra-low input lag of 8.7ms, you'll see little delay in competitive gaming, and the set supports 4K at 120Hz on its on HDMI 2.1 port too.
Add to that VRR (Variable Refresh rate), ALLM (Auto Low Latency Mode), and FreeSync for PC AMD gamers too, and you have a medley of technologies making this a truly solid choice as a gaming TV.
You are sacrificing some image quality for this rock-bottom input lag, but there's also a smart halfway house in Game Motion Plus, which keeps the lag under 20ms but keeps some motion smoothing in for a clearer picture. For HD gaming you don't need razor-sharp reflexes for, Standard preset should do you just fine too.
There's a new Q80A QLED coming out this year, so we'll be looking to see if Samsung can one-up the model listed here.
Read our full Samsung Q80T QLED TV review
Ushering in a new era in television technology, Samsung's Mini LED-sporting QN900A Neo QLED 8K TV offers stunning picture quality, exceptional color and brightness, terrific sound and outstanding blacks – all in a package that's unmatched in terms of design.
Samsung's 'Quantum' Mini LEDs are 1/40th the thickness of a regular light-emitting diode, meaning thousands of smaller LEDs can be packed together in a much tighter fashion, allowing for far more accurate dimming zones and black levels that are practically indistinguishable from an OLED to this reviewer's eyes.
Outside of its new lighting technology, the QN900A excels in terms of picture quality, with an astonishing 8K resolution display that does a brilliant job of upscaling 1080p and 4K content thanks to the AI-based 'Neo Quantum Processor 8K'.
The Samsung QN900A is a pricey television, as is to be expected from this year's flagship, but three sizes across 65-inch, 75-inch and 85-inch allow for some variation of budget – starting at $4,999 / £5,999 for the smallest size.
It's a step up from last year's Samsung Q950TS flagship, though that set may be one to check out if you want to save some cash, having been discounted heavily prior to the launch of its successor.
Read more: Samsung QN900A Neo QLED 8K TV review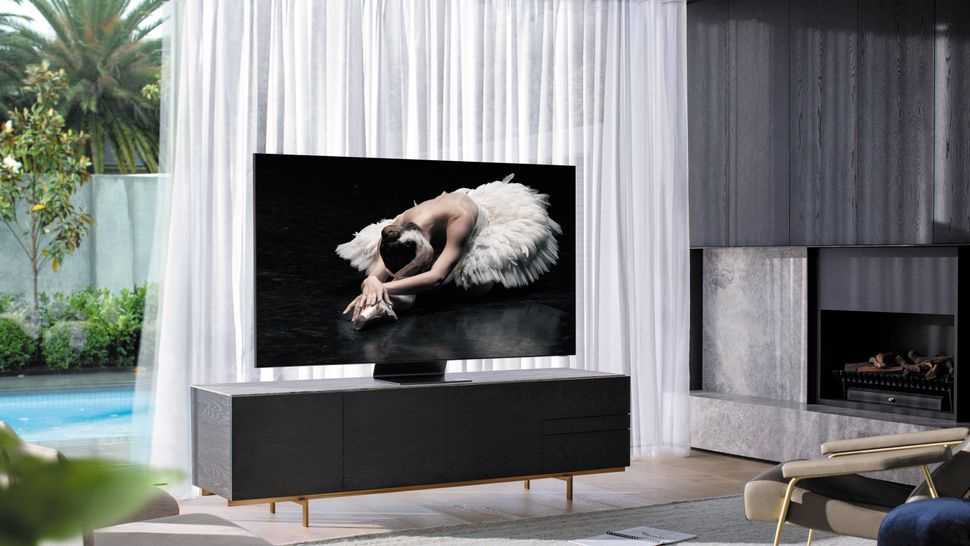 So, an 8K TV may seem an odd choice for best value, but hear us out! The Samsung Q800T is the brand's entry-level 8K model for 2020, and it's priced at around the level of last year's 4K flagships.
You're still paying $3,199 / £3,799 / AU$4,999 for its smallest 65-inch size, of course, but that pales next to the price tags of the Q950TS above.
The 8K pictures are gorgeous, and upscale beautifully from even HD sources. The new OTS (Object Tracking Sound) audio system, too, gives an element of height and width to the sound that you won't get on cheaper 4K QLEDs.
There are some minor complaints, like how colors can occasionally lack punch, or the somewhat aggressive local dimming – which will temper bright HDR objects to prevent blooming. But as a more reasonably-priced alternative to the Q950TS, without all of the bells and whistles, the Q800T is a smart choice.
Keep an eye out for the new Samsung Neo QN800 8K QLED TV to see if Samsung manages to improve this well-judged set.
Read our full Samsung Q800T 8K QLED TV review
Aimed at heavy social media users – or, we suppose, social media influencers – this rotating TV is able to present both landscape and portrait content, meaning you can be watching a Netflix movie one minute and scrolling through Twitter or TikTok the next.
At the press of a button it will turn 90 degrees, and only takes 2-3 seconds to do so. If you want a TV for social media, it's a bold – if imperfect – realization of that dream, and isn't like anything else on the market.
60W speakers ensure you're not craning to hear voices or soundtracks, too, and all in all it's certainly an upgrade over the audio-visual output on a standard smartphone. You're also getting Samsung's excellent Tizen smart TV platform to boot.
That said, using the Sero as a smartphone monitor has its problems. Social media apps aren't natively supported on Tizen, meaning you're having to switch your gaze between the TV and the phone you're casting from, and there's no way to use the TV remote to navigate your scrolling feeds and timelines.
The Sero feels like a solution in search of a problem, and basically unnecessary whether you're big on social media (a flagship smartphone might be better), or not (in which case you don't need the Sero at all).
Some issues rotating with AirPlay 2, too, means this is a set best suited to Android (particularly Samsung) smartphone owners, rather than anyone with an iPhone.
Read our full Samsung Sero TV review
Why Samsung?
Considering you've landed on this page, we're assuming you had Samsung in mind – why else shop for the best Samsung TV? But maybe you're still in that research phase where you're not quite sure on Samsung, and would like to know why so many other people – reviewers and enthusiasts alike – ride Samsung's hype train.
Samsung holds such strong sway with these folks because its TVs are generally more colorful and much brighter than the competition, especially in the QLED range.
Also important to the discussion: Samsung's Tizen OS is one of the best smart TV platforms, and its processors typically do a great job with upscaling (turning HD into 4K), and usually perform better than LG sets when handling scenes with fast motion.
Samsung QLEDs also pack in a technology called HDR10+ that makes colors look super vivid, and input lag is generally pretty low, too, which is great for gamers looking to use the TV with the PS5 or Xbox Series X.
On the downside, Samsung TVs are generally more expensive than those made by their rivals, and aren't always incredibly long-lived. I'm not sure if you know this, but Samsung has a bit of a reputation for creating some... explosive products.
The other problem with Samsung TVs is that they don't support Dolby Vision – an HDR format that delivers higher brightness and better colors than HDR10.
All that being said, the good often outweighs the bad, and here at TechRadar we recommend Samsung screens to folks who have a little bit more to spend and are looking for the most picturesque TVs (though there are some good budget and mid-range options too, as you'll see in this guide).
Naming conventions
Still confused? Let's spend a second taking apart Samsung's naming convention. Once you understand how it works, you'll be able to read the obfuscated labels just as well as any electronics employee – which is a huge advantage if you're heading into Black Friday or Cyber Monday in search of some deals.
Let's use the Samsung UN55MU7000FXZA as an example.
Samsung TV Guide Cheat Sheet
Here's a quick cheat sheet for reading a Samsung label:
Example: Samsung UN55MU7000FXZA
1. UN: Territory that the TV is offered in (UN for America, UE for Europe and UA for Asia/Australia)
2. 55: Screen size (this is a 55-inch TV)
3. MU: Indicates what year the TV was made (MU indicates a 2017 model)
4. 7000: The last number is the series (higher is better but also more expensive typically)
The UN signifies that you're talking about the American model of the TV. If you're in the UK, you might be more familiar by seeing a 'UE' before all of the other numbers while Australian or Asian readers might have seen a UA prefix before.
Of course, if you're buying a new QLED TV from Samsung, you'll find QN, QE or QA in this spot instead.
If you buy a TV in one region and move to another, that could present some issues but as long as you buy a TV for your region you'll be OK.
The number after the UN/UE pr QN/QE prefix is the screen size. A '55' means the TV is 55-inches. A Samsung UN49MU6500 is an American 49-inch TV, while a Samsung UN65MU6300FXZA is an American 65-inch TV.
After the MU and the first two numbers come a second letter pair. This pairing helps indicate which year the TV comes from. An M- or an MU- means the TV is from 2017; if you see KS or KU in the title, the TV was made in 2016. JU and JS TVs were made in 2015, and so on. These letters are replaced by 'QN' for a Neo QLED TV, and a single 'Q' for a regular QLED TV.
The last four numbers are the series. In 2017, Samsung produces TVs in five main series: the 5-Series, 6-Series, 7-Series, 8-Series, 9-Series, alongside QLED TVs and the more lifestyle-centric The Frame and Serif TVs.
The higher up the series is, the more functionality it has. It's pretty hard to break it down by series, as some larger screen sizes have different feature sets than smaller screen sizes, but the higher series TVs have features such as HDR, 4K, higher brightness settings, better motion handling and better operating systems.
The typical rule of thumb is that higher is better, but also generally more expensive, too.
Last but not least you have the FXZA – a letter combination that denotes region (the A stands for America) and, for some odd reason, inventory tracking. This last part largely can be ignored unless you're entering the TVs into a database.