What is a Philips Ambilight TV? And should you buy one? If you've been shopping around for a new TV you may well have come across Philips' unique range of displays, which combine mood lighting with home entertainment for a dazzling movie night in.
With Black Friday and Cyber Monday on their way, and a flurry of Black Friday TV deals already kicking off, now is the time to suss out which TV is going to really upgrade your home cinema setup too – given the big discounts to be had on brand new displays.
To put it simply, Ambilight is a proprietary TV technology exclusive to Philips TVs, and in a saturated market full of near-identical goggle boxes, it really does help Philips stand out from the crowd. Ambilight is essentially the inclusion of an LED array around the side of a television, which projects color onto the wall behind a TV.
Sound like a gimmick? It isn't. While a light display isn't crucial for your viewing experience, it has an incredibly striking effect you won't see with any other manufacturer. The colors projected match the hues appearing in your onscreen content, increasing your perception of contrast and creating an immersive light display that seems to seep out of the television itself.
All but the cheapest Philips TVs use Ambilight nowadays – and they can also hook up with Philips Hue smart lightbulbs, to let the colours of the TV image flood your room, rather than just bleeding out behind the screen.
Keep in mind, though: a company called Funai owns the Philips license in the US, meaning you won't get anything like Ambilight. But for those in the UK and Europe, with an eye on an Ambilight TV, this is the guide you need.
Should I buy a Philips Ambilight TV?
Philips TVs may not earn quite as much attention as the latest Samsung or LG OLEDs, but Ambilight is a pretty compelling reason to choose a Philips model over everything else.
Not every Ambilight TV is made the same, though. Low-end models have two-sided Ambilight, meaning colour emanates from the left and right of the TV. Mid-spec models have three-sided Ambilight, with LEDs pointing upwards too. Some very premium models, like the 2020 flagship OLED+935, now come with four-sided Ambilight, meaning the LEDs glow from the bottom edge of the set too.
While Ambilight separates Philips TVs from the rest, there's still a lot to consider within the company's own range. It offers many models, from budget LCDs all the way up to high-end OLED TV models – which tend to pack in excellent built-in audio courtesy of Bowers & Wilkins
The entry-level Philips 55OLED754 is just £999 these days, too, being an excellent way to access the once prohibitively expensive technology. Step-up models include the 55OLED805, which is worth looking at too.
Philips's higher-end TVs use Android TV software, just like Sony's sets. It's known for being a little flaky at times, but does grant access to loads of apps, many of the same ones you can download for your phone.
Most of Philips' LCDs tend to have fairly mediocre on-board sound. But this is nothing to worry about if you plan to use your own speakers or a surround system, which we always recommend.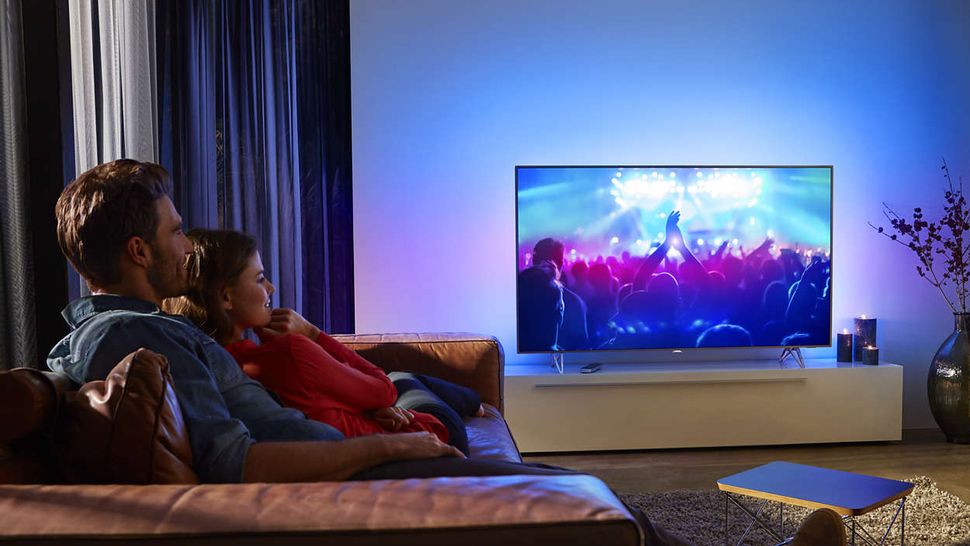 Want Ambilight without the TV?
It's worth noting that you can technically upgrade your current television to include Ambilight, even if it isn't a Philips TV.
Philips has released something called the Philips Hue Play Gradient Light Strip, which comes in sizes for 55-inch, 65-inch, and 75-inch TVs. It effectively replicates three-sided Ambilight – though not four, which is apparently to prevent odd reflection off TV stands or soundbars by non-Philips manufacturers.
We're told it features five-channel LED elements, for a variety of colors and combinations, and is "optimized to be mounted to the back of a television for the entertainment experience [using] easy adhesive mounting brackets."
The lights will project at a 45-degree angle from where it's mounted, in order to really throw the colors into the room. Using it in tandem with the Philips Hue app will ensure you can calibrate it alongside any other Hue products in your home – though you will need the Hue Bridge and Philips Hue Sync Box to get it working.
Pricing starts at £159 / $199 for the 55-60 inch size, going up to £179 / $219 for the 65-70 inch and £199 / $240 for the 75-85 inch respectively.