Olympus: Large sensor Canon CSC would 'miss the point'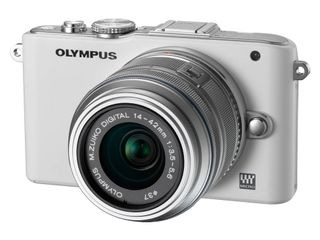 A spokesperson for Olympus has said that if Canon introduces its rumoured APS-C size mirrorless camera, it would be a mistake.
Speaking to TechRadar, Mark Thackara, Olympus UK marketing manager, said, "If Canon comes in with an APS-C size [mirrorless] camera then they have misunderstood the point."
"You don't get the size advantage with an APS-C sensor," he said.
Canon is currently the only major camera manufacturer without a compact system camera on the market, but rumours have been circulating for months that the company is about to introduce one.
Last month, a leaked patent appeared to show that Canon was developing a set of small lenses compatible with an APS-C sized sensor.
It would be a different direction from its biggest rival Nikon, which introduced the Nikon 1 system in September 2011 featuring a small sensor.
Other manufacturers have mostly chosen between Micro Four Thirds (Olympus and Panasonic) and APS-C (Samsung, Sony, Pentax and Fujifilm).
Large
Although an APS-C sensor means the cameras need to be a certain size, it does have certain advantages in terms of low light capabilities. Some have suggested that Canon would favour a larger sensor in order to be more compatible with its existing range of DSLR lenses.
Most enthusiast and entry level DSLRs feature an APS-C size sensor, while Canon's recently announced G1X advanced compact camera also features a sensor which is almost the same as APS-C in height but in a 4:3 ratio. It has also been suggested that the G1X sensor will be the same as what eventually appears in a mirrorless model.
It seems almost inevitable that Canon will introduce a compact system camera, but whether that will be sooner rather than later is another question.
Sign up to receive daily breaking news, reviews, opinion, analysis, deals and more from the world of tech.
Amy has been writing about cameras, photography and associated tech since 2009. Amy was once part of the photography testing team for Future Publishing working across TechRadar, Digital Camera, PhotoPlus, N Photo and Photography Week. For her photography, she has won awards and has been exhibited. She often partakes in unusual projects - including one intense year where she used a different camera every single day. Amy is currently the Features Editor at Amateur Photographer magazine, and in her increasingly little spare time works across a number of high-profile publications including Wired, Stuff, Digital Camera World, Expert Reviews, and just a little off-tangent, PetsRadar.