Lock it up: AT&T offering free cloud storage for iOS and Android
AT&T Locker will offer 5GB of free cloud storage space to all its iPhone and Android customers.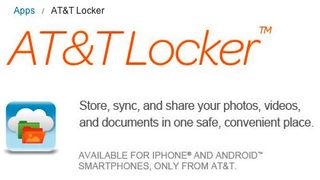 AT&T announced Thursday it would enter the cloud storage space with the introduction of AT&T Locker.
The new service will include 5GB of free cloud storage for any and all AT&T customers currently using either an iPhone (including the iPhone 3GS) or Android smartphones (version 2.1 or later).
AT&T Locker will also be available with upgrades to 30GB for $3.99/month and 100GB for $9.99/month.
Available now in each of the OS' respective app stores, AT&T Locker incorporates an Easy Upload feature, which automatically uploads any photos snapped to the AT&T cloud.
"Customers use smartphones to capture special moments in their lives," said Mark Collins, senior vice president, Data and Voice Products, AT&T Mobility.
"That's why we designed AT&T Locker to help you store those memories.
"With Easy Upload, every photo and video is uploaded directly to AT&T's cloud, which can be accessed safely and securely anytime from a customer's smartphone or the web."
Cloud city
AT&T Locker is just the latest in a long line of cloud services offered for mobile devices, including smartphones and tablets.
Apple has its iCloud, Amazon steers Cloud Drive, Google runs Google Drive, plus there's Dropbox and Microsoft's SkyDrive already available.
AT&T Locker follows suit with many of the competitive services, offering the same 5GB of free storage as Apple and Google.
Users will be able access anything in their AT&T Locker from either a smartphone or the web, which is another feature similar services have also introduced.
However, AT&T Locker does offer the ability to share media stored to social network services straight from the cloud, which is something customers fond of Facebook and Twitter may appreciate.
The carrier has promised new features will be added to AT&T Locker in the future, but hasn't detailed plans beyond what's being offered right now.
Sign up to receive daily breaking news, reviews, opinion, analysis, deals and more from the world of tech.