Google Project Fi vs AT&T, Verizon, T-Mobile and Sprint
How much does Google Project Fi cost vs other carriers?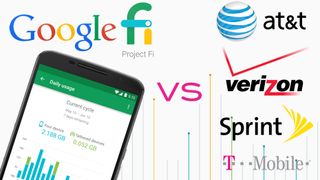 Project Fi is Google's bold plan to disrupt just about everything in the way US carriers like AT&T, Verizon, Sprint and T-Mobile operate. How? With a network of networks, that's how.
In the time since Project Fi launched in 2015, it has partnered up with T-Mobile, U.S. Cellular and Sprint to provide broader coverage over the greater United States.
Unlike other carriers, Google doesn't actually provide any of the signal towers. Instead, it has built the intelligent framework that carries you from one network to the next without skipping a beat.
Let's dive deeper into Fi
Project Fi service is currently limited to Google's Nexus 6, Nexus 5X and Nexus 6P phones. The skinny is that it's a no-contract carrier with a focus on Wi-Fi connectivity. If this sounds familiar, that's because Republic Wireless has been doing this since 2011 aside from also utilizing T-Mobile's network. Project Fi customers can make calls over Wi-Fi, and seamlessly transition over to cellular when stepping out of range.
Users can make calls or send and receive texts through their designated Project Fi phone number (or by porting over your old one) on tablets, desktops or laptops. However, where Google is particularly trying to make a splash is the pricing, and the fact you won't be charged for data you didn't use.
Also, similar to T-Mobile, users won't have to deal with extra charges when in another country. Currently, Google includes data access in over 120 countries, though it is throttled down to 3G speeds.
We wanted to see how Project Fi's plans stack up to some of the major competition it's looking to influence: Verizon, AT&T, Sprint, and T-Mobile. Because of Project Fi targeting the individual user rather than family, we've reflected that in the comparisons.
Google Project Fi plan price
Project Fi's plans are very straightforward, and start at a base price of $20 per month. For every gigabyte, you pay $10 per month on top of that.
For example, if you opt for and use 2GB of data, you'll pay $40 that month. However, if you only use up 1.5GB, you'll be credited $5. If you go over 2GB, you'll simply pay the normal rate of $10 per gigabyte.
Plans go all the way up to 10GB, and this includes being able to tether another device such as a laptop or tablet at no additional cost.
Verizon
On Verizon, the well-hidden "single line plan" still exists and will run you $60 per month for 1GB of data or $75 per month for 2GB of data. Buying the Nexus 6 outright, 2GB of data on a single line plan will cost you $60 per month off-contract.
However, if you need more than 2GB of data, you'll need the More Everything Plan. It starts at $40 per smartphone per month, and 3GB will run you $50 per month.
If you join Verizon Edge, you'll be paying $75 per month for 3GB of data instead of $90 per month, but that doesn't include the monthly payment of your smartphone spread over 24 months for the chance to upgrade earlier, and without upgrade fees. That's also the same you'll pay if you bought the Nexus 6 outright through Verizon.
Bringing your own phone, through Verizon's prepaid plan, you'll pay $60 per month for 2.5GB of data, and that includes unlimited talk and text. If you need more data, it'll run $10 for 1GB or $20 for 3GB.
AT&T
AT&T's Mobile Share Value plans are very similar to Verizon's More Everything plans, and start at $25 per month for 1GB of data, plus $40 per month per smartphone.
3GB will run you $40 per month, and 6GB will run you $70 per month. At the 3GB level, you'll be paying $80 per month or $65 per month if you opt for the "Next" program, which also allows you to upgrade earlier by making monthly smartphone payments over 30 months.
However, if you were to buy the Nexus 6 upfront through AT&T, you'll pay $65 per month for 3GB of data off-contract. Data does rollover into the next month, so say you were to only use 2GB, you'll have an additional gigabyte the next month.
It's worth mentioning that through AT&T's GoPhone plan, by bringing your own phone, you'll pay $5 less per month, but have to get 4GB of data instead of 3GB.
Sprint
Sprint is still shouting unlimited data from the rooftops, and an individual plan will run you $60 per month or $50 per month with the iPhone 6 or iPhone 6 Plus.
The same $60 per month applies if you were to purchase the Nexus 6 outright through Sprint.
Like Verizon and AT&T, if you want the chance to upgrade earlier without paying fees, this, again, doesn't include monthly smartphone payments.
T-Mobile
T-Mobile also offers unlimited data at $80 per month, not counting the monthly cost of your smartphone since the carrier completely done away with contracts.
However, if you don't need unlimited data, you can get 1GB for $50 per month, 3GB for $60 per month, and 5GB for $70 per month. Where other carriers will charge you if you go over your data allowance, T-Mobile will instead throttle you down to 2G speeds for the remainder of the billing period.
Announced back in December, Data Stash lets customers on the 3GB and 5GB plan rollover their unused data, and that unused data doesn't expire for up to a year. It's worth mentioning that T-Mobile doesn't count data used by a growing list of music streaming services, which could definitely work out in your favor.
Google Fi plans vs everyone else breakdown
The average US mobile subscriber consumes 1.8GB of mobile data per month, according to a report published by Mobidia in November 2014. Taking that into account, here's how much at least 2GB of data would run you across each carrier:
Monthly price for calls, texts and data:
Project Fi: $40 for 2GB, $50 for 3GB, $60 for 4GB, etc.
Verizon: $75 (2GB) on-contract or $60 (2GB) off-contract
AT&T: $80 (3GB) on-contract or $65 (3GB) off-contract
Sprint: $60 (unlimited) OR $50 for iPhone 6 or 6 Plus
T-Mobile: $60 (3GB) plus monthly smartphone cost
Project Fi is the clear winner in terms of pricing, though AT&T matches it at 4GB if you bring your own phone. We can't forget that Project Fi currently only works with the Nexus 6, which starts at $649 for the 32GB model. Thus, the off-contract pricing is a bit fairer match-up.
Although Verizon only charges $599 for the Nexus 6 32GB, at $60 per month you're only getting 2GB of data versus 4GB through Project Fi. While Sprint and T-Mobile offer the Nexus 6 at the same price you'll pay through Google, AT&T is a little less unreasonable charging $699.
For the average smartphone owner, Project Fi makes a lot of sense. You'll end up saving money over the long run compared to other carriers, and the fact it works with T-Mobile and Sprint's network will give you a little more peace of mind. Of course, depending on where you live, coverage might be a nightmare.
And right now, in its current state, Project Fi leaves a lot of customers off the table by only supporting the Nexus 6. A 6-inch display is simply too big for many people.
Project Fi, similar to Google Fiber, is in its early stages. More devices will be supported over time, and once Google can offer other smartphones at $399 or less, it could have a serious winner on its hands.
Sign up to receive daily breaking news, reviews, opinion, analysis, deals and more from the world of tech.