Update: HTC is no longer set to release its standalone Daydream headset, Google VR's Clay Bavor confirmed. It's certainly a loss for the platform, but don't count out Lenovo's effort just yet.
Also, the list of Daydream-compatible phones has recently grown, including the Moto Z2 Force and the Samsung Galaxy S8, so head over to the next page to see if your phone (or the phone you're getting next) will be VR-ready.
Original article follows below.
Daydream is Google's latest attempt at bringing VR to mobile devices, and it's quite different than Google Cardboard, to say the least.
Unlike Cardboard, which aimed to get people in the VR door with a low cost and lenient power requirements, Daydream is a more robust vision that has its sight set on providing higher-quality experiences to Android Nougat and soon to Android Oreo users, too.
Beyond even that, Google is working with partners like Qualcomm and Lenovo to develop Daydream headsets that are completely free of phones, PCs and wires. HTC was previously said to be a partner, but has since removed itself from the Daydream conversation, with its HTC Vive Focus running off its own software instead.
In short, Daydream is all about bringing exciting and absorbing VR experiences to those who can't afford a HTC Vive or Oculus Rift. Here's everything you need to know about it.
Cut to the chase
What is it? Google's high-quality VR platform
When is it out? Now
What will it cost? $79 (£69, about AU$104) for the View, but you can frequently find it for less. Standalone headsets will obviously be more expensive
Daydream View headset
Want to get started with Daydream? Google has its own headset that you'll be able to use with Daydream-ready phones. It's called Daydream View and, unlike other VR headsets we've seen before, it has a material design ... just like the Android operating system. There's a latch on the front to slide your phone in and the controller for the headset is included.
Last year, Google invited other device makers to create their own Daydream headsets. This year, at Google IO 2017, it was made obvious that said device makers responded, with dedicated, standalone Daydream headsets in works by HTC and Lenovo. But, more on that in a bit.
Netflix, HBO and Hulu all have Daydream-ready apps available now, plus The New York Times has launched an app, too, for its VR videos.
Plus, Google has also made its own apps compatible with the Daydream platform. That includes Play Movies, Photos, Maps and YouTube.
Daydream goes independent
During Google IO 2017, the firm officially confirmed the well-reported rumor that it would be launching standalone Daydream headsets with select hardware partners.
This means that all of the parts needed to drive the Daydream experience will be found inside these headsets. No need for a phone, PC or even any cables.
Google has worked with Qualcomm to develop a reference design for its Daydream headsets. While the company didn't have much to say or show of this reference design device, Google did tease that both HTC (seen above) and Lenovo (seen below) are working on standalone Daydream headsets based on this reference design.
Both headsets are made possible by Google's new WorldSense tracking technology, a series of sensors that provide all of the motion tracking and sense of presence that, say, a smartphone's sensor array would.
HTC hasn't said much of anything about its Daydream device other than it will be considered part of the Vive family. Lenovo, however, has already dubbed its device the "Lenovo + Daydream," but we'll see whether that sticks.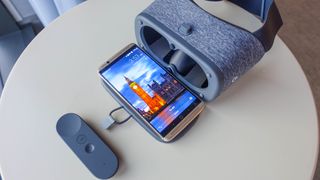 The Daydream View headset shown off by Google is the only option for Daydream VR right now. But, again, it's also letting other companies take hold of the tech, which will likely result in a variety of different looking headsets.
As Daydream is deeply integrated into Android Nougat and O, Google has put the entire Play Store within view while wearing a Daydream headset.
The Google Play Store takes on a familiar look in the VR space, with each individual app having its own rating and description. Google has also added the level of motion that you'll experience within each app, just so that you know what sort of immersion you're about to get yourself into.
Performance
Daydream requires these three pillars in order to be a viable VR option: smartphones that are optimized for VR, with a high quality system on chip (SoC) to maintain 60 frames-per-second playback, low persistence displays to eliminate ghosting and lag, and finally, top-notch sensors that operates with minimal latency to boost the sense of presence.
So, what sort of performance can we reasonably expect out of it? Well, you'd be right to think that it really depends on the power of the phone that's inside.
Google's new Pixel and Pixel XL phones pack a Qualcomm Snapdragon 821 processor and 4GB of RAM as well as running a FHD (1080p) screen on the Pixel and a QHD (2K) screen on the Pixel XL. You can bet that these devices will be primed to push high-quality VR experiences.