Guess what's back? Back again? It's the Daydream View from Google. It doesn't have a new name, but it does have some slightly new design upgrades to make it a little more exciting to purchase.
It's ultimately still just a dumb vessel for your smartphone to show off Google's world of VR, but it's fixed a few of the issues we had with the older model and has become more desirable as a result.
Daydream VR (2017) release date and price
Available to buy from October 19, pre-orders open now
Will cost £99 / $99 (around AU$125)
If you're looking to get your hands on the new virtual reality headset from Google, you'll be paying a little more than before.
Where it originally landed for $79 / £69, now you'll be paying the princely sum of $99 / £99, although it's hard to see where the extra cost is coming from.
You'll be able to buy it fairly soon though. The new VR headset is available to pre-order alongside the new Google Pixel 2 and Pixel 2 XL today, with the Google Daydream View (2017) release date set for October 19.
New design
The Google Daydream View needed an update, as the first model was heavy, hot and, most importantly, had light bleed thanks to the slight gap between the front flap and the phone locked into the headset.
This meant that not only was it not flush to the device, which is a little unsightly, but it didn't give the best viewing experience.
That's been improved a lot since, with some nice flourishes making this a more comfortable headset to wear.
The first is that the new strap that sits on top of the head and holds the entire unit in place is much better – it's still a long way from perfect, and dug in a little in our demo, but until we try it for an extended watching session it's hard to know if this will be a problem.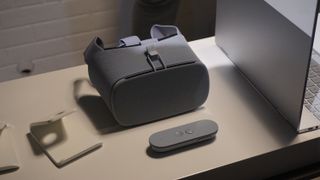 The unit did sit more nicely on the face though, with a more padded and comfortable face place to squish your lovely visage into, which also provided a more immersive experience.
There's a small vent on the front for the section that holds the phone in place, and we didn't see any light bleeding in during our VR demo – in short, it's a much better-designed headset than before.
Updated controller
The new controller isn't hugely different to the previous model, although it is a little sleeker.
It sadly doesn't clip inside the front flap, presumably to make sure that it sits more sleekly to the front of the headset. Instead, it slips neatly into the strap on the back of the headset, holding in place when the headset is not in use.
It's a decent little device, with gyroscopes inside meaning it'll show up in your virtual world and you'll be able to move it and flip it over just like in real life.
This is nothing new, nor is the layout of the device, but it's comfortable and light to hold and use – all the buttons are raised and easily found with a blind finger, and it functions perfectly as a pointer in the VR realm.
VR still needs work
The big issue with Daydream VR is that it's not a fully-fledged experience yet. It's fine being able to watch concerts in VR and spin your head around, as well as play more immersive racing games, but we can't say that it's an indispensable experience.
The apps we tried out weren't that exciting, and the whole Daydream design inside the virtual world is fairly cartoonish. It's impressive that it's running off a phone, and hopefully the new crop of Android handsets won't be as heavy and unpleasant to hold on the face, but we can't say that we felt a huge amount of enjoyment playing inside the new Daydream View.
However, we definitely need to spend some more time playing with the device, as there are far more apps available compared to the first model, so perhaps some third-party developers have come up with some solid gold.
Early verdict
The first Daydream View was a decent-enough headset, although didn't really support enough phones to be a huge success (although the addition of the Samsung Galaxy S8 / Note 8 range helped a lot), and the new headset is a little better in a few ways.
The new design is sleeker and more comfortable, which is thoroughly welcomed, and the whole experience feels more immersive than before.
That said, the cost is higher, and that's an issue – there's not a lot of must-have content available that we can see right now, so this continues to be a niche product that's fun to play with once, but isn't going to be something you'll use regularly.
We do need to try it out further to really find out if the VR experience has improved, but for more money the Daydream View has to impress in new ways.