Nokia Lumia 2520 to launch on Verizon November 21, a day ahead of AT&T
Windows 8.1 RT tablet costs $399.99 on contract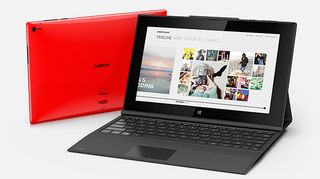 Verizon customers will be the first to get a crack at Nokia's Windows tablet debut, as the Lumia 2520 will go on sale at the carrier's stores a day earlier than everywhere else.
The device's November 21 launch date announced by Verizon is one day ahead of the originally scheduled release date for this Windows 8.1 RT tablet.
Purchasing the 4G LTE-connected Lumia 2520 through Big Red's website gives customers the option of black or red color models, while stores will stock just black on that day.
AT&T customers will have to wait 24 hours, as the network is sticking to the November 22 date, and it'll only offer the tablet in black.
Deal or no deal
While Verizon will make the Nokia 2520 available a day ahead of AT&T, as always, being an early adopter comes with a price.
In this case we literally mean price. Both networks are selling the Lumia 2520 at $399.99 with a two-year contract, with an unsubsidized price of $499.99.
However, only AT&T is sweetening the deal with a $199.99 price tag when a customer also walks away with one of three Nokia phones.
All are Windows Phone 8 smartphones (the Nokia Lumia 925, Lumia 1020 and Lumia 1520), so they should go hand-in-hand with the 10.1-inch tablet. The choice comes down to a day later or a few dollars shorter.
Sign up to receive daily breaking news, reviews, opinion, analysis, deals and more from the world of tech.