We've rounded up the very best deals on home gym equipment to help you stay in shape indoors.
Your regular gym may be shut, and you might not be able to get outdoors as often as you'd like, but that doesn't mean your fitness has to suffer, and with the right home workout equipment you can stay in shape without setting foot outside.
We've hunted down the best deals on a range of essential home gym equipment, including fitness trackers to keep you motivated and log your progress, treadmills and exercise bikes. We'll be adding more products every day too, including weights and resistance bands, so bookmark this page and check back regularly.
Bear in mind that treadmills are proving particularly popular at the moment, and many retailers have sold out completely. There are still some excellent models around, which we've rounded up below, but they tend to be towards the more expensive end of the market. If you're working to a budget and don't mind switching up your usual workouts, you'll find exercise bikes are a more affordable option.
Fitness trackers
The best fitness tracker deals
Why you can trust TechRadar We spend hours testing every product or service we review, so you can be sure you're buying the best. Find out more about how we test.
Fitness trackers aren't just useful for running and cycling outdoors. While you won't be able to use their GPS functions indoors, most of today's best fitness trackers also include programs for tracking indoor activities, including treadmill running, using a static exercise bike, aerobic workouts and weight training.
Setting daily goals can be a great way to keep yourself motivated when you can't get to the gym, and you can monitor your progress using your fitness tracker's accompanying app.
Treadmills
The best treadmill deals
A treadmill is a great way to get some good quality cardio indoors, and choosing the right one will help you work out in all conditions, long after the current crisis is over. No more worrying about fitting your training in during icy conditions, strong winds, or late at night.
There are lots of factors to consider when buying a treadmill. Ideally you'd try out various models in a showroom before making your choice, but since that's unlikely to be possible in the near future, you'll have to make your choice depending on how often you'll be using it, your available space, your budget, and which features you need.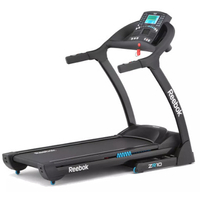 (opens in new tab)
Reebok ZR10 | £629.99 at Argos (opens in new tab)
This Reebok treadmill is available for delivery throughout most of the UK within seven days, so you can be up and running by this time next week. It features a top speed of 11mph, 15 levels of incline and a maximum of 32 user programs.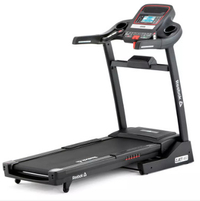 (opens in new tab)
Reebok ZJET 460 Bluetooth | £699.99 at Argos (opens in new tab)
Treadmills are starting to come back into stock at Argos, and this premium Reebok model is now available for delivery to much of the UK within seven days. It features an impressive 15 levels of incline, and hits a top speed of 12mph. There's even Bluetooth connectivity so you can hook up your phone.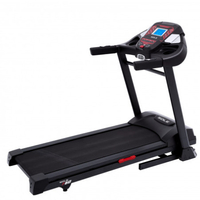 (opens in new tab)
Sole F60 folding treadmill | £1,299 £849 at Fitness Superstore (opens in new tab)
This treadmill's top deck folds down flat for easy storage, but that convenience doesn't mean skimping on power, with a top speed of 10mph. A generously sized running surface and 24 preset workouts round out an impressive feature set.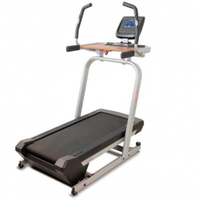 (opens in new tab)
JKFitness AeroHike 337 | £1,299 at Fitness Superstore (opens in new tab)
Want to get some extra exercise while working from home? This treadmill has a built-in desk so you can take a stroll while getting your spreadsheets done. Fancy a challenge? Detach the desk, ramp up the gradient and enjoy some serious hill running.
Exercise bikes
The best exercise bike deals
When you can't get out on the roads or the trails, a home exercise bike can help you keep on top of your fitness. There's a huge range to choose from, and as with treadmills, your choice will largely depend on how often you're planning to use it, your budget, and your style of riding. Are you looking for something for brief, intense spinning sessions, or an exercise bike for replicating those long weekend rides?
There are several different types of exercise bikes to consider: upright bikes, which are a good choice for regular home workouts and are the best choice if you're new to cycling or just getting back into it; indoor studio or spin bikes, which are great for keen road cyclists and intense spin sessions; and recumbent bikes, which are much easier to use if you have limited mobility.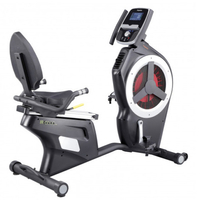 (opens in new tab)
Impetus IR 6500am | £1,499.99 £989 at Fitness Superstore (opens in new tab)
This superb recumbent exercise bike offers 16 levels of resistance, 10 preset training programs, and a smooth air magnetic resistance system. There are also heart rate sensors built into the handlebars, with optional support for a chest strap if you have one. There's £500 off the list price, too.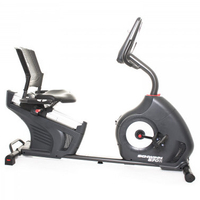 (opens in new tab)
Schwinn 570R Recumbent | £899 £599 at Fitness Superstore (opens in new tab)
If you're looking for a recumbent exercise bike for indoor workouts, the Schwinn 570R is a great option. It offers 25 resistance options, and its adjustable seat and backrest will help keep you comfortable, with good posture throughout your ride. There are stats aplenty thanks to dual LCD displays, and Bluetooth connectivity lets you sync to your preferred app.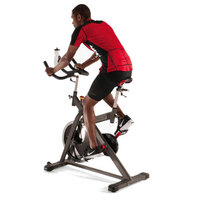 (opens in new tab)
Matrix ES Indoor Spin Bike | £1,399 at John Lewis (opens in new tab)
The Matrix ES is built to handle serious sprint sessions, and unlike cheaper models, both its handlebars and saddle can be adjusted. The 20kg flywheel gives you a smooth ride, and the micro-adjustable knob makes it easy to alter the resistance (or slam on teh emergency stop).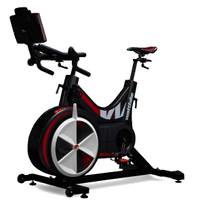 (opens in new tab)
Wattbike Icon | £2,499 at Wattbike
(opens in new tab)The newly released Wattbike Icon is the company's first indoor exercise bike specifically designed for home use. It offers comprehensive training plans, Bluetooth compatibility, and fully adjustable seat and handlebars. It's available for shipping in two weeks if you place your order now.

Hand weights
The best hand weight deals
A set of hand weights will help you step up from bodyweight exercises, and push yourself that little bit further. Many retailers are now sold out of beginner-friendly sets, but there are still some great options around if you know where to look. We recommend choosing a set with a soft foam or silicone coating to avoid scratching your floors and other surfaces.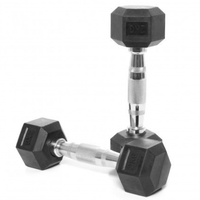 (opens in new tab)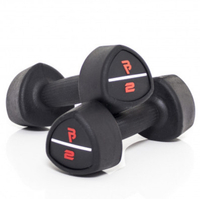 (opens in new tab)