For those of you in the market for more affordable high-speed broadband, this could be the deal for you. Right now you can get Vodafone's Full Fibre 500 for £30 per month on a 24-month contract (opens in new tab), which gives you mighty average download speeds of 500Mbps.
This price sits this deal at the cheaper end of the market for such ultrafast speeds. Plus, there aren't any upfront fees and you also get unlimited broadband usage and a minimum speed guarantee of 250Mbps. What's more, the package comes with Vodafone's WiFi Hub that features 'intelligent Wifi' that can automatically optimise your signal to give your devices a faster and better connection.
Vodafone claims that on this plan you'll get a connection that can easily handle 4K streaming on up to 20 devices at once and a 4.5Gb download will take just one minute. This means it'll be more than enough for even large households with big download demands.
The deal is available to new and existing customers. Plus, those currently on a Vodafone Pay Monthly mobile plan who are upgrading as a home broadband customer can be eligible for an additional 'Vodafone Together' discount.
However, as this is a 'full fibre' package, whether or not you can access it also depends on if your property is on the CityFibre network Vodafone currently uses for these speeds, and if you have a FTTP connection. It might be the case that one needs to be installed by an engineer.
If you want to compare this deal to the rest of the ultrafast market, or if you're looking for something slower, then you can also check out our selection of the best broadband deals around right now.
Our exclusive Vodafone broadband deal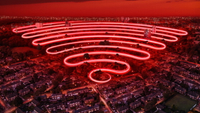 (opens in new tab)
Vodafone Full Fibre 500 | 24 months | £30 a month | Avg. speed 500Mbps | No upfront fees (opens in new tab)
This deal from Vodafone gives you impressive 500Mbps full fibre speeds for a price of £30 a month, without any upfront fees - putting at the cheaper end of the ultrafast broadband market. Pretty much any size of household will be able to stream, download and browse on as many as 20 devices all at once. Plus, you get a 250Mbps speed guarantee and Vodafone's innovative WiFi Hub that features 'intelligent WiFi' connectivity. This is a 24-month deal for new and existing customers, but it requires a full fibre, FTTP connection.
Why choose Vodafone broadband?
Vodafone might still be best known to some for its mobile phone network, but its broadband is something that millions of UK customers now use every day. This number is also continuing to rise each year and it's not hard to see why when you consider everything Vodafone has to offer.
As our featured deal shows, it has some of the cheapest ultrafast packages available right now - check out our best broadband deals or enter your postcode into our widget below to see for yourself - and it has some impressive download speed guarantees. It's thanks to deals like this that Vodafone has seen plenty of industry recognition, including commendations by Uswitch for its broadband speed and value.
The company's selection of full fibre broadband is also pretty good. Currently you can choose from the following options:
Full Fibre 1 – average speed 38Mbps
Full Fibre 2 – average speed 67Mbps
Full Fibre 100 - average speed 100Mbps
Full Fibre 200 - average speed 200Mbps
Full Fibre 500 - average speed 500Mbps
Full Fibre 900 - average speed 910Mbps
There's also plenty of great tech on offer, such as its WiFi Hub. In addition to this you can also upgrade to a 'Pro II' package in many cases, where for a few extra pounds a month you can receive more benefits like 4G broadband backup, antivirus protection and dedicated WiFi support.
Vodafone also scores well for its customer service, although some online reviews claim it doesn't offer as much support as the likes of Sky or Virgin Media. Another downside is that its CityFibre network still isn't widely available around the country yet, but it is aiming to reach eight million homes by 2025. Vodafone also doesn't have any TV bundles, so might not be for you if this is the kind of broadband package you want.
Loading...