If you're looking for a new broadband deal, then we may have found a top option for you. Right now, you can get TalkTalk's Full Fibre 150 for only £29.95 per month (opens in new tab). But, if you're interested in this deal then you'll need to act quickly - it expires on 2 February.
This deal is an 18-month contract and it provides download speeds of 152Mbps. Once your purchase has been confirmed, you'll receive a £100 gift card. Before you sign up, you can choose a gift card from either Tesco, M&S, Amazon or Giftcloud.
As this is a full fibre package, the 152Mbps download speeds you'll receive will be more than enough to power a busy household. Even if multiple members of your family stream, watch Netflix or download films in UHD simultaneously, you won't struggle with buffering.
That said, we understand that this deal is at the pricier end of the market. As a result, if you're on a budget, it may not be right for you. If this is the case, then head to our broadband deals page, where you'll a number of cheap offers.
Our TalkTalk broadband deal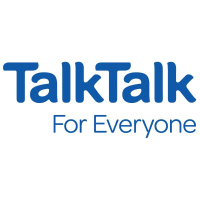 (opens in new tab)
TalkTalk Full Fibre 150 | 18 months | £29.95 a month | no upfront fees | Avg. speed 152Mbps (opens in new tab)
This TalkTalk deal provides average download speeds of 152Mbps. This is more than enough for large and busy households where multiple family members are streaming or downloading in HD simultaneously. It costs £29.95 per month and it comes with a £100 free gift card. However, if you're interest in this offer then you'll need to be quick, as it ends on 2 February.
Why choose TalkTalk?
TalkTalk is known for providing some of the cheapest broadband packages in the UK. In fact, many of its cheapest deals comfortably beat the prices offered by other leading providers. This explains why TalkTalk is now the UK's fourth largest broadband provider, with around 2.8 million customers.
In addition to this, TalkTalk also provides a great selection of speeds, which range from 35Mbps to 900Mbps. Plus, the provider also offers a decent number of TV and home phone bundle options.
That said, current TalkTalk customers are not fond of the company's customer service offering. Plus, its ultra-fast packages are not available everywhere. Thankfully, TalkTalk uses the Openreach network, so the availability of these options is improving very quickly.
Whether the deal we've mentioned here is right for you will depend on your circumstances. If you don't want to spend nearly £30 per month on your internet or you don't like the idea of choosing TalkTalk as your provider, then head to our broadband deals page. Here, we've outlined a number of cheap options.
Alternatively, pop your postcode into the widget below to see what deals are on offer in your location.
Loading...