FreedomPop debuts its own budget Android phone, the V7
The ideal counterpart to the budget cellular service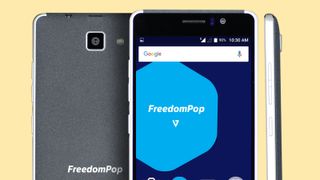 FreedomPop, the wireless carrier that offers free data, text, calls and WhatsApp access to its customers, has announced its own phone, the FreedomPop V7.

The V7 is a no-frills, low-end Android smartphone, but its low price of £59 (not available outside of UK and Spain at time of writing) makes it well worth the plunge, if only to have another Google Play Store-connected device around the house.

Running down the specs, you won't find anything that jumps out as impressive, or even very good at all (especially after seeing all of the recent MWC 2017 goodness), but the V7 is angled to a value-focused audience and looks to deliver on its mission.

The main highlights worth noting are its 5-inch IPS display and Android 6.0 Marshmallow support. Like most modern phones, the V7 will feature a front and rear facing camera system, coming in at 5MP and 13MP, respectively.

Lastly, the new phone will come with 8GB of onboard storage and microSD support to extend it to 32GB.
Though we haven't yet tried the V7, it's worth noting that our experience with the similarly specced WileyFox Spark wasn't a good one.

We frequently saw poor performance in terms of app load times, and general use of the phone was flat-out unenjoyable. Sure, the price point for the V7 is good. But for the sake of your sanity, don't go expecting to run most apps smoothly.
So, what's unique here?
As you've seen, the specs aren't anything to get excited about. But there's more to this story. FreedomPop, headquartered in the United States, serves 3G and 4G LTE to a growing number of regions on the cheap. How cheap? Well, free, to an extent.

The V7 comes with the FreedomPop SIM card in its dual SIM slot, so you can get going immediately with YouTube video-watching, Fire Emblem Heroes, or what have you. Once the free data runs out, you can switch services to your other SIM. But the company makes it tempting not to stray.

FreedomPop offers the first 200MB, 200 texts and 200 minutes of calling on the house, then its 1GB plan, with unlimited talk and text is $19.99. No matter what you opt for, the service offers unlimited WhatsApp access, and is contract-free, which is becoming an increasingly attractive feature as more and more of the latest smartphones go unlocked.

While the V7 won't suit the needs of most smartphone users, it's a cheap way to start for those who have never owned a connected device. It supports handy features that we love in Google's Project Fi, like Wi-Fi calling, so you're not draining your data when you're at home or within a hotspot.

And if you feel like this device really isn't for you, it would make a good gift, all while you stick the FreedomPop SIM card into whatever phone you'd rather be using.

The FreedomPop V7 will only in the UK and Spain. But even if your region isn't listed here, a move like this could mean that we'll see more smartphones coming from the carrier at some point.
Sign up to receive daily breaking news, reviews, opinion, analysis, deals and more from the world of tech.
Cameron is a writer at The Verge, focused on reviews, deals coverage, and news. He wrote for magazines and websites such as The Verge, TechRadar, Practical Photoshop, Polygon, Eater and Al Bawaba.