The new Apple Watch 5 is getting a slight discount at the end of the year, which comes just in time for holiday shoppers.
While the value isn't too exciting - the best deal saves $25 off list price - it's likely the best deal you'll find on the latest Apple smartwatch. The company's devices rarely see discounts in their first year on the market, so this is a rare instance.
The Apple Watch 5 introduced an always-on display that dims the watch face to a monochrome version that drains less battery when you're not looking. There's a handful of other improvements, like an internal compass that aids location-finding and elevation, as well as additional health tracking features.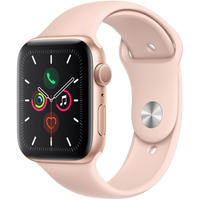 (opens in new tab)
Apple Watch 5 GPS-only 44mm $429 $404 on B&H (opens in new tab)
This deal saves $25 on the Apple Watch 5 - specifically the larger 44mm version, which has a bit more battery capacity and a slightly larger screen to match. This deal only applies to the GPS-only version in Pink Sand color with gold aluminum frame.
There's also a slightly less generous deal on the GPS + cellular version - which improves on the cell-connecting Apple Watches of the past by having its own App Store. Now you can download apps without having to run them through an iPhone.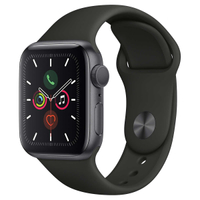 (opens in new tab)
Apple Watch 5 GPS + Cellular $499 $479 on B&H (opens in new tab)
The cellular version of the Apple Watch 5 does what you'd expect, hooking up to a cell network and use data on the go - perfect for anyone who wants to leave their phone behind on runs or quick trips.
If you want more discounts, check out our best Apple Watch 5 deals page.
Not shopping in the US? Check below for deals in your region.