One-minute review
The Samsung Galaxy Buds Live don't play by the usual rules. You don't even need to use them to know that they are here to make a statement and a take a bite out of Apple's fame in this space. Even within Samsung's lineup, this is the first time we get noise cancellation along with a slew of fun features.
Samsung has had a fair bit of success with its past earbuds, but with the Buds Live, it wants to play in the big leagues. Its approach is a more elegant one too, with a minimal yet iconic design that pretty much addresses the perennial question that haunts most wireless earphones — "will it fit my ears?". Once past the learning curve of how to equip them correctly, these are probably the most comfortable buds you can get.
They also offer high-end features such as active noise cancellation. While it does work to an extent, the lack of a proper seal on the canal does hamper the output. If your environment is not too dynamic, these should work just fine. The other features are no slouch though, with Samsung smartphone owners even getting access to Bixby.
The unfortunate bit is that this massive gamble with the form factor leaves it in no man's land without being excellent in one particular aspect. We can't call them the best in the segment, but they do get a lot right and act as a proof of concept that there are more than two ways of making a great pair of truly wireless earphones. In a vacuum, they are a worthy successor over the Galaxy Buds Plus.
Samsung Galaxy Buds Live price in India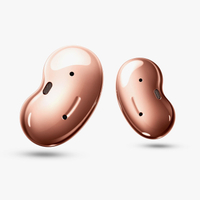 (opens in new tab)
Check out the Samsung Galaxy Buds Live (opens in new tab)
Rs 14,990 Rs 13,990 on Amazon.in
Mystic Bronze, Mystic White, Mystic Black
The Samsung Galaxy Buds Live are available in India at a price of Rs 14,990 on Amazon in Mystic Bronze, Mystic White and Mystic Black. During sales, it can be available at slightly lower prices so be sure to keep an eye on that. Samsung's website (opens in new tab) also has them available in Mystic Blue and Mystic Red.
It undercuts the AirPods Pro (opens in new tab) which come at Rs 24,900. Its predecessor, the Galaxy Buds Plus is now available at Rs 10,490, offering better battery life on the bud but a similar sound signature and no active noise cancellation. Long story short, you should probably buy the Galaxy Buds Live over the Plus unless you plan on wearing your earbuds for 11 hours straight.
The Sony WF-1000XM3 (opens in new tab) and the Jabra Elite Active 75t (opens in new tab) are other great options at this price if you prioritize sound quality, but keep in mind that their fit is not for everyone.
Design
Let's get done with the boring stuff first. The Samsung Galaxy Buds Live come in five colours - bronze, black (the ones we used in this review), white, red and blue, along with a square case in the matching shade in a glossy finish. Charging can be done via the USB Type-C case on the back or even wirelessly. An LED is present both inside and outside the case to let you know about the charging status of the case, as well as of the earbuds.
Coming to the buds, Samsung has managed to create something truly iconic here, that is equal parts fun and unique. The style pioneered by the AirPods in 2016 continues to remain one of the most recognisable earphone designs even today. Samsung once again tries to go as far as possible from Apple with a design that is different and borderline puzzling. This isn't the first time the Korean giant has tried to keep distance from Cupertino when it comes to design, with all of its smartwatches opting for every element that the Apple Watch doesn't. Samsung even did the same by avoiding wide notches on its smartphones by opting for full bezels for an entire year before making the jump directly to Infinity-V and Infinity-O notches.
Upon the first try, it might be a little confusing as to which part of the buds will face up. The speaker grille should face down pointing directly at your ear cavity and the rubber stopper should be on the top. Getting them to sit reliably in your ear concha is as easy as just placing them in your ear and they magically just stick. Samsung recommends (opens in new tab) following that with a slight twist for better fir, but in my usage, it wasn't always necessary. Of course, that extra bit does bring a more secure fit and better noise isolation, so it's always better to do so.
Once you get the hang of it, the Buds Live will almost become imperceptible. The sheer amount of contact points and the surface area distribute the weigh beautifully. Since they do not go inside the ear canal, there is no pain as a sub product. Moreover, the inner lining is made of soft-touch material and rubber to not feel sharp. When properly aligned, the Buds should be a near-perfect fit.
They also barely protrude out of the ear, making them less obtrusive and invincible to accidental stubs. Based on the shape of your ear, they might not even be visible when seen from the front. Each of the buds also support touch controls to play/pause music and skip tracks while a long-press will toggle ANC. An inherent disadvantage of this discreet design approach is that it's rather easy to accidentally trigger touch commands while trying to adjust them. You'll have to be actively conscious in avoiding the central part of the outside of the bud or might just hang up on a call. Since re-adjusting TWS has become a common habit, this deserved a mention.
I think these are also the first buds which I've found to be truly comfortable to sleep with. While that's usually been on accident, even the occasional video call or movie session in bed is very do-able. I'd also personally recommend getting the Mystic Bronze colourway as it almost looks like an ornament rather than a piece of tech.
The Samsung Galaxy Buds Live have fit more people perfectly than anything we've tested earlier. However, some people could have a different experience based on the size of their ears as these need to be secured from the top as well as the bottom.
Other features include IPX2 water-resistance, making them somewhat immune to water damage. Mine have successfully survived drops in sinks and buckets, but that is beyond what Samsung promises, so be vary of that. Rains and sweaty workouts are not advisable.
Noise cancellation
It's impressive how much tech Samsung has packed into the Galaxy Buds Live. On each of the earbuds, there are three microphones along with an additional voice pickup unit, the speaker with a bass duct and a bunch of sensors such as an accelerometer, IR, and a touch-capacitive sensor. All of this tech allows for a rich set of features on the Galaxy Buds Live - some of which work better than others.
Active Noise Cancellation can be tricky on buds this small. What makes it even more challenging ton the Buds Luve is that they don't plug into your ear canal with silicone ear tips like some of the other buds that support this tech. Samsung has thus developed ANC for open type earbuds, which, according to Samsung, reduces low-band background noise under 700Hz – such as trains and buses - up to 97% while still allowing you to hear voices and announcements.
In reality, it's a bit of a hit and miss. At higher volumes, you'll be able to drown out sounds such as the fan or a soft keyboard, but there is definitely some leaking; not as much to be able to hold a conversation but just enough to know that someone is talking. In changing noise conditions such as walking between rooms or stepping outdoors, the buds would sometimes amplify the noise instead of reducing it. We assume this is due to the lack of feed-forward mics making the processor work overtime to achieve noise cancellation.
Basically, if ANC is what you're looking for, look elsewhere. Even cheaper options can offer a better experience in this regard. The lack of passive isolation is to be blamed and we hope that is something that is addressed on the next version.
Call quality
What does work well is call quality, which uses the three microphones (one inner mic plus two outer beam-forming mics on each side) along with the Voice Pickup Unit that uses the accelerometer to sense the movement of your jaw to convert that kinetic energy into voice signals via bone conduction.
This enables you to be heard better on the other end of the call, even in noisy environments. We tested this and were told that our voice was very clear on the other end, even when we had music playing in the background. We were truly surprised at how well it picked our voice as the mics are technically pretty far from the mouth and not even in the line of sight.
Audio quality
Samsung has implemented a multitude of features for keeping the Buds Live connected and in sync with your device – all of which is based on Bluetooth 5. To keep a reliable audio stream, the Galaxy Buds Live feature Samsung's proprietary Scalable Codec which prevents audio chopping by changing the bit-rate according to the strength of the Bluetooth connection.
When the wireless connection is weak, Scalable Codec automatically encodes the audio information with a higher compression ratio, allowing the earbuds to receive data without interruptions. We enjoyed uninterrupted audio even when the phone was over twenty feet away from the Galaxy Buds Live. When it does drop, it tries to continue latching on to at least one of the buds, making us believe that it's a master-slave implementation.
Audio quality, in general, is decent – the bass has a fun, punchy bounce to it that makes songs like Just Give Me a Reason by P!nk really slam, but it does come at the expense of clarity in the mids and highs. Thankfully, the Galaxy Wearable app allows you to set sound between six modes which include bass boost and treble boost though you can't set a custom equalizer setting.
Instead of trying to win a spec race, Samsung has focussed on the user experience. The Galaxy Buds Live have an air vent for ventilation to about feeling stuffy or uncomfortable after long bouts of jamming - a common complaint otherwise with noise-cancelling earphones. As you must have guessed, sound leaks in both ways, so you might be able to hear those around you and vice versa.
Battery life
On a single charge, the Samsung Galaxy Buds Live can last almost six hours of continuous playback or an entire day's worth of sporadic usage. The case can recharge them twice over and then some, taking the total to almost 20 hours. Better yet, the Samsung Galaxy Buds Live support quick-charging, which can provide about an hour of playtime with just five minutes of charging. There's also wireless charging.
When taking the competition into consideration, the battery life is just above average. The Apple AirPods Pro lasts about five hours while something like the Sony WF-1000XM3 just scratches the 7-hour mark. Others such as the Lypertek Tevi, Galaxy Buds Plus or even the OnePlus Buds can offer up to eight hours of use but obviously miss out on all the pizzazz.
Should I buy the Samsung Galaxy Buds Live?
Buy them if...
You prefer a unique design
The Galaxy Buds Live are unique in every way when it comes to the design. In a market that is occupied by Apple and wannabe AirPods, these are a breath of fresh air. Even on the inside, you'll be hard-pressed to find a more comfortable pair of earphones.
You plan on taking a lot of calls
Most true wireless earphones suck at conducting calls due to poor voice pickup or inadequate microphones. The Galaxy Buds Live, on the other hand, offer clear sound on both ends without having to increase your speaking volume.
You love bass-heavy music and want true wireless earbuds

While the sound quality is nothing to write home about, the Samsung Galaxy Buds Live do really bring the bass. If you love that fun, thumping bass and don't mind some lack of clarity in the mids and highs, you'll definitely want to pick up a pair of the Buds Live.
Don't buy them if...
You absolutely need noise cancellation
There's no two ways about it, the active noise cancellation on the Samsung Galaxy Buds Live is more like noise reduction rather than full cancellation. In most cases you'll still be able to hear pretty much everything that's happening around you, just at a slightly lower decibel level than if you weren't wearing the earbuds.
You have irregularly shaped ears
The other issue is that there's no guarantee that they'll fit your ears. The Galaxy Buds Live have an incredibly unique shape that should fit comfortably, but if you have oversized or especially small ears – or you plan on buying these for your kids – there's a good chance the distance between the ear canal and the outer ear won't be the right size to hold the Buds in place.
You're looking for the cheapest pair of true wireless earbuds
The Samsung Galaxy Buds Live are Samsung's premium true wireless offering - i.e. they're the most expensive of the bunch. If you don't want to shell out Rs 14,900, there's always the Samsung Galaxy Buds Plus that offer many of the same features for a bit less, or the Lypertek Tevi that cost a heck of a lot less.
---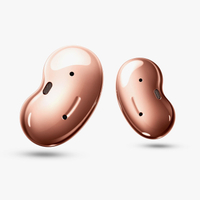 (opens in new tab)
Check out the Samsung Galaxy Buds Live (opens in new tab)
Rs 14,990 Rs 13,990 on Amazon.in
Mystic Bronze, Mystic White, Mystic Black