How to sleep on an uncomfortable bed: make your bed a happier place to be
We've rounded up the ways to help you get the best night's sleep possible on an uncomfortable bed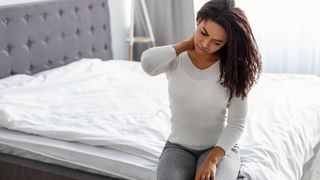 (Image credit: Getty Images)
Trying to sleep on an uncomfortable mattress or bed can be a challenge. Without the right support and comfort levels you can't be sure of a good night's sleep, and we all know how important that is. You might have an older mattress that's reaching the end of its life, or a brand new one that's sleeping a little firm – in this guide we'll give you solutions for dealing with both of these problems.
Good as these hacks are, at some point you may need to replace an old mattress as it will just be beyond any salvaging. If this is the case for you, take a look at our best mattress guide to help you get the best replacement for your sleeping style. And don't forget to invest in a decent pillow as well – here's our selection of the best pillows on the market.
1. Rotate or flip your mattress
Our number one tip for making a mattress more comfortable is to rotate or flip it, both of which can do wonders for the lifespan of a mattress. However, many modern mattresses can't be flipped as they're designed to be used one way up. But most can, and should, be rotated often (generally every 3 months, but find out more in our guide: how often should you flip or rotate your mattress?). What use is rotating or flipping your mattress? Well mainly it's because it spreads out wear and tear and sagging, so that you won't get big dips around the back and hips.
If your mattress has zoned support, you won't be able to rotate it as these mattresses rely on zones being in the right place to support specific parts of the body. In general, you'll find that hybrid mattresses can't be flipped as they have supportive base layers that are designed to be firmer and sturdier than the top layers (there are exceptions, of course, such as the Layla Hybrid mattress that's design so you can flip it to get different firmness levels). Memory foam mattresses are more commonly suited to flipping.
2. Put your mattress on the floor
This is a simple hack to quickly add some firmness to your mattress. If your mattress is too soft for your body weight and/or sleeping style, or is starting to sag from age, the floor will add in some support.
However, you do need to check your manufacturer's guidelines first. Some will be fine with you putting the mattress on the floor but in other cases it could void your warranty. And if you have neck or back pain or specific mobility issues, we wouldn't advise putting your mattress on the floor without consulting with your doctor. You could end up making problems worse.
3. Check your bed base
Sometimes it's not the mattress that's the issue. If your bed base is older than Noah's Ark, this might be the culprit, and it might be keeping you awake with unwanted noises as well as being uncomfortable, in which case you should check our guide to how to fix a squeaky bed.
An older bed base might be starting to crack or sag, particularly if you use a box spring. Box spring bases have coils inside them, which will weaken over time and cause sagging. You'll usually start to hear creaking sounds when you lie on the bed, with coils eventually poking through the base and the box spring sagging in the middle. So, at this point you're going to want to be looking at replacing your base.
Before you do, make sure your mattress actually needs or is suitable to use a box spring by reading our guide. In some cases, using a box spring could actually void your warranty, so make sure you check your manufacturer's instructions.
4. Reduce the sagging
This isn't a long-term fix but to provide some temporary relief, you can try propping up the saggy areas of your mattress. A piece of plywood cut to fit your bed frame can be placed under the mattress to provide more support and firm up the entire structure.
You can also try adding pillows under the mattress in the areas that are sagging the most (usually around your hips and back). Of course, if your mattress is still under warranty, you should contact the manufacturer to organize a repair or replacement.
5. Add a mattress topper
Mattress toppers are mini mattresses, coming in at between two and eight inches thick. Made from a huge variety of materials, including memory foam, cooling gel, wool, fleece and latex, they add instant comfort and can be used to either soften or firm up a mattress.
So, for example, if your new mattress is a little too firm a plush memory foam topper will help your body contour to the mattress and relieve pressure points. Or you can firm up an old, saggy mattress with a topper made from bouncy, firmer latex. Mattress toppers are far cheaper than buying a whole new mattress and simple to use – just place them directly on top of your mattress underneath a sheet. Tempted? Check out our best mattress toppers guide to find your ideal topper.
7. Add in a body pillow
Body pillows are often associated with pregnancy, but you don't have to be expecting a new addition to find them useful. These pillows are around four to five feet long and around 15 to 20 inches wide.
If you're a side sleeper suffering with aches and pains from a saggy mattress, but you can't quite stretch to buying one of the best mattresses for side sleepers, a body pillow could be a godsend. Putting a body pillow between your legs will align your spine properly and reduce pressure on your back and hips.
8. Tie a sheet around your waist
Okay, this is a slightly more 'off the wall' tip, but it just might help you out a little and make your uncomfortable mattress a little more palatable. The idea is to take a flat sheet and fold it in half lengthways. Now fold it over again. Take the sheet and tie it around your waist.
The idea is to add padding around the area where your spine curves inwards and there is a natural indent in your body. Because mattresses tend to sag most around the back and hips area, the padding from the sheet should help to keep your spine aligned and give you a more comfortable night's sleep. As you can probably tell, this hack is best suited to back sleepers.
Conclusion
A comfortable bed and mattress are absolutely essential for a good night's sleep. And nothing is worse than not being able to sleep soundly. Hopefully these hacks and tips should help to improve the quality of your snoozing but if you're still struggling to sleep and waking up in pain, it's probably time to invest in a brand new mattress.
Sign up for Black Friday email alerts!
Get the hottest deals available in your inbox plus news, reviews, opinion, analysis and more from the TechRadar team.
Jo Plumridge is a freelance writer and photographer with over 20 years of experience writing for a variety of magazines, books and websites. She was given her first camera aged 10 and hasn't stopped shooting since. Jo writes on all aspects of photography, but is particularly passionate about promoting female photographers. She's lived in the middle of a nature reserve in Botswana and written a guidebook to New Zealand, but now spends a lot of time trying to photograph the cats she and her husband foster for a local charity - without a doubt the most challenging subjects on earth!