Do you really need a new mattress for Black Friday, or would a mattress topper be a better deal?
Why spend extra on Black Friday if a mattress topper's all you need?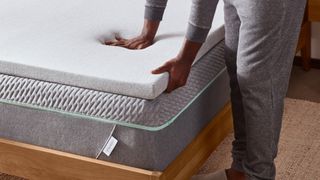 (Image credit: Tuft & Needle)
Black Friday is the perfect opportunity to treat yourself to a swank new mattress, but before you seek out any Black Friday mattress deals you might want to ask yourself: would I be better off buying a mattress topper instead?
There isn't a straightforward yes/no answer to this one. In some cases one of the best mattress toppers can make a huge difference to your bed, enabling you to wait a while longer before biting the bullet and committing to a whole new bed. But it's not a cure-all, and there are circumstances in which a topper really isn't going to make much difference to your sleep setup, so you should instead go in search of the best mattress.
We're here to help you decide which option you should go with; if by the end of it you've decided that you'd be best off opting for a mattress topper for the time being, we've already picked out the very best cheap Black Friday mattress topper deals of the lot - the ones we'd genuinely spend our own money on.
Do mattress toppers make a big difference?
In short, yes, but in reality it's just a little bit more complicated than that. The right mattress topper can, in most cases, make an enormous difference to the comfort and support levels of your existing mattress. A plush topper can take the edge off a too-firm bed, and conversely a firm topper can give you the support that a too-soft bed might be failing to deliver.
Bear in mind, though, that in some cases a mattress topper could make things worse. For example, a memory foam topper might give your bed more of a sink-in feel, but because of the way memory foam tends to trap body heat, you might end up sweating in the night and losing sleep for a completely new reason.
It's also worth remembering that a mattress topper will add extra depth to your existing mattress; this could mean that if you opt for a particularly thick topper you could find that your sheets no longer fit on your bed. And if your old mattress isn't particularly hot on edge support, the extra height could make things worse.
As a rule, though, most of the differences a mattress topper can make to your sleep setup are positive. Let's move on to the question of when a mattress topper would be the best buying decision.
When should I opt for a mattress topper?
The best reason to choose a mattress topper over a whole new mattress is if your mattress is in good condition but it's not meeting your needs in terms of comfort and support. It could be that it's generally comfortable enough, but you find yourself waking up with sore shoulders or hips if you sleep on your side, in which case a couple of extra inches of cushioning foam might be all your bed needs to deliver the pressure relief your joints need; something like the Tempur-Adapt mattress topper can make the world of difference.
Similarly, if the comfort layers on an older hybrid mattress are starting to wear thin but the springs are still in great condition, a good topper is the ideal way to extend your mattress's lifespan for a couple of years or more. And while adding a topper is often a case of kicking the problem of needing a new mattress a bit further down the road, if money's tight then it's a cost-effective medium-term solution.
When would I be best off with a new mattress?
Sadly, sooner or later you'll find yourself in a position where your elderly mattress is beyond the help of even the best mattress topper. Ask yourself if your mattress is displaying any of these symptoms:
It's seriously sagging or dipping
The sleep surface is uneven and lumpy
There are exposed springs or filling
If so a mattress topper really isn't going to be much help and you'll have to face facts: it's definitely time to invest in a whole new mattress (although our tips on how to fix a sagging mattress might help). A good topper might make a cosmetic difference in these cases, but it can't work miracles and it wouldn't be long until your bed is just as uncomfortable as it was before.
Ultimately you should easily be able to tell if an old mattress has had it, and in that case putting a topper on it would be throwing good money after bad.
Today's best topper deals - US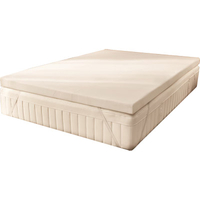 Tempur-Adapt Mattress Topper: was $319 now from $191.40 at Tempur-Pedic
This is perhaps the ultimate in memory foam toppers, and there's 40% off for Black Friday. This three-inch topper is made with 'Tempur material', which is what gives Tempur mattresses their distinctive contouring feel that people love so much. The sink-in feel is perfect for side sleepers, or anyone wanting to bring some memory foam magic to an innerspring bed. It's not cheap, but it is a. much cheaper than it usually is if you buy it today, and b. much (much) cheaper than buying a full Tempur mattress. This Tempur-Pedic deal crops up a few times a year and it's always super-popular.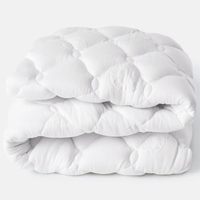 Helix Plush Mattress Topper: was $109 now from $81.80 at Helix Sleep
If you're looking for a more budget-friendly option, head to Helix. This 1.5 inch, plush mattress topper is filled with Revoloft Cluster fiberfill – clusters of ultra-soft fibers that are more resilient than cotton, held in place using baffle box stitching to ensure even distribution. It's like adding a pillow-top to your mattress. The 15-inch skirt should comfortably cover most mattresses, and you can machine-wash it on cold. 25% off is an excellent deal (we also think the Helix mattress deals are great this Black Friday).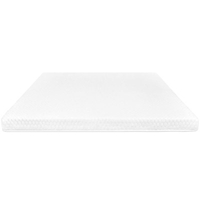 Brooklyn Bedding Microcoil Mattress Topper: was $400 now from $280 at Brooklyn Bedding
This premium topper is like an entire mini-mattress: two layers of foams sandwiching a layer of 0.75" micro coils, with a cooling cover. It seems like an excellent choice if you want to give your bed a bit of extra pressure relief and bounce. 30% off in the Brooklyn Bedding Black Friday sale brings the price of a queen size down to $462.
Get daily insight, inspiration and deals in your inbox
Get the hottest deals available in your inbox plus news, reviews, opinion, analysis and more from the TechRadar team.
A professional writer with over a quarter of a century's experience, Jim has been covering mattress and sleep-related subjects for TechRadar, Tom's Guide and T3 over the past few years, gathering an in-depth knowledge of the workings of the mattress industry along the way. Previously Jim has covered a wide variety of subjects, working widely in the tech and gaming sectors, and more recently covering the design and wellness industries.