I worked out with my Sky Glass TV and Sky Live for a month: Here's what happened
Putting Sky's new Live camera to the exercise test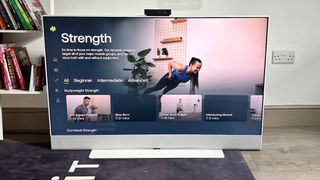 (Image credit: Michael Sawh)
When Sky announced its Sky Live camera back in June 2023, it spoke about how it would turn your TV into a place to take super-sized Zoom meetings, watch football together with friends without having to be sat on the same sofa, play games and also turn your living room into a gym class.
Getting fit with Sky isn't a new thing. Head to its app store on Sky Q-enabled devices and you'll find YouTube and Netflix-powered workouts as well as access to Fiit, a fitness app that I've spent a lot of time with and is one of the best fitness apps in the business.
With this new Live camera, Sky is aiming to add another dimension to working out at home. When it's all set up and placed on the top of a Sky Glass TV, a popular pick for one of the best TVs in the UK, it can use the onboard smarts to track your body in real time to tell if you're doing exercises correctly and getting the most out of that workout time.
This isn't technically new technology. We're starting to see this kind of body tracking crop up in smart mirrors, via the Peloton Guide's similar smart camera, and through platforms such as the best fitness apps. However, this is new territory for Sky, and if it can bring genuinely useful fitness tracking powers to its TVs, it could offer more reasons why you should have its Glass and Live setup in your life.
So how well does it work? I've been breaking up my running and swimming time to step in front of my TV in my gym gear to find out how good Sky Live is for getting in shape.
How Sky Live works (and how much it costs)
Before you get ready to get your floor all sweaty, there's a few pretty important things you need before you can work out with Sky Live. The first is that you do need a Sky Glass TV, and depending on what size Glass TV you opt for, pricing starts from £649 and can go up to £1,049, although you might be able to bag a bargain with the Black Friday TV deals on the horizon. You also need to be subscribed to Sky's Ultimate TV subscription, which is priced from £26 a month and requires a minimum 18-month contract.
If you already have a Sky Glass TV you can buy the Live camera outright, which will cost you £290 and you can also buy it over monthly instalments. Whatever way you look at it, this is not a cheap setup.
Sky's Glass is reliant on being connected to the internet over Wi-Fi to stream supported content and running apps. In terms of accessing the Mvmnt app needed to access the workouts that support body tracking, thankfully there is no additional charge.
To connect the Live camera, you'll need to use the supplied cable to connect to USB-C and HDMI ports at the back of your Glass TV. Sky provides a magnetic mount that sits on top of your TV to keep it in place.
Getting set up
Sky says getting the Live camera up and running is pretty straightforward, and I'd say that reflects my experience. I had my 55-inch Glass set up in the part of my kitchen typically reserved for the rowing machines I also review, giving me enough room to spread a gym mat out and offer good space to move around.
Once you've selected the Live menu from Sky's home screen, you'll be walked through step-by-step what you need to do to start using the camera. The setup tutorial will show you how to position the camera on the TV and also highlights that when the single white LED light on the camera is on, that is your cue that the camera and onboard microphone is available to use. There's also just a single physical button that Sky calls its Privacy Button placed on top of the camera making it nice and easy to turn the camera on and off.
In essence, you're getting a 12-megapixel camera that has a 100 degree field of view horizontally and 93 degrees vertically. It can zoom in and out when tracking objects and can operate in low light conditions as well.
In the case of the Sky Live's workout support, this is powered through the Mvmnt app, which is built in collaboration with the team behind WithU, a fitness app that's best known for its audio-based workouts. The app features over 130 guided workouts, with the Live camera able to track 33 points of the body to count reps and also monitor form and technique with feedback offered in real time.
I decided I would try as many workouts as I could over a period of a month. There aren't any sort of programming right now and that's probably something that would be worth adding here. Right now, you can pick from workouts based on categories like strength, cardio, Pilates and yoga. There's a 'practice area' to help you get acquainted with how the setup works, and there are also low-impact workouts specifically designed for small spaces and if you don't want to make a lot of noise for your neighbours below you.
Working out
The first thing I wanted to know was how well the workouts were designed, and it's very similar to the approach of most of the home workout apps I've tried. You'll stand in front of a coach, they'll talk you through the workout, and demonstrate the movements for you to follow along. No reinventing the wheel.
The Mvmnt app also breaks classes into beginner, intermediate and expert difficulty levels, so if you feel more confident and want to push yourself, you have scope to increase the difficulty levels. On screen, depending on the movement, you'll see a rep counter at the top of the screen and the current exercise with three tips on what to look out for to perform them correctly. Those tips will stay green if you're doing them right, or change colour if you're not quite getting things right.
Pre-workout, you'll need to make sure you have enough space for the camera to capture you and then you'll get a thumbs up to start working. If you move out of view of the camera or something obstructs the camera, you'll get a notification. That wasn't ever an issue during my testing, thankfully.
I tried to do workouts to the best of my ability in terms of technique and form, and at times I deliberately dropped that form to see if the camera would pick that up. So if it told me to drop my hips I lifted them, or if it told me to extend my arms in lifts I dropped them a little. Overall, it did a very good job of detecting in real-time when I wasn't correctly performing exercises. It's quite obvious on-screen when you're not doing them quite right as well.
Sky additionally offers a companion phone app that works with the main Mvmnt Sky Glass app, so if you're doing exercises where you can't easily look at the Glass screen to check your form you can check at your phone's screen instead - a little like Fitbod or Fitbit Premium, except with multiple screens
After each set, the coach will use that as a moment to take a rest and review how well you performed each exercise. It's here where I think maybe things need a little bit of work just to improve the usefulness of that feedback. Along with scores out of 10 for each exercise, you'll be told where maybe you didn't get things quite right. My problem with that is that it might be beneficial to show the movement correctly performed on screen while that feedback is being provided. That would help to better make those corrections. It feels like a minor thing that could be changed that would make the feedback part of the experience much more useful.
Overall, the tracking of both form and rep counting worked well. There's a nice variety of workouts available here too and I definitely felt like they worked me hard, even on shorter, sharper sessions.
It would be interesting to see other connected elements added into the mix like heart rate tracking to measure effort levels alongside the real-time feedback and rep counting and give it a more comprehensive connected fitness feel. Some programmes would also be great to see and imagine must be on the agenda to bolster what the Mvmnt app and Live camera currently offers.
Should you buy?
After a month of working out with Sky Live, there's certainly some things I like about it. It's really easy to set up and launch when you want to use it and the fact it's incorporated into a device I use regularly certainly appeals, without adding extra bulky hardware into your living space.
That being said, if you don't own Sky Glass, it's a pretty expensive outlay for some certainly interesting but niche technology. Even buying the Sky Live camera on its own isn't cheap and you still at the very least need that Ultimate subscription on top as well.
If you already own a Sky Glass TV and have these things in place and like the idea of a fitness platform that can make sure you're exercising properly along with features like making video calls on a big screen, the watch together TV element and experiencing some of the other interactive apps, games and experiences Sky is building, then it might be for you. I liked working out with it, but it will be interesting to see if Sky decides to open this out to other third-party fitness apps to increase its exercise appeal.
You might also like:
Sign up for Black Friday email alerts!
Get the hottest deals available in your inbox plus news, reviews, opinion, analysis and more from the TechRadar team.
Michael is a freelance journalist who has covered consumer technology for over a decade and specializes in wearable and fitness tech. Previously editor of Wareable, he also co-ran the features and reviews sections of T3, and has a long list of bylines in the world of consumer tech sites.
With a focus on fitness trackers, headphones, running wearables, phones, and tablet, he has written for numerous publications including Wired UK, GQ, Men's Fitness, BBC Science Focus, Metro and Stuff, and has appeared on the BBC Travel Show. Michael is a keen swimmer, a runner with a number of marathons under his belt, and is also the co-founder of YouTube channel The Run Testers.