Wondering whether you should buy a mattress on Presidents' Day? With the 2023 Presidents' Day mattress sales in full swing, it's a tempting prospect if you're in need of a bed upgrade.
If you've spent any time shopping for a new bed you're sure to have noticed many of the best mattress brands seem to be offering discounts all the time. Regular mattress sales are a big feature of the sleep industry; it's a highly competitive business, and so companies regularly cut prices to try and get your custom.
Beyond the regular, everyday mattress sales, there are a bunch of other sales events every year, most of them clustered around national holidays, plus of course the big annual sales event: Black Friday (not to mention Cyber Monday). That adds up to a lot of sales events every year, and in that context, are the Presidents' Day mattress sales actually that big of a deal?
The short answer is yes, for reasons we'll explore below. So let's find out more, and point you towards some of this year's biggest discounts while we're at it.
What holiday is best to buy a mattress?
As we've mentioned, national holidays are usually accompanied by sales events, but some holiday sales events are better than others. While Black Friday isn't (yet) a national holiday, it generally delivers the biggest discounts and is usually the best time to buy a new mattress.
Presidents' Day comes a close second, however, and you're likely to pick up some good savings for a few reasons; for starters, it's the first big sales event of the year, so plenty of brands want to make an impact with low prices.
Also, though, the timing of Presidents' Day is close to the time of year when many mattress brands will be preparing to introduce new lines and models, so it's an ideal opportunity to start clearing out older stock by selling it at an even deeper discount. The end result, in our experience, is one of the best times of the year to save the most money on a new mattress, and the good news is that you don't have to wait until Presidents' Day itself, as most brands start their sales at least a week in advance (and many will keep them running for a week or so afterwards).
Memorial Day, Independence Day, Labor Day and Veterans' Day also offer good sales; Independence Day in particular is another great chance to save money, and its sales tend to start early and even carry on for a week or two after the main event.
When should you get a new bed?
You might be thinking about treating yourself to a new mattress simply because you feel like a change; as you get used to the feel of your existing mattress it can seem less comfortable, and the feel of a new mattress can result in much more comfortable sleep - at least until you get too used to that one.
But if you've had your mattress for a few years it might be starting to wear out, and that makes buying a new one much more of a necessity. Our guide to how long a memory foam mattress lasts will tell you that on average a memory foam mattress will keep going for between six and ten years; in general the better the quality of memory foam, the longer it'll last. And on the whole memory foam mattresses are more durable than hybrid and innerspring mattresses, because they're made from fewer components; all those coils in hybrids and innersprings are more prone to faster deterioration.
But you're more likely to know whether your mattress needs replacing simply from how well you're sleeping on it; if you're regularly waking up with pain or stiffness, and if it's sagging or you're sinking too deeply into it to feel comfortable, these are strong signs that it might be time to go mattress shopping. And if that's how your mattress is feeling now, you're in one of the best time windows to treat yourself to a lovely new mattress and maybe get one that's a lot more premium than you'd budgeted for.
What are the best Presidents' Day mattress deals right now?
By now we should have made it clear that Presidents' Day is a really good time to buy a mattress, and our Presidents' Day mattress sales guide will point you at all the best deals, whether you're after a memory foam or hybrid model, or if you specifically want a cooling mattress or an eco-friendly organic option.
To save you a bit of time, though, we've picked out three of the best options available now: top-quality mattresses with really good discounts. And remember that you don't have to wait until Presidents' Day itself; in fact you'd be doing yourself a favor by ordering ahead of the big day, just so you're not running the risk of increased demand creating stock shortages and shipping delays.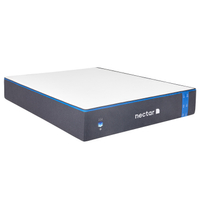 (opens in new tab)
Nectar Memory Foam Mattress: was $599 now from $359 at Nectar (opens in new tab)
All told, the Nectar is the best memory foam mattress you can get in terms of price, and it's not short on features either; it's comfortable for all body types and minimizes motion transfer, making it a great choice for couples. In Nectar's Presidents' Day sale there's 33% off, which means you can buy a queen size for $699.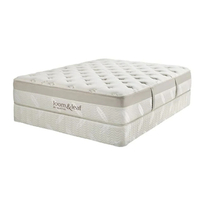 (opens in new tab)
Saatva Loom & Leaf mattress: was $1,195 now from $795 at Saatva (opens in new tab)
The Loom & Leaf from Saatva is an ultra-premium memory foam mattress that's made from eco-friendly materials and delivers a cool, supportive night's sleep with pressure relief where you need it. If you're after a split king size, Saatva's Presidents' Day sale will get you $450 off; however for all other sizes use this exclusive discount (opens in new tab) for $400 off, beating the main sale pricing.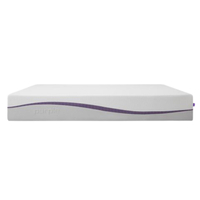 (opens in new tab)
Purple Plus Mattress: was $1,499 now from $1,099 at Purple (opens in new tab)
The Purple Plus is one of the best mattresses for side sleepers, combining foam with Purple's own GelFlex Grid to deliver a sleep surface that manages to feel both soft and firm at the same time; it's also great at cooling, and motion transfer is almost non-existent. Purple doesn't do sales very often, but right now you can get the Purple Plus with $400 off all sizes; we'd advise moving fast on this one.