3 ways an air fryer will help you to start eating healthy in 2023
Features
Contributions from
last updated
New year, new air fryer, new you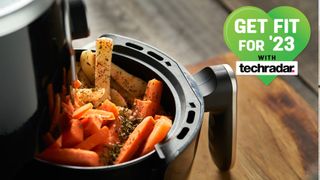 (Image credit: Francisco Zeledon/Shutterstock)
Whether you snapped up one of the best air fryers on Black Friday, have yet to buy one, or you're already an air frying pro, the buzz around air fryers continues to grow, and we've certainly been converted.
Unlike so many other countertop appliances that we've seen come and go over the years, the best thing about air fryers is that they actually live up to the hype. They really can be used to create delicious, healthy treats with less oil than a deep fat fryer. Well, so long as you don't try making one of these 5 foods to avoid putting in the air fryer. What's more, they often require less oil than when roasting in a regular oven too. Not to mention the fact that they're much faster and use less energy too, what's not to love?
There's nothing that'll make you drop the New Year diet faster than having to endure the misery of bland and boring foods. So if you've been over indulging through the holiday season and it's time to improve your diet, follow TechRadar's Get Fit for '23 week and alter how you cook your food for a great starting point. By getting creative with an air fryer, it's possible to continue enjoying some of your all-time favorites, without derailing your healthy eating plan.
Healthier eating isn't the only benefit, by ditching deep fat frying, you're removing one of the most dangerous cooking methods from your kitchen. Boiling hot oil is notoriously hazardous, particularly if you have children in the house. So banish those unhealthy and dangerous pots of oil and scroll down for our favorite guilt-free air fryer tips, tricks and recipes.
Best air fryer deals
If you're yet to get an air fryer, our handy price comparison tool (below) is showing you all of the best air deals that are available right now.
3 reasons why air fryers are healthier
1. The biggest reason air fryers are a healthier cooking method is their ability to crisp foods using just a spritz of oil. If you've got an air fryer, it's probably one of the reasons you bought it. Most air fryer French fries require just 1 tablespoon of oil, sometimes less, which means you can enjoy them without consuming vast amounts of fat like in the deep fried version. Plus, since even fresh, home cut fries cook so fast, you can make your own and leave the skin on for added fiber and nutrition.
2. Just like fries, you can roast up all sorts of vegetables with little to no oil in an air fryer. Oven roasted vegetables or potatoes usually have to be cooked in a tray of hot fat to achieve a crisp roasted texture. But you can get as good if not better results in your air fryer without the need for an added oil slick. Think crisped and charred broccoli, asparagus, or brussels sprouts. Or for a more Mediterranean vibe, throw in a combination of onion wedges, bell peppers, zucchini, and mushrooms. The options are endless and the results will have you craving a big pile of nutritious plants with every meal.
3. Whatever style of air fryer you're using, it'll usually have a perforated tray or basket that allows air to circulate around your food. One big benefit of this is that excess oils will drip through to the base. This is especially helpful when you're cooking meat. So instead of frying meats in oil on the stove, try cooking them in an air fryer. Not only can you cook meats like sausages, bacon, lamb chops, and even steaks with no oil, but fat from the meat will drain away during cooking, leaving you with a healthier option.
Recipes to get you started
There are loads of air fryers recipes out there to choose from, but we've chosen our favorite three - tried and tested - to get you started which are quick, simple and delicious.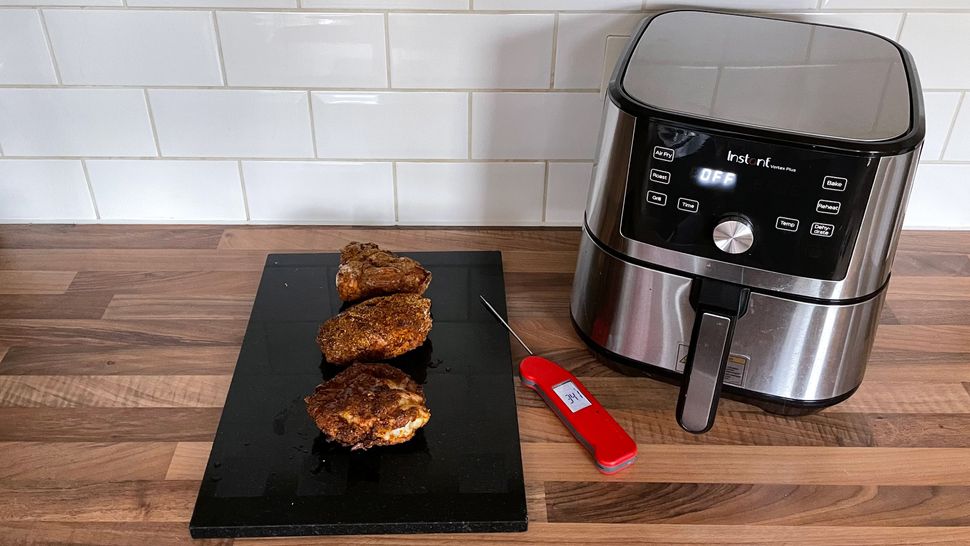 Hack your favorite take-out fried chicken
Diet or no diet, sometimes it's impossible to resist that finger-licking chicken. But don't despair, there's a way to recreate it at home with much less oil and far fewer calories. In case you missed it, we went on a mission to recreate our favorite KFC chicken at home in an air fryer and it turned out great. We followed this recipe by British chef, Tom Kerridge, swapping out flour for cornflakes to get a delicious crunch. You can thank us later for letting you in on the secret.
Ingredients:
10 chicken thighs or drumsticks (or a mix)
500ml/18fl oz buttermilk (or 250ml plain yoghurt mixed with 250ml milk)
100g/3½oz cornflakes
50g/1¾oz cornflour
2 tsp ground dried oregano
2 tsp chilli powder
2 tsp ground dried sage
2 tsp dried basil
2 tsp dried marjoram
2 tsp ground white pepper
4 tsp table salt
2 tbsp sweet paprika
2 tbsp smoked paprika
2 tsp onion salt
2 tsp garlic powder
a little oil
coleslaw, to serve
Method
1. Mix all the dry ingredients together, and coat the chicken in buttermilk
2. Roll the chicken in the dry ingredients. Repeat so it is double coated
3. Lightly spritz in cooking oil spray
4. Cook for 10 minutes at 356 F / 180 C before turning the chicken over. Cook for a further 10 minutes then, check that the temperature of the chicken is above 165 F / 75 C - which is the required temperature for chicken according to the Food Safety website.
If the thermometer is reading a lower temperature, pop the chicken back in the air fryer for a few minutes before checking again.
5. Once cooked, remove from the air fryer and enjoy.
Don't give up the donuts
While it might surprise you to see donuts on the list, most healthy eaters will tell you that you need an occasional treat. The problem is that some of the treats you buy from the store are so high in sugar, fat, and additives that they're best avoided completely when you're trying to improve your diet. But, strictly speaking that doesn't mean they have to be off limits. We managed to perfect a homemade Krispy Kreme style glazed donut by cooking it in an air fryer, which makes for a lower calorie, but still super tasty treat.
We followed this ring donut recipe by the one-and-only Paul Hollywood, and got the glazing ingrient inspo from Baking Mad
Ingredients (donuts)
250g/9oz strong white flour, plus extra for flouring
25g/1oz caster sugar
20g/¾oz unsalted butter, softened
1 free-range egg
7g instant yeast
5g salt
75ml/2½fl oz warm milk
sunflower oil, for spritzing
Ingredients (glaze)
500g/17oz icing sugar
1/2 teaspoon vanilla extract
120ml/4.05 fl oz milk (whole)
Method
1. Combine the dough ingredients and knead until smooth and elastic
2. Tip the kneaded dough into a lightly oiled bowl, cover with a damp cloth and set aside for two hours so it can prove
3. After proving, roll the dough out on a lightly floured surface to about ½ inch / 1cm thick and used a donut cutter to stamp out 3.5-inch / 8.89 cm wide discs with a 1.2-inch / 3 cm hole in the center.
4. Place donuts onto an oiled tray, cover in plastic wrap and leave to prove for a further hour
5. Careful lift the donuts, one at a time, and place on a lightly greased metal tin. (Ensure the tin fits the air fryer basket prior to this)
6. Cook the donuts at 356 F / 180 C for 5 minutes.
Whilst cooking, combine the ingredients for the glaze.
7. Once cooked, all to cook before dunking into the glaze and tucking in
Swap out your snacks
Snacking on salty potato chips, pretzels or candy is not an option when you adopt a healthier lifestyle. But there are some healthier alternatives you can make home so you can still enjoy your snack fix. Think crunchy and spicy air fried chickpeas, kale chips or buffalo cauliflower. You don't have to do too much googling to find some great recipes to give you inspiration on the snack front. You can even use a low temperature to create apple chips for a healthy sweet treat.
Ingredients
1 (15-oz.) can chickpeas, rinsed and drained
1 tbsp. extra-virgin olive oil
2 tsp. chili powder
1/4 tsp. kosher salt
Finely grated lime zest, for serving
Method
1. Dry chickpeas with a paper towel then, in a medium bowl, toss the chickpeas in the oil, chili powder and salt
2. Transfer the chickpea mixture to an air fryer basket. Spread them evenly out.
3. Cook at 370 F / 190 C for between 10 - 15 minutes
4. Serve warm with grated lime zest
Air fryers are versatile countertop cookers with an army of devoted fans who are continually experimenting with this appliance and posting their recipe creations on blogs and social media.. Consequently, there are air fryer recipes galore all across the internet, so if our list has whet your appetite, it won't take you long to find lots more healthy guilt-free recipes to replace your favorite unhealthy fried foods, take-out meals, and snacks. But what we would say is, don't be discouraged if a new recipe takes a little time to perfect, be willing to experiment, because it'll be worth it when you get it right.
Get daily insight, inspiration and deals in your inbox
Get the hottest deals available in your inbox plus news, reviews, opinion, analysis and more from the TechRadar team.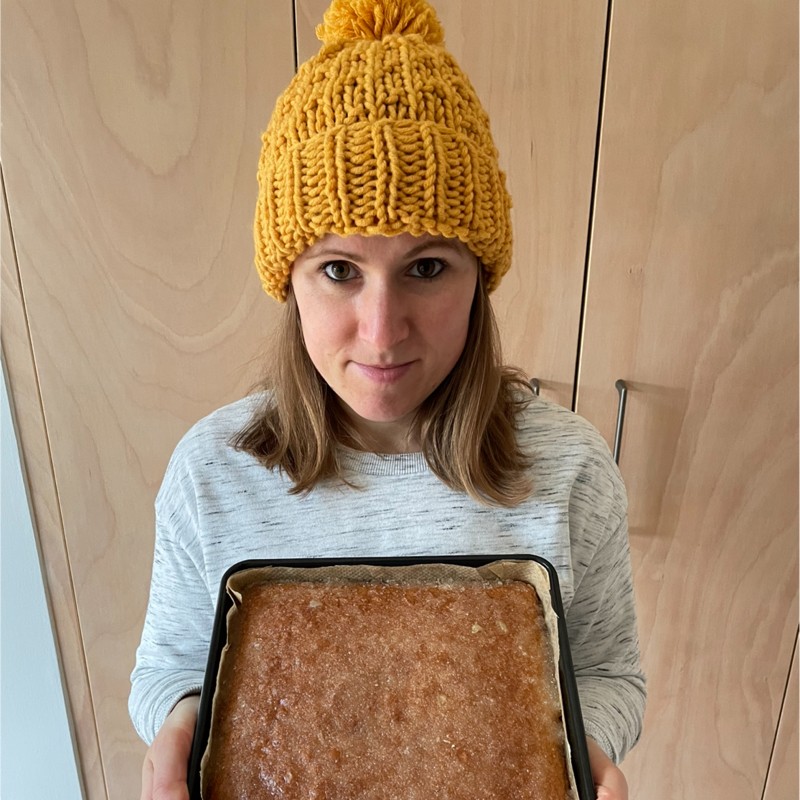 Helen is a freelance writer who specializes in kitchen appliances and has written for some of the biggest home-related titles around. She has been reviewing small appliances, including blenders, juicers, and multi-cookers, for more than 8 years, and also upholsters furniture when she's not testing the latest food tech gadgets.