Whether you want to renew or buy it for the first time, you can now bag an excellent deal on a 12-month subscription to Microsoft 365 Personal. And there's a little sweetener thrown in, too: a $30 Amazon Gift Card.
The offer is, unsurprisingly, over at Amazon, where the retailer has Microsoft 365 Personal for $69.99. That includes a year-long subscription to Microsoft's standard array of office software for one user as well as a $30 gift card to use across the Amazon store. With that, you effectively pay $39.99 for the software.
This package includes all the essential Microsoft Office programs, such as Word, Excel, Powerpoint, and Outlook. Plus, you get 1TB of cloud storage on OneDrive for your files, documents, photos, and more.
And, unlike the standard Microsoft Office software, this subscription version allows you to access all of these programs across multiple devices, including PC, Mac, Android, and iOS devices. Great for those who work from home but also like to be productive while on the go.
Today's best Microsoft Office 365 deal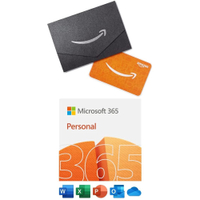 Microsoft 365 Personal + $30 Amazon Gift Card: was $99.99 now $69.99 at Amazon
This offer on Microsoft 365 Personal includes a $30 Amazon Gift Card for free, effectively dropping the price of the office software to just $39.99. You get 12 months of access to Microsoft's major productivity apps, including Word, Powerpoint, Excel, and Outlook - plus 1TB of OneDrive cloud storage. Going for this subscription option also means you can use all programs on multiple devices, such as PC, Mac, Android, and iOS.
The Microsoft Office suite of programs is still a popular choice for many, even with the rise of Google Workspace and other free office software. Microsoft 365 is the company's attempt to keep up with the latest trends and the changes in how we work by moving to a subscription-based model that gives you regular updates and easier access to programs across multiple devices.
We appreciated the move when it was first made here at TechRadar. In fact, in our Microsoft 365 review, we concluded that it's still the best out there when it comes to workplace productivity, collaboration, and communication.
Of course, it's important to point out that this Microsoft 365 Personal version doesn't have some programs like Teams and Access. However, if you're an at-home user or student that just needs to cover the basics, then this has you covered for a great price. With the added benefit of $30 to spend on anything else you'd like at Amazon, too, it's one of the best Microsoft Office deals available right now.