In case you hadn't heard, the first Click Frenzy sale of 2023 is now on, and it's delivered the lowest price we can remember seeing on the Dyson V11 cordless vacuum.
The Good Guys has dropped the price down to AU$786, but popping in the code CLICKNOW at checkout brings the final price down to a record low of AU$628.80. This offer ends tonight (May 18), so don't delay if you're keen to pocket this deal.
Today's best Dyson V11 deal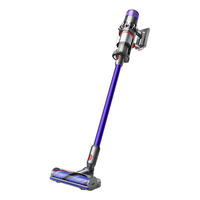 Was: AU$1,199
Now: AU$628.80 at The Good Guys with code CLICKNOW
Overview: The Dyson V11 is one of the brand's mid-range vacuums. It offers a longer battery life than the older Dyson V8 model, but it lacks the intelligent features of the newer Dyson V15 Detect. This discount comes on the standard V11 model, which means you'll only get the main cleaner head plus three attachments in the box. If you want more attachments, Dyson's eBay store offers a gold edition of the V11 with six additional tools.
Key features: Boost mode and 60% more suction than the V8, 60-minute runtime, LCD display, point and shoot bin emptying mechanism, handheld option
Product launched: March 2019
Price history: The Dyson V11 retailed at AU$1,199 when it first launched back in 2019, but in the past year, we've frequently seen it for under the AU$999 mark. In 2023, it has been discounted down to AU$799. However, its current price of AU$628.80 is the lowest price we've seen it drop to, and it's available on The Good Guys' online store until midnight tonight (May 18). It's worth noting that the regular V11 comes with three extra tool attachments, but if you want six tools in total, consider a deal currently available via Dyson's official eBay store. You'll need to enter the code PWESNS at checkout to get eBay's deal for AU$736.
Price comparison: The Good Guys: AU$628.80 | JB Hi-Fi: AU$628.80 | Dyson: AU$799
Reviews consensus: In our Dyson V11 review, we were impressed by the V11's improved suction power, built-in sensors and LCD display. The display was a first-time addition on the V11, and we found it handy for showing you what mode the vac is using, the estimated remaining battery life and any alerts, such as something being stuck. Overall, the tweaks made to this model are a worthy upgrade if you've got an older model like the V8.
TechRadar Dyson V11: ★★★★ ½ | T3 Dyson V11 Absolute: ★★★★★
Featured in guides: Best vacuum cleaners
Buy it if: At this discounted price, the Dyson V11 is a worthy investment if you're looking to buy your first Dyson vacuum cleaner, or you want to upgrade from an ageing model like the V8. With a runtime of up to 60 minutes, it's suitable for tackling a four bedroom house that's lightly soiled, and it comes with three extra tool attachments from Dyson for cleaning pet hair, small crevices and your car.
Don't buy if: While the Dyson V11 offers up to 60 minutes of juice, you'll find this depletes faster while using Boost mode, the vacuum's highest suction setting. That means if you have a larger home that frequently needs a deeper clean, the V11's power may not be enough. Its 0.77L dustbin may also be too small for large families, who might be better served by the Dyson Outsize.