The Surface Laptop 4 is enjoying a massive discount right now on the official Microsoft site and every configuration, color, and size is a whole lot cheaper - even the fluffy Alcantara configurations. The amount of money you save will be variable to how you 'design' your laptop on the site, but regardless of how configure your Surface, you'll save some money because every model has had a considerable price slash.
For context, the cheapest configuration you can buy on the website is a 13.5-inch Surface Laptop 4 in the 'Platinum' color scheme, with an AMD Ryzen 5 4680U processor, 8GB of RAM, and 256GB of storage. This version of the laptop will cost you about $749.99, which is a solid deal for that amount of storage and memory on a device we gave four and a half stars to in our review.
It's worth noting that this is the cheapest that configuration has ever been; our price-tracking tools indicated that previously, the cheapest it ever sold for was $799.99 on Amazon. Obviously, you can give or take more or less storage, and whether you want a metal finish or an Alcantara one, but if you were to buy the cheapest version without the deal price it would cost you $1000.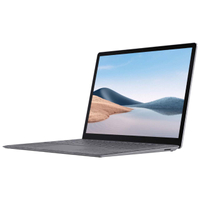 (opens in new tab)
Microsoft Surface Laptop 4: was from $999.99 now from $749.99 at Microsoft (opens in new tab)
The Surface Laptop 4 touts one of the best keyboards we've ever used and is perfect for writers and professionals. The display is crisp and colorful and the Surface is thin and light enough to take with you anywhere.
If we were to fully deck out our Surface Laptop 4 with the most expensive adjustments in the sale your laptop will come to $1,949.99. That's pretty steep for a laptop, but you'll still be saving $450 off the original price so if you're planning to splash out for a laptop with Intel Core i7 processors, 32GB of RAM, and 1TB of storage, now is the best time.
It's worth noting that this is a slightly older model, likely going on such a great sale right now as Microsoft aims to clear stock for 2023. That means you won't quite get the newest processors here - the more recent Surface Laptop 5 uses Intel's 12th-gen chips. However, the Surface Laptop 4 is probably still the best version; we were decidedly unimpressed with the newer model in our Surface Laptop 5 review, and the hardware powering this laptop is still future-proof enough to last you for years.
We originally welcomed the Surface Laptop 4 at an odd time for everyone, in the midst of the pandemic, when everyone was working from home. That's a lot of pressure to put on new technology, as we know the demands of someone working from home are very different to those of office work.
But the Surface Laptop 4 meet those requirements and then some. The laptop is a commuter's dream, slotting in and out of backpacks and satchels with ease and making the increasingly popular hybrid working model work a lot smoother.
The color variety ensures there's something for everyone, providing slightly less 'boring' work laptops for the creative and colorful types out there. The design of the laptop is sleek and sturdy, but we have to note that the Alcantara version is not for everyone. The fabric finish can be quite a texture shock, and spills or crumbs can make it very gross very quickly. You can't exactly throw your laptop into a washing machine, so we do recommend you opt for the metal configurations rather than the Alcantara ones.
---