Will we ever see Red Dead Redemption 2 on PC? Rockstar's open-world Western game Red Dead Redemption 2 launched on console to huge acclaim last October, with Red Dead Online now in beta alongside the epic-sized single-player campaign. So far, however, the game is only available on Xbox One and PS4.
While that's not exactly a restrictive release, committed PC players have been left twiddling their thumbs in the vague hope of a Red Dead Redemption 2 PC port coming down the line.
Players hungry for a high-spec or 4K experience can opt to play the game on the PS4 Pro or Xbox One X, but there's nothing quite like a souped-up PC rig to bring out the finer details and see what Rockstar's game engine can really do.
So if you don't have a console from Sony or Microsoft, what are your prospects for getting Red Dead Redemption 2 on PC any time soon? We've run through all the latest rumors pointing to a PC release, and made our best guess as to when we'd expect it to land.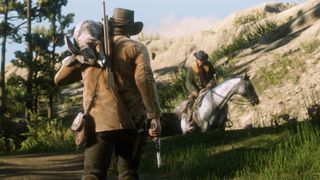 Will we see Red Dead Redemption 2 on PC?
Rumors kicked off in mid-October last year about a possible Red Dead Redemption 2 PC release, after the online retailer MediaMarkt listed a PC version of the game on its website, with a placeholder date of December 31, 2019. The listing was promptly pulled and that date came and went without any news of a PC release.
Things heated up again after a LinkedIn profile for a Rockstar employee appeared to list credits as a programmer on the PC version of the game – though this, again, was amended after the media attention that it attracted.
The firmest clues we have appeared when Rockstar released a mobile / tablet companion app alongside the new Red Dead game, mainly as a hub for viewing in-game stats, journal entries, and map locations (see image below).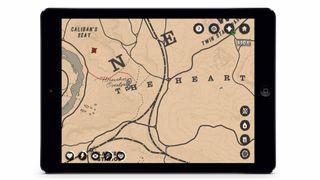 Some savvy data-mining, though, contained references to PC-quality graphics settings – shadow quality, grass rendering, and the like – as well as lines explicitly naming PC, such as 'PARAM_companionAutoConnectIpPC' or 'CommandIsPcVersion(void)'. You can see the full list on Rockstar Intel.
There was also a reference to 'Oculus', which can only really refer to VR capability for the game. Given the option to play the entire game in an immersive first-person perspective, virtual reality would be a natural fit – and Red Dead 2 VR would be most at home on a dedicated Oculus or PC-bound headset.
However, things quietened down after that and there's been little news on Red Dead Redemption 2 on PC - until recently. Spotted by Twitter user JakoMako51 (via PCGamer), there is a line in the Rockstar Social Club's source code that mentions "RDR2_PC_Accomplishments".
Check out the tweet below:
The fact that Red Dead Redemption 2 is coming to PC is now quite evident. #RDR2 #reddeadredemption2pc #RedDeadRedemption2 #rdr2pc #reddeadredemptionRDR2_PC_Accomplishments:"Accomplishments"You can search for "RDR2_PC" in the following link: https://t.co/hmtRJGKmoa pic.twitter.com/4kJAd5u58rJuly 4, 2019
It may be a single line of code but, paired with previous PC rumors, it ignites hope that Red Dead Redemption 2 on PC could still be on the way.
Red Dead Redemption 2 on PC: release date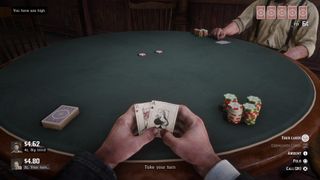 So when could we see Red Dead Redemption 2 on PC? At this point Rockstar could make an announcement at any time, but it's worth noting that the studio seems to be focusing on Red Dead Online so news on Red Dead 2 on PC could be a while off.
While 2010's Red Dead Redemption never came to PC, previous Rockstar games like GTA IV or GTA V both took around six months to make the jump to PC after their initial console launch. So that means we could have been looking at an April/May 2019 launch date this time around, but we've now missed that window.
Given the scale of the the open-world game, it's not wholly surprising for a PC port to follow a few months after – it takes a lot of work to get the game running on different systems. But the longer PC gamers have to wait, the less likely they are to maintain their anticipation.