Editor's Note: May 2023
The Samsung Bespoke Jet continues to be our #1 vacuum cleaner because it has some features that our #2 Dyson choice doesn't have and, at full throttle, is as powerful as a jet. And it's slightly cheaper than its competition.
And even though Dyson has a new model in the Gen5 Detect, it's hard to recommend it over the V15 Detect as it's even more expensive and a lot heavier. However, there are cheaper options to consider from other brands, including Tineco.
Sharmishta Sarkar, Managing Editor (APAC) - TechRadar
Today's best vacuum cleaners are smarter, more powerful and more useful than ever. And, besides cleaning quickly and easily, they can also handle trickier things like pet hair, allergens, and litter, which means that they can be a big help if you or someone in your household has allergies. In other words, they can make your life better.
What's more, there's more variety than ever before. We're not only talking about upright vacuums, powerful cordless ones are becoming more common as well. Some can become handhelds; others have clever features to make cleaning even easier. And, of course, there are the robot vacuums as well that are getting smarter each year.
But how to choose the right vacuum cleaner for you from the overwhelming choice we currently have?
The main criteria to look for is how easy a vacuum cleaner is to handle and how well it performs on any surface. The best vacuum cleaner combines powerful suction and a large dust canister so the chore of floor cleaning is a quick task. It should be able to collect fine dust as well as larger debris from both carpets and hard floors while it's at it.
Even with buying criteria narrowed down to two, it's a hard choice to make. Do you get an upright or a handstick? Should you opt for a cordless or a corded vacuum cleaner? Heck, would a robot vacuum just take care of it all?
A lot also depends on what kind of floors you have at home, whether you need to clean up after kids and pets, and what size home you live in. Your choice of vacuum cleaner should include features and attachments you're going to need the most, it should be easy to maintain as well, and offer excellent bang for your buck.
We've handpicked some of the best vacuums currently available in Australia, including lightweight cordless models, autonomous robot vacuums and the traditional barrel ones, big brands and the little ones, across different budgets.
They all suck, but in the best possible way.
Best vacuum cleaners in Australia ranked
Why you can trust TechRadar We spend hours testing every product or service we review, so you can be sure you're buying the best. Find out more about how we test.
The best vacuum cleaners in the business aren't just competing in terms of suction power, but also in design and feature set. While Dyson has been a market leader for a very long time, Samsung has stepped up to the challenge with its Bespoke Jet. Everything about the South Korean brand's latest vacuum cleaner is well thought out, doing a lot more than what any Dyson cordless vacuum cleaner can do.
Firstly, it self-cleans thanks to its Clean Station (also a free-standing charging dock) that sucks out the gunk from the dust canister at the push of a button. Secondly, it comes with four power modes, with the highest – called Jet – able to suck up a whole load of matted hair and fur off a piled carpet in a single pass. And then there's its ability to mop and... well, sweep (sort of) too.
Importantly, it comes with two batteries, each with up to 60 minutes of runtime, and a plethora of accessories to get at any kind of dirt you need to. And when not in use, it looks pretty darn neat just standing up in a corner somewhere. All the tools and accessories have their own little cradle, which admittedly requires extra floor space but also provides a charging dock for the second battery (so it also needs it own power socket).
All this for a price that competes with the Dyson V15 Detect (see below) that can't do as much means there's value for money here if you're willing to make the initial high investment and take into consideration the ongoing cost of purchasing the disposable dust bags for the Clean Station.
Read our full Samsung Bespoke Jet review
Dyson's newest flagship floor cleaner is, beyond a doubt, one of the best vacuum cleaners we've tested. Not only is the improvement in suction power impressive, it's also adaptive. That means, when using the High Torque cleaning head, the V15 Detect can automatically increase suction when it detects a carpet or rug, and reverse back when it's back on a hard floor.
Then there's the headline feature of the laser light on the redesigned Slim Fluffy tool for hard floors. Sure, it's a little gimmicky and you can still get a good clean without really using it, but watching it illuminate dust, dirt and hair strands on a floor is... well, a little mesmerising. It's great to watch it all get sucked up, something you normally wouldn't be able to see with the naked eye.
And if you want more proof the vacuum cleaner is a good sucker, then the built-in piezo sensor 'listens' to the particles going through the handstick and gives you a graphical representation of what's getting pulled in.
Needless to say it truly is an engineering marvel and definitely worth the upgrade... if you can afford it. The V15 Detect is the most expensive Dyson yet.
Read our full Dyson V15 Detect review
You'd be forgiven if you haven't heard of Tineco before, but select models of vacuum cleaners from the brand have made appearances on Amazon AU. You can also purchase them from Godfreys. And our pick of the bunch – albeit an expensive proposition – is the Pure One S12 Platinum.
Our colleagues in the UK tested the Tineco Pure One S12 Pro EX – which is absolutely the same thing just with a different name – and they had high praise for it. Like other, more expensive cordless handsticks out there, the S12 Platinum can dynamically increase suction if it senses more dirt on the floor. And it's pretty powerful too.
The staggering number of accessories that you get in the box with this model... well, it honestly adds to the value proposition here. You'll get an attachment that will likely clean every single surface in your home – there are 10 in total in the box.
It also comes with two batteries, giving you a total maximum runtime of up to 100 minutes, so it's great for larger family homes.
There's a display to keep an eye on things, plus a touch-sensitive slider to change suction power – a design element you won't find elsewhere. It's also quite light, making it easy to manoeuvre and use as a handheld unit.
The main downside to this is the extra storage space you're going to need to stow away the accessories. We could wish the bin capacity was a little more than just 0.6L, but this is average for most cordless vacuums in the market today.
Read our in-depth Tineco Pure One S12 Platinum review (albeit the UK model)
It's admittedly hard to recommend a vacuum cleaner that costs you well over a grand, but when you factor in the price of the competition and how many more features this LG offers over a Dyson, it makes it well worth the investment.
The A9 Kompressor (specifically the A9K Aqua model) is not only a powerful vacuum, it's also a pretty effective mop as well. In fact, you can do both at once if you want and save time. And don't be fooled by its regular-sized 0.44L bin. It can fit 2.4 times more dust and debris in there thanks to a compressor (which gives the range of vacuums its name).
With two batteries in the box – each with 60-minutes of fade-free power – you can clean a large family home in one go. Better yet, while you're using the machine with one battery, you can charge the other. There's also no need to wall mount the handstick as its charging dock is free-standing, making it great for renters.
The only downside to the LG is is uneven weight distribution that makes it feel heavier than it is.
Read our full LG CordZero A9 Kompressor review
The main reason to get yourself a robot vacuum cleaner is so you can either put your feet up and get something else to do all the hard work for you, or so you get more time to do more important things – or perhaps both. And that's exactly what the X1 Omni will do, and do way better than most other robot vacuum cleaners... if you're willing to splurge a little.
There's not much we can fault with this little droid: it vacuums, it mops – although mopping isn't as good as you may like but it's got no elbows to apply grease – then empties its own bin and cleans out its dirty mop water. It will also clean the mopping pads all by itself. Yes, you read that right – if there was a machine to do it all and make you lazy, then this is it. No wonder it costs an arm and a leg.
You are going to need some decent amount of floor space to stow it, though, as the docking station is large. That's understandable as it's got two tanks in there.
While its mapping and obstacle avoidance tech is quite impressive, it will plow over or thin cables and socks (or other smaller items), so you'd still need to make sure you pick up bits and bobs before the X1 Omni does its thing.
There's also a camera on board that can act as a security device for you. Since you can control the bot remotely via the companion app, you can send it on 'patrols' around your home and keep an eye on your pets if you need to.
If you really want to outsource your floor cleaning, this is the way to go.
Read our full Ecovacs Deebot X1 Omni review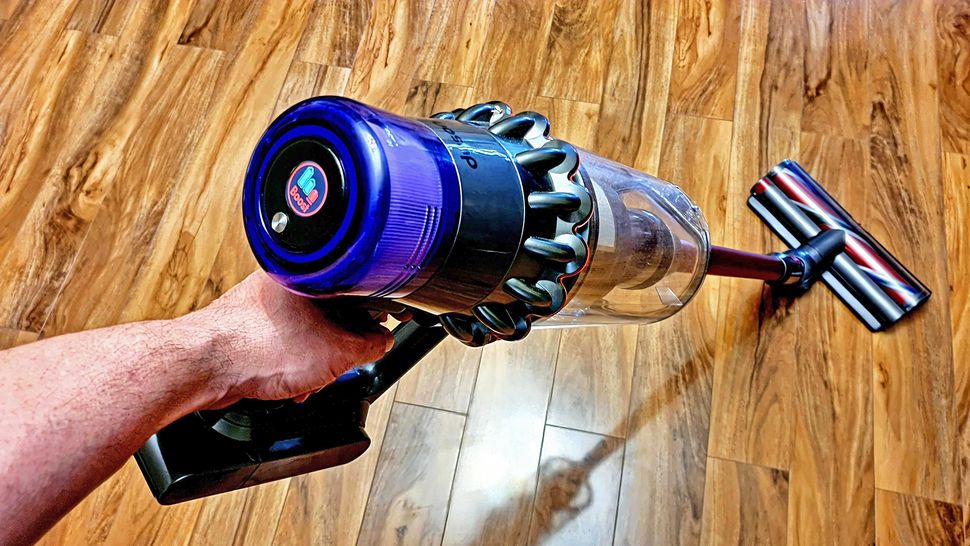 If you've got a bigger home, a larger dust canister is a necessity if you want to ensure your floor cleaning session isn't interrupted, and thankfully the Dyson V11 outsize offers just this. At 1.9 litres, it can hold 150% more debris than the Dyson V15 Detect Absolute (above), and the wider-than-usual cleaning head, means you'll be able to vacuum your floors quicker than ever too.
On test, it offered powerful suction that whipped away discarded biscuit crumbs, ground-in dirt, and even cereal and cat biscuits, almost instantly. However, we found the larger size made the vacuum cumbersome to use in handheld mode.
Performance is top-notch but it's also the most expensive vacuum we've tested, putting it out of reach of some.
Read our full Dyson V11 Outsize review
With the arrival of the newer Dyson models, the older V7 and V8 will slowly start fading away into obscurity. After all, they can't match what the newer models do. And that brings us to the Dyson Cyclone V10.
It's now the midrange model in Dyson's stick vacuum arsenal and is often discounted, so it's possible to suck it up for a lower price than its current RRP. So you'll be getting a lot more bang for your buck here.
It's the first Dyson cordless to offer a maximum of 60 minutes fade-free battery life – provided you're on the lowest suction mode and using a non-motorised attachment – and all those marvellous innovations that we're seeing carried forward to the V11 and V15 ranges.
The V10 introduced us to the 0.76L bin canister, that's far better than the 0.54L bin in the V8 models. It also proved to us that cordless vacuum cleaners are more than capable of competing with traditional corded ones, like the Miele listed above.
Even the motor Dyson used in the V7s and V8s underwent a massive upgrade, with the V10 digital motor capable of an impressive 125,000 rpm (or 2,000 revolutions per second) as compared to the 108,000 rpm on the older handsticks. That means far superior suction, even on the lowest setting – 30% more than the V8 to be precise.
It's also easy to handle while cleaning ceilings, and quickly converts into a smaller handheld option for cleaning cars or furniture upholstery.
Read our full Dyson Cyclone V10 review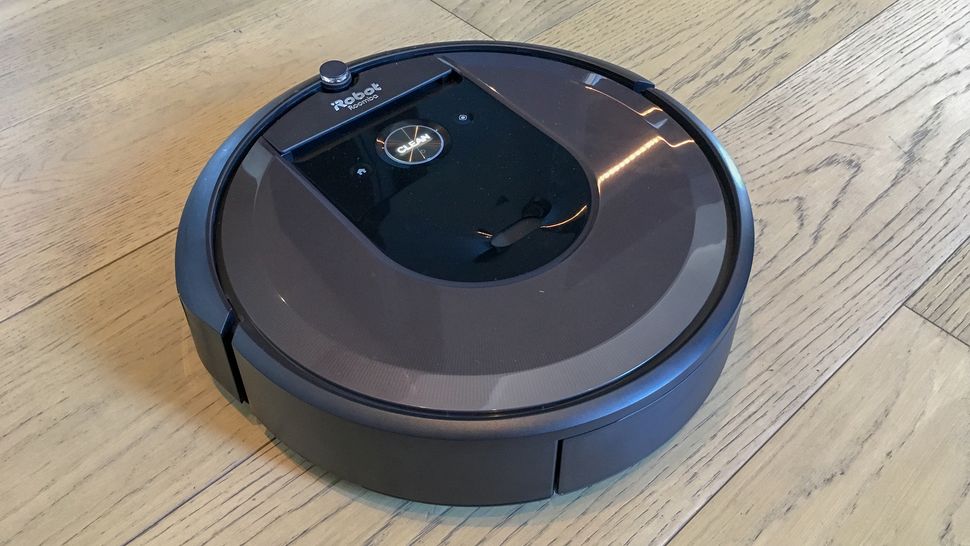 iRobot is arguably the most popular robot vacuum brand in the world. Most people would have heard about a Roomba at some time, and they're getting smarter by the iteration. The i7 range has two models – both are identical in every way, with the sole exception of a self-emptying base available with the i7+ model.
The Roomba i7, even when bought on its own, is frightfully expensive, yet we can't leave it out of this round-up. It's got one of the smartest navigation systems on a robot vacuum and it cleans a lot quicker than most advanced models. It's perhaps the only robovac that uploads maps of individual rooms in a house to iRobot's servers. This smart map can take a few tries to complete but once done, you can tell the Roomba to clean any specific room via the app.
If you've got smart speakers with with Google Assistant or Amazon Alexa, then you'll be able to control the i7 with a simple voice command. And, if you can spare the coin for purchasing the Clean Base (which is essentially the i7+ model), then you won't even need to worry about emptying the i7's bin. Only when the Clean Base is full – perhaps once a month – you'll need to empty it. However, the Clean Base uses bags which become an additional ongoing cost.
Read our full iRobot Roomba i7+ review
There's no denying Miele is one of our favourite vacuum cleaner brands, with plenty of powerful suckers that we've featured at top spot on this list. They've all been the traditional barrel vacuums, but the German brand finally has a cordless handstick as well.
The Triflex HX1 series handsticks convert easily from a cordless stick cleaner to a handheld to an upright, and can handle any job you throw at it – even dry pet food. There are three power settings to choose from and you'll get up to 60 minutes of run-time between charges. While the vacuum cleaner only ships with a single battery, additional batteries are available to purchase separately, and that could give you the same advantage as the LG A9 listed higher in this list.
That said, there are plenty of tools in the box, so you'll be able to get to any nook and cranny at home, and handle any surface – floors, upholstery, carpet, no problem. There's even an LED light on the main motorised cleaning head to help you spot dirt in those dark, nasty corners. This cleaning head also features floor sensors, so it automatically adjusts suction power when it detects different surfaces.
It does all this without being too noisy. Compared to several other cordless vacuums, the Miele Triflex HX1 is relatively quiet, even at its highest setting.
Read our full Miele Triflex HX1 Cat & Dog review
This barrel vacuum has a worthy spot in this guide for so many reasons. Shark is a renowned brand of vacuum cleaner that rivals Dyson with its cordless range, whilst offering something different with the corded vacuums. Because it's a Shark it comes with an anti hair wrap brushroll – always useful to have on a vacuum cleaner.
Performance wise we found that pick-up and manoeuvrability was good on the floors, and equally as impressive reaching overhead and on upholstery. The 1.6 litre dust canister capacity is a large size that we feel will suit bigger homes or indeed, homes with pets, very well.
However the wand hose makes this a bulky vacuum cleaner to store. We also found that the wand can be cumbersome when cleaning overhead and unlike some other Shark vacuum cleaners, the brushroll can't be switched off.
Read our full Shark Bagless Bagless Vacuum CZ250 review
---
How we test vacuum cleaners
To find the best vacuum cleaner, we've assessed how well each model collects everything from fine dust and dirt to larger debris such as cookie crumbs and cereal. As well as evaluating how well floors are cleaned, we've also compared how easy the vacuum cleaners are to manoeuvre on carpet and hard floors, as well as whether dust pickup is evenly distributed across the cleaning head or concentrated in one area.
We rated each design on how durable it is, as well as simplicity of emptying, how loud it is during use and how long the battery lasts (if it has one). For each model we wanted to know whether it was easy to convert into other modes – such as a handheld vac – the useful tools and accessories it came with to clean edges or remove pet hair, and that it didn't require reading a thick instruction manual before use.
Best vacuum cleaner FAQs
What to consider when buying a vacuum cleaner
As we've mentioned already, knowing which type of vacuum to choose can end up leaving you confused. However, considering the type of property you have will help you decide.
These days, cordless vacuums are some of the most powerful vacuums when it comes to suction and they ensure you're not restricted by the length of the wire. However they can also be some of the most expensive too. Check how long the battery will last between charges, and whether the battery is swappable, so you can simply replace it and carry on vacuuming, rather than the floor cleaner being out of action completely while it recharges.
Corded vacuums are often more affordable than cordless models, and many have wider floor headers, which can ensure vacuuming is a much quicker task. Although if you have nooks and crannies the vacuum may not be able to reach them. For those with stairs, consider models with extra-long hoses so you can clean the stairs without moving the vacuum.
Robot vacuums are good for regular cleans, however with suction that can't match the best cordless vacuums they're not suitable for a deep clean, and struggle to suck up dust embedded in carpets.
Households with pets will need a vacuum that can handle pet hair and if you want to use it to clean more than just floors, you'll need one that converts to a handheld cleaner and comes with plenty of useful attachments.
And if you have hard floors, look for a vacuum cleaner that comes with a dedicated cleaner head, which has a softer brush roll to ensure the flooring isn't damaged when vacuuming.
Whichever style you select, consider whether the dust canister is large enough to clean all of the floors in your home, without needing to stop and be emptied half way through.
How often should you vacuum?
"When the floor looks dirty" we hear you cry, but to keep your home allergen-free and your floors as clean as possible, you'll need to vacuum more regularly than this.
We recommend vacuuming most floors once a week while increasing this to twice a week in high-traffic areas such as hallways and doorways. Especially, if you have carpet, as the longer dust is left, the more it becomes embedded in the fibres making it hard to thoroughly clean.
While this may seem like a lot, vacuuming this regularly will ensure there is less dust to suck up each time, making cleaning your floors a quicker process.
For more on this, head to our full feature on how often should you vacuum?