Asus ZenWatch 2
At $129 (about £110, AU$179) the Asus ZenWatch 2 certainly isn't competing with the Apple Watch when it comes to price.
But while it might have a budget price tag, the ZenWatch 2 does have a number of things in common with the Apple Watch. It's available in two different sizes for one, so you can find a fit for both small and large wrists.
It's also a similar shape. The corners on the Asus ZenWatch 2 are slightly more rounded, but it's definitely closer to a square face than a circle.
Add in a crown, a metal finish and a choice of straps and it's almost as good looking and customisable as the Apple Watch. Plus, it offers limited iPhone compatibility, though as an Android Wear device you're better off pairing it with an Android handset.
The two watches have similarly underwhelming battery life though and despite generally good looks the ZenWatch 2 is not quite as stylish as the Apple Watch, especially with those big bezels around the screen.
Huawei Watch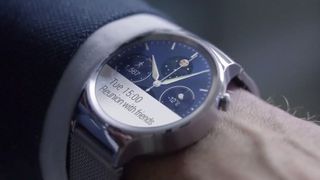 The Huawei Watch is another recent Android Wear device with limited iOS compatibility. You can see notifications on the watch, but not send messages from it.
At £299 ($349.99, around AU$549) it's similarly priced to the entry level Apple Watch Sport, but that actually makes it one of the most expensive Android Wear devices.
It's easy to see where your money is going though, as like the Apple Watch it has a premium design, with a range of customisation options, such as leather or steel straps.
It's arguably the most stylish and certainly the most premium Android Wear watch yet and that's before you take into account the Huawei Watch Elegant and Huawei Watch Jewel variants.
It also has a sharp screen and it's a perfect circle, so if squares aren't your thing it could make for a better choice than the Apple Watch. But as with so many smartwatches the battery life is iffy and if you're pairing it with an iPhone the limited compatibility could be a deal breaker.
Moto 360 (2015)
The Moto 360 ticks a lot of the same boxes as the Huawei Watch. It's got a circular face, a premium, customisable design and limited iOS compatibility. However, with the flat tire at the bottom of the screen it's not a perfect circle like the Huawei Watch.
On the other hand, at £229 ($299, AU$329) it's a fair bit cheaper, which also makes it cheaper than the Apple Watch.
Battery life is typically just over a day, which is similar to Apple's offering and it's a good buy if you want a round face and/or don't want to pay Apple's prices. But if you're reading this review you probably have an iPhone and in that case the limited compatibility that the Moto 360 (2015) offers isn't a match for the full-featured Apple Watch, at least not yet.
Pebble Time Steel
If you're not sold on Android Wear or are set on pairing your smartwatch with an iPhone you might want to consider the Pebble Time Steel, as it's fully compatible with both iOS and Android.
It's also got a reasonably premium design with, as the name suggests, a steel body, as well as a leather strap. It's not a look that quite matches the Apple Watch though. Nor for that matter is it as stylish as much of its Android Wear competition.
It's also frankly far more limited than either WatchOS or Android Wear. There's no touchscreen for example and the apps are a lot more basic.
But at £199 ($250, around AU$425) it's more affordable than the Apple Watch and you can expect to get around a week of life out of it, which is up to seven times more than you'll get from the Apple Watch and is arguably the single biggest reason to choose it.