Two years ago, Apple revived the non-Pro, non-Air MacBook in an unfamiliar form. That is, more specifically, the 12-inch MacBook with Retina display. This would be a less powerful, albeit thinner and lighter alternative to the MacBook Pro and also your cheapest MacBook option if the MacBook Air's ageing specs disqualified it from your Black Friday shopping list.
12-inch MacBook is $150 off in the US
This is one of the best deals we've seen so far on the 12-inch MacBook: the entry-level model for just $1,149 through camera retailer Adorama.View Deal
As the second refresh since its introduction in 2015, the 2017 MacBook is the laptop's most substantial upgrade yet. Not only does it adopt a more recent generation of CPUs, but the keyboard and memory modules have seen their fair share of improvements as well.
So, of course, handed the opportunity, we simply had to review the latest MacBook to let you know our thoughts. As it turns out, it's nearly lived up to its potential. Aside from a few qualms we have with it – namely that the only ports it bears are a headphone jack and a single USB-C port – the 12-inch MacBook will net you an experience lightyears beyond what the rest of the internet would have you believe.
Spec Sheet
Here is the 12-inch Apple MacBook (2017) configuration sent to TechRadar for review:
CPU: 1.2GHz Intel Core m3-7Y32 (dual-core, 4MB cache, up to 3.0GHz)
Graphics: Intel HD Graphics 615
RAM: 8GB LPDDR3 (1,867MHz)
Screen: 12-inch Retina (2,304 x 1,440, 226 ppi) LED (IPS, 16:10 aspect ratio)
Storage: 256GB SSD (PCIe)
Ports: 1 x USB 3.1 Type-C, 3.5mm headphone/mic jack
Connectivity: 802.11ac Wi-Fi; Bluetooth 4.2
Cameras: 480p FaceTime camera
Weight: 2.03 lbs (0.92kg)
Size: 11.04 x 7.74 x 0.14~0.52 inches (280.5 x 196.5 x 3.5~13.1mm; W x D x H)
Price and availability
Just like last year, the 12-inch MacBook starts at a pretty high price already, at $1,299 (£1,249, AU$1,899). That's the amount of money it would take to fetch you everything found under our hot pink Spec Sheet subhead, including a 7th-gen Intel Core m3 processor, yet it's notably the same price you could get the recently discounted MacBook Pro for.
Moving up through the pre-built configurations upgrades the CPU to an Intel Core i5 Y-series processor, which maintains the fanless design and doubles the storage to 512GB. Sadly, this extra cash – $1,599 (£1,549, AU$2,349) – doesn't get you the double RAM capacity, a marquee feature of this year's revision. That's locked behind a specific configuration you can select at checkout for another $200, £180 or AU$320, as is the Core i7 CPU.
Meanwhile, Google's new flagship Chromebook, the Google Pixelbook, starts at $999 (£999, about AU$1,295) for a stronger Core i5 Y-series processor with matching RAM and half as much SSD storage. Upping the configuration meets the MacBook's storage capacity for $100 less in the US and £100 in the UK. Better yet, the Pixelbook's 12.3-inch screen is sharper at 235 pixels per inch. Granted, its lauded Pixelbook Pen costs another $99 (£99, about AU$128).
On the Windows side, one of the most technically comparable laptops is the Acer Swift 7, an Ultrabook seemingly handcrafted to go toe-to-toe with the MacBook. This one starts at $1,099 or £999 (about AU$1,449) for a similar Core i5 Y-series processor with matching storage and RAM as well as a Full HD, 13.3-inch display.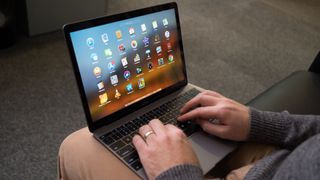 Design
Frankly, not much of anything has changed about the look and feel of the 12-inch MacBook frame, which isn't entirely a bad thing. Available in space gray, silver, gold and rose gold, the brushed aluminum feels just as cool (literally) and sublime as it has on Apple laptops for years.
Again, the laptop's thinness and feathery weight continues to impress to the point that its dimensions are a hallmark aspect of the device.
That said, an even more narrow screen bezel or just one more USB-C port would be blessings upon the design at this point.
One major improvement upon the 12-inch MacBooks of yesteryear is the refined butterfly switches that comprise the new backlit keyboard. Travel doesn't feel any deeper, which isn't great, but feedback is much stronger and more forceful, improving the quality drastically.
The wide, glass-coated trackpad remains unchanged from last year, meaning it's just as pleasant to use as it's always been. Apple's touch interface technology both through hardware and software remains nearly unmatched.
We say 'nearly' because Google may have well caught up to Apple with its Pixelbook. Seriously, the keyboard and trackpad on that thing are ones to be imitated.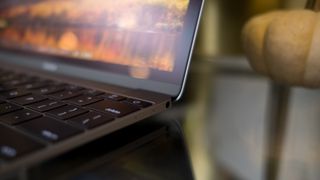 Display and sound
We all know that Apple has prided itself on its displays for years, and with good reason. The 12-inch MacBook's screen remains unchanged since the dawn of the product in 2015, which is just fine. Editing photos and doing graphically intense design work looks simply superb on the Retina display, but it's not the sharpest in its class any longer.
Also, the 16:10 aspect ratio is just off-kilter enough to be annoying sometimes, like when watching movies or editing images that are formatted to 16:9 in fullscreen mode.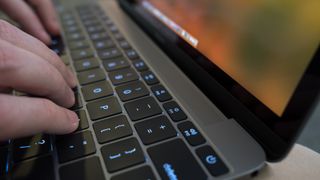 As for how the laptop sounds, the four stereo speakers toward its hinge can definitely pump out some loud tunes. But, like all laptops with mere millimeters to work with for audio chambers, the sound comes through tinny and thin, with some channels in songs just getting lost outright.
That said, you're not going to find much better sound elsewhere out of a laptop anywhere near this thin. Thank heaven this is a product Apple has yet to cut the headphone jack from.